Our new Whitepaper offers eCommerce businesses insights into the benefits of connecting your front-end processes with your back-office system and having an ERP eCommerce strategy in place. See how implementing an eCommerce ERP provides your customers with an omni-channel and stress-free shopping experience.
If you download Acumatica's new Whitepaper, The Best eCommerce Starts with Tighter Integration, you'll learn how eCommerce is becoming the preferred channel for business-to-business and business-to-consumer sales and distribution. You'll also learn how to successfully deal with this ongoing shift in buying preferences, including building a strategy based on integrating your online sales capabilities with your back-office systems through an eCommerce ERP.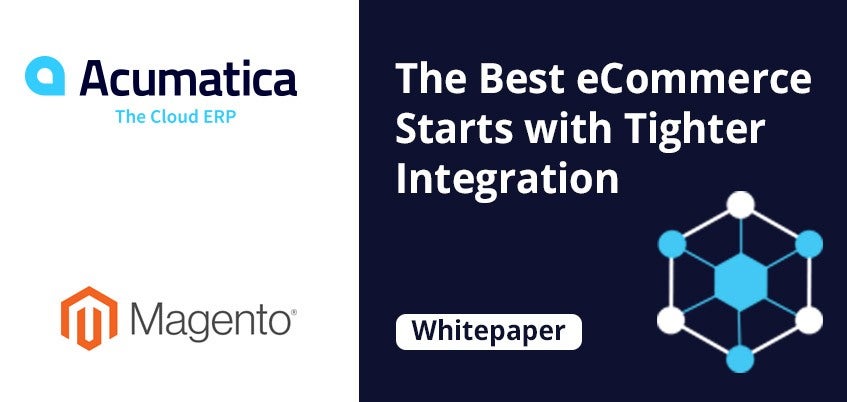 How an integrated eCommerce ERP is key to your success
Brick-and-mortar retailers are finding out quickly they need to embrace digital transformation (Fostering A Company Culture blog) to stay in business. A 2017 Business Insider article claims that 17% of all US retail sales by 2022 will be from eCommerce. If this is correct, then engaging in online sales through websites and mobile apps is a necessity.
"It is clear at this point that eCommerce is a must for nearly every company," the paper states. "While eCommerce may be a supplemental or alternative channel for many companies right now, it is rapidly evolving into the preferred channel for communication and interaction in today's hyper-competitive business world."
The question then becomes, how do you make eCommerce work for and with your traditional methods of selling? Or, if you're already an eCommerce retailer, how do you make it stand out from the competition?
The answer is an integrated eCommerce ERP. Here's what the Whitepaper will tell you:
Why an eCommerce ERP, which integrates your front-end and back-office functions, is necessary
How customer service is affected by an eCommerce ERP
What to look for when you're evaluating your eCommerce back-office system options
What happens when you choose not to implement a web-based commerce strategy that includes an eCommerce back-office system
And more
The paper also defines omni-channel sales and distribution. It states, "Omni-channel success is based on providing a consistent and efficient customer experience through any channel that the customer chooses to engage their relationship with your company. This requires strong and fully integrated supporting functions that treat all channels with equal efficiency and effect."
Acumatica and Acumatica's Commerce Edition provide the fully integrated supporting functions you need to give your customers a fast, seamless, and hassle-free experience (6 essential features blog)—from your sales floor to your website. Our Commerce Edition integrates Acumatica's Financials, Sales, Inventory, CRM, and Fulfillment systems with your eCommerce platform. And you can manage your orders, inventory, picking, packing, returns, and more from one, customizable dashboard.
xByte Technologies, Acumatica's Customer of the Year, is the perfect example of using Acumatica to build a successful eCommerce ERP strategy with tighter integration.
The company provides "high quality IT equipment with first-class customer service," which has resulted in amazing growth. They chose Acumatica as their omni-channel ERP to help them with their business management needs and used Kensium and the Kensium Magento Connector (a standard part of Acumatica Commerce Edition) to integrate a Magento website for their eCommerce sales, providing them with two-way data synchronization.
"Acumatica…makes it very easy to integrate with other software and has many more features," CEO Ryan Brown says.
The benefits they've experienced since implementing our integrated eCommerce ERP includes:
Streamlined sales operations
Automated accounting and warehouse operations
Use of financial dashboards with one-click access
Improved visibility and customer service
Mobile access to their data
Read their case study to get their full story.
eCommerce ERP helps you deliver exceptional customer service
As you'll read in the Whitepaper, "eCommerce can become a competitive strength when based on a solid plan and smart execution by a strong team that harnesses the technology, processes, and people to deliver a great customer experience."
Find out how to increase the functionality and profitability of your business in today's ever-changing marketplace. With the right eCommerce back-end system connecting to your storefront website, you can meet and exceed customer expectations.
Feel free to contact our team if you have any questions about Acumatica's Commerce Edition.
And if you're just now moving your business online, check out our new eCommerce: Integrating Your Front and Back Office Infographic for the detailed steps you'll need to take to get started.