Acumatica Cloud xRP Summit 2018 is coming up, and we want to invite the ERP developer community to join us. Acumatica's virtual developer conference will offer insights you won't find anywhere else.
What are you doing June 20-21, 2018? If you're an ERP developer, these are the dates for the Acumatica Cloud xRP Summit 2018, and it's an event I believe you won't want to miss. Outside of the fact that it's free, the best part is that you don't have to leave your computer. The Acumatica virtual developer conference will come to you, and the two half-day event (each day will be three hours) can fit into your busy schedule. Registration is open right now, and I hope you'll take advantage of this great opportunity.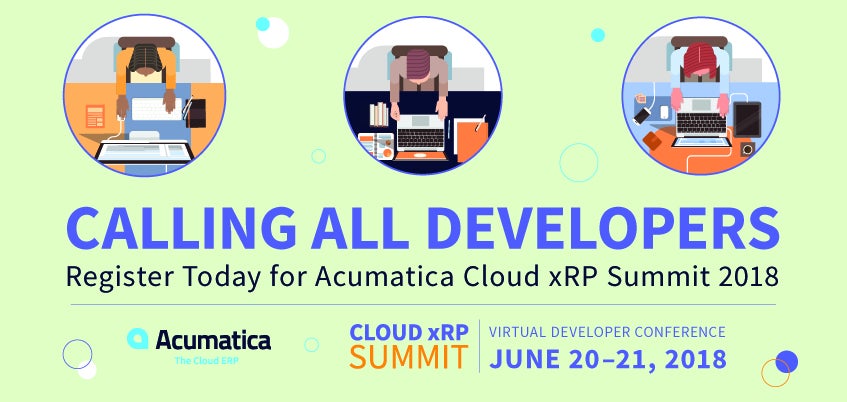 Why you won't want to miss Acumatica Cloud xRP Summit
Last year, the Acumatica virtual developer conference received top marks from the ERP developer attendees. They felt the sessions were packed with great Acumatica developer content they couldn't get anywhere else. There was also the opportunity to learn directly from Acumatica leadership about where our cloud ERP solution is heading and how we're going to get there.
For me, a highlight was getting to hear from Sergey Marenich. He began as a developer involved on the team developing the original code for Acumatica, and he's now a Technical Expert based out of Singapore. During his session, he shared amazing tips and tricks he's gleaned from his ten years working on Acumatica's cloud xRP platform – a platform that is built on industry-leading cloud and mobile technologies. The developers who attended walked away with unique insights, ones they were able to incorporate into their own code.
Acumatica Cloud xRP Summit 2018 promises to deliver even greater value-packed content for developers by developers through 30-minute and 60-minute sessions. There will be 10-minute breaks interspersed every hour with a total of two breaks per day.
On Day 1 (Wednesday, June 20th), our only Keynote for this event starts at 10 a.m. (PT). This is where you, as part of the developer community, can see how Acumatica is working to improve and innovate our platform with the latest technology available; you'll also see the integrations we've built with other services and updates on those we're still working on. VP of Platform Strategy, Ajoy Krishnamoorthy, will share his take on our multi-cloud world, offer live demonstrations, and more.
The rest of Day 1 and all of Day 2 (Thursday, June 21st) will be focused on sessions that you can pick and choose from. My bet, however, is many of you will see the value of participating in every session on both days.
For instance, I don't think you'll want to miss the two "Black-belt" developer sessions – one delivered by Gabriel Michaud on day one and the other delivered on day two by Sergey Marenich.  Each offering their keen insights and techniques they have used doing development projects for many years on the xRP platform – they're techniques and patterns that most people don't know about, and it will be exciting sessions.
Through the development of a multi-threaded processing engine, Joshua van Hoesen will discuss optimization in utilizing the Acumatica Contract-based API.
New to this year's Acumatica virtual developer conference
We have some new things happening this year. We're asking you to certify your applications, and the Certification session during this event will help you get ready for the certification process.
Also, new this year is a session discussing an exciting Visual Studio extension tool for Acumatica developers. It was built during an internal Hackathon last year in Moscow by Vladimir Panchenko and his team. You'll see how the Acuminator can help you build Acumatica application solutions for your customers through its offering of static code analysis; it's a colorizer and syntax checker for the platform. You can download this amazing tool from the Visual Studio Extension Library or get Acuminator's full source code on GitHub. There's more of course, but this should give an ample taste of what to expect in this must-see-event.
Speaking of Hackathons, our annual Acumatica Summit Hackathon is returning to Acumatica Summit 2019, coming January 27-February 1, 2019. Registration for the Summit is live, and if you register right away, you'll receive the early bird special pricing.
Get the latest and greatest at Acumatica Cloud xRP Summit
As an ERP developer, staying on top of technological developments and innovations can be a full-time pursuit. If you register for Acumatica Cloud xRP Summit, you'll be ahead of the game. You'll have access to new, cutting-edge content from experts in the field who will break down the best way to use the information and how to filter it all down to what's important. And you'll finish with a look at Acumatica's future through the Product and Platform Roadmap session.
To reiterate, you don't have to leave your computer to attend this free online event. You can click on the link you'll receive after registering (or you can dial in) and immediately begin leveraging incredible ERP API knowledge and expertise. Plus, we have a few awesome gifts to give out. Last year, one lucky participant – who attended both days and filled out a survey for us – won a DJI Mavic Pro Drone. The top five tweeters who tweeted throughout the event using hashtag #AcumaticaDevSummit won Acumatica Developer Network t-shirts. And there were even more prizes. I hope you'll join us not only for the prizes but also so you can take advantage of the fresh and essential content you can use right away.
Until then, if you have any questions or are thinking about joining the Acumatica Developer Network, you can contact partners@acumatica.com.  Furthermore, if you have any questions regarding the Acumatica Virtual Developer Conference, feel free to contact me directly via email.  I am anticipating a wonderful event and looking forward to your participation.