If you're going to all the effort to do something, you might as well do it right, right? That's how we feel about Acumatica Summit 2020, and Acumatica CEO Jon Roskill explains why it's our best one yet. 
Record-breaking. Standard setting. Special. These are just a few of the adjectives we're using to describe Acumatica Summit 2020, coming January 26-31, 2020 in Las Vegas, Nevada.
Here's another one: best.
I have eight reasons why this is our best cloud ERP event yet.

Most excellent Acumatica Summit 2020
"Best" among other things means "most excellent."
As the CEO of Acumatica, my job is to make sure we provide the best ROI for our customers who have invested their money, time, and trust into our cloud-based ERP. Our commitment to exceeding their expectations extends to our annual cloud ERP event, and Acumatica Summit 2020 won't disappoint.
1. Las Vegas and The Cosmopolitan of Las Vegas
I have to start with this year's location and venue. By joining us at The Cosmopolitan of Las Vegas, a luxurious resort and casino in the heart of the Las Vegas Strip, you'll be entering a world of glitz and glamour (Bob Clancy's words, not mine).  You'll also be stepping away from the distractions of the day-to-day and focusing exclusively on how Acumatica's cloud ERP software can accelerate your success, but we figure, why not enjoy yourself while you're at it?
To assist you in that endeavor, Acumatica's Director of Digital Marketing, Constance Turman, has put together a comprehensive Attendee's Guide on what to see and do both at our hotel and around the "City Without Clocks."
2. The Chelsea Theater
It's not everyday that I get to stand in front of 2,000+ customers, partners, developers, and industry analysts, so when I do, I want it to be spectacular. That's why The Chelsea Theater makes my list of reasons Acumatica Summit 2020 is our best yet.
The Cosmopolitan's 40,000-square-foot theater will be the home of this year's Keynotes and features chandeliers, a vintage lobby bar (dry during working hours), private VIP opera boxes, and more.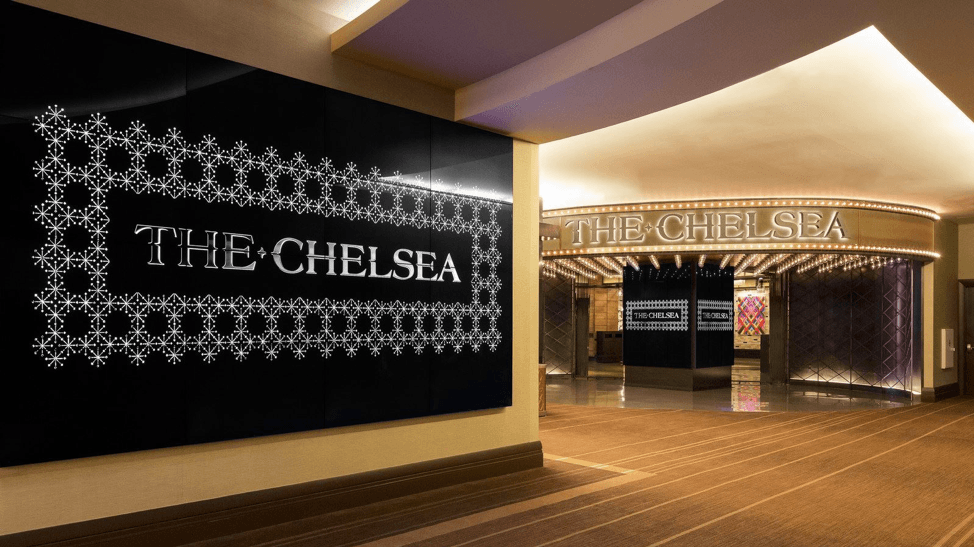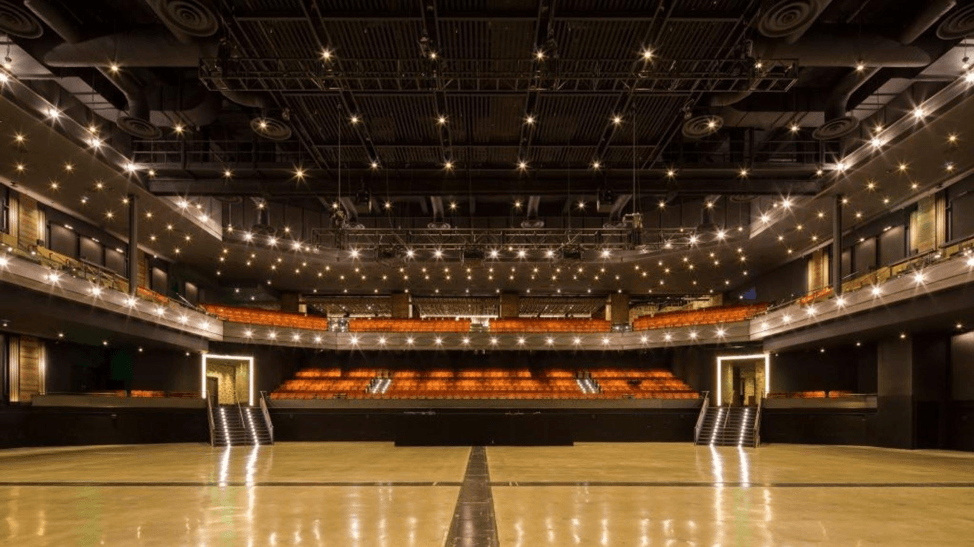 My view from The Chelsea stage during Acumatica Summit 2020 Day One and Day Two Keynotes.
3. Day One and Day Two Keynotes
As digonomica co-founder/blogger/analyst Jon Reed noted in his Acumatica Summit 2020 interview with Todd Wells, our two Keynotes are something that set us apart from our competitors. "The Keynotes are not overdone. A concise, customer-focused Keynote gives attendees a clear direction and frees up the rest of their time for education and networking. Acumatica does this about as well as anyone." Not to pat ourselves on the back, but we do excel at making our Keynotes both efficient and engaging.
Day One will start with a celebratory review of 2019 then will roll directly into Acumatica's 2020 strategy with exciting announcements. We'll also highlight customer success stories and crown the 2019 Customer of the Year. Day Two will shift to what you can expect from the product and the roadmap, including an Acumatica 2020 R1 teaser, which will introduce fantastic innovations to all the modules and showcase our next wave of artificial intelligence (AI) and Machine Learning (ML) capabilities.
I promise it will be educational and entertaining.
4. The Acumatica Marketplace
This year, over 90 Acumatica ISVs will be exhibiting at the Acumatica Marketplace, which begins on Sunday, January 26 at 5 PM. You'll have face-to-face access to the Acumatica partners who produce amazing third-party software, solutions, and services that seamlessly integrate with—and extend—Acumatica's cloud-based ERP solution.
Acumatica's booth will be in the center of all the excitement, and we'll also have an "ask the expert" area for you to ask the tough questions. Think you have a question that might stump the audience or even our experts? Bring it on!
5. End-user training
Speaking of experts, one of the things we always provide is training by Acumatica experts, the best of the best. One training we added last year was end-user training which received a tremendously positive response. We're scaling it up for Acumatica Summit 2020, including adding several "Configuring Acumatica without a Developer" sessions to meet the high level of demand.
6. Interact with Acumatica's team
With over 200 Acumatica employees onsite at Summit, from product management to support and from sales to the leadership team, you'll have the opportunity to interact one-on-one and in person.
It's always a treat for us to get to chat with the community as well as provide a place where customers, partners, and developers can meet their peers. It's the perfect time to help each other solve business challenges using Acumatica's cloud ERP software, including those related to digital transformation.
7. Monday Night Attendee Celebration Party
You can't be in Vegas and not have a Vegas-inspired party. That's why our very popular Attendee Celebration Party will be taking place in Hakkasan Las Vegas.  Located in the MGM Grand Hotel, this premier nightclub has multiple floors that will cater to every attendees' preferences.
Dance, network, and eat/drink the night away in an electrifying atmosphere found only in a city that never sleeps…which leads me to my final reason Acumatica Summit 2020 will be our best yet.
8. Tuesday's Fun Run and Yoga
The morning after our exciting Attendee Celebration Party is our annual Fun Run and Early Morning Yoga activities. At 6 AM.
Believe me, I know how early that sounds but these two activities have been well attended and reviewed in previous years. For the Fun Run, you'll have the chance to see the Las Vegas Strip devoid of people while you burn off calories from the previous night's entertainment. And for Yoga, you'll begin the day with mindful meditation regardless of your skill level.
Come prepared for the best Summit yet
I think Acumatica's Event Marketing Director said it best in his recent post on Acumatica Summit 2020. "We have a chance to reconnect and have a good time, but more importantly, we gain incredible insights on how Acumatica's cloud-based ERP solution extends the efficiency and profitability of every business that implements it. I believe Acumatica Summit 2020 is shaping up to be even better than last year's event…and last year wasn't too shabby."
If you haven't registered, do it today. Come prepared to grow relationships, learn together, and connect your business while having a good time.
Questions? Contact our Summit event team at any time and check out the Summit Agenda for more details.