Just as with any major purchase, the decision to implement a SaaS ERP system requires intense research. You might start the process by asking for peer recommendations or reading the reviews for multiple ERP solutions. Or, you could do this: download IDC's free report and easily and quickly compare the top vendors in the marketplace.
At Acumatica, we strive to regularly provide you with in-depth information you can use to improve your cloud ERP experience. Today, we're providing a free report by IDC, the premier global provider of market intelligence, advisory services, and events for the information and technology industry. The report, "IDC MarketScape: Worldwide SaaS and Cloud-Enabled Midmarket ERP Applications 2017 Vendor Assessment," compares leading midmarket SaaS ERP system vendors, and it's available to download right now.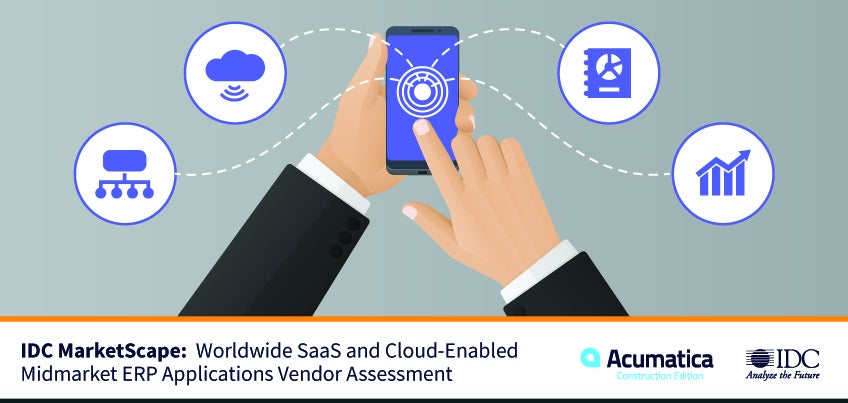 IDC's report helps evaluate the right SaaS ERP system for you
Regardless of size, most companies doing business today have probably at least thought about implementing a cloud-based ERP solution. Why? Because with a SaaS ERP system, you're able to access your business management applications online at any time and from wherever you are. You don't need to invest in computer infrastructure but can instead leave that to your provider along with updates and maintenance. You choose the type of licensing (based on what your vendor of choice provides) and can be confident your data is secure.
A SaaS ERP system, such as Acumatica, allows you to streamline the many different business systems you rely upon into a single, comprehensive system and provides its users with the many benefits of flexibility, adaptability, scalability, and more. At Acumatica, we want SMBs to recognize that these benefits are theirs for the taking. Enterprise-level business management solutions and their benefits are no longer reserved for large corporations with large budgets…as long as SMBs choose the right solution.
To ensure that you make the right choice, you must first invest your time and energy in doing the research. No doubt the massive amount of cloud ERP information can seem overwhelming, but the good news is that IDC has done the work for you! If you download their free vendor assessment, you can directly compare 14 leading SaaS ERP system solutions.
The research report also provides:
The reasons your decision to implement a cloud-based ERP system is necessary for growth
Four criteria upon which you should base your ERP vendor decision
Sixteen questions to ask yourself during your decision making
Everything else you need to know as you pick an affordable and scalable SaaS ERP system solution
Because you should have no regrets about the SaaS ERP system you choose, the "IDC MarketScape: Worldwide SaaS and Cloud-Enabled Midmarket ERP Applications 2017 Vendor Assessment" is the definitive guide for you. And for us at Acumatica, we welcome the opportunity the report gives us to exhibit why we were named the best SaaS Product for ERP 2017.
Finding the right SaaS ERP system is a download away
This is what Mickey North Rizza, program vice president of IDC's Enterprise Applications and Digital Commerce and one of the report's authors, has to say about the importance of finding the right SaaS ERP system for your company:
"The SaaS and cloud-enabled midmarket ERP market has a mix of competitors from small and medium-sized to large technology vendors. Selecting the right vendor partner is critical to your long-term strategy as a business. Most importantly, SaaS and cloud-enabled ERP is a disrupter as businesses of all sizes want to purchase it because it is easily configured, updated as needed for all customers, and readily available anywhere for most business types."
As you just read, your company's future development and success hinges on having a cloud-based business management solution. It's imperative that you select the vendor that best matches your company's mindset, strategy, and requirements.
Download your free copy of IDC's assessment report right away, review your options, and contact us with any questions you may have about our True Cloud product and platform today!