From the start, we've geared our cloud ERP Summits towards accelerating success in the cloud for our ecosystem. We focus on working as a community-wide team and growing connections around the world. Craig Silvestri of ASC Partners shares why this is his focus for Acumatica Summit 2018.
Whether you're an existing Acumatica partner or a prospective one, you're invited to attend Acumatica Summit 2018 happening January 28-February 2, 2018. It's the place to enhance your cloud ERP knowledge, network with your industry peers, get product certifications, accelerate the growth of your business in the cloud, and enjoy yourself in the process!
As the fourth post in our series on partners attending Acumatica Summit 2018, Craig Silvestri of ASC Partners discusses how community and collaboration are bringing him and his team back to our Summit for their fifth year in a row.
Feel free to check out our first three partner posts to find out what Kensium, PC Bennett, and i-Tech have to say about attending Acumatica Summit 2018 and why they say you should be, too.
Still deciding whether you'll be attending or just haven't registered yet? Now is the time!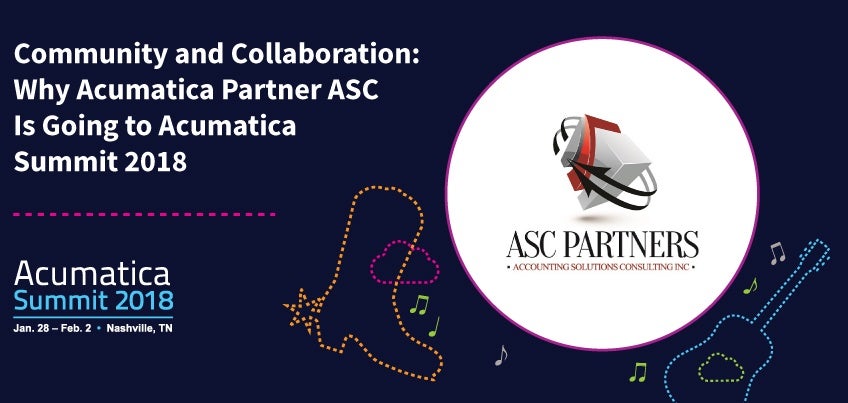 ASC Partners' journey with Acumatica
ASC Partners provides business process consulting services for mid-size companies, helping each client choose the right accounting and reporting solution for them. Craig is one of the principal partners of ASC Partners; he and his business partner, Louise Brewster, were both Microsoft Dynamics users and that shared experience brought them together to form the practice.
Soon after they started, they realized they wanted move their business systems to the cloud. "We went through the process of evaluating a number of different cloud ERP systems. We settled on Acumatica because of the ease of use and the familiarity of the way it looked and felt compared to Dynamics," he says. "There were a couple of other parts of the package such as the flexibility to deployment, unlimited user capabilities of the software, and the fact that it was really geared towards the midmarket. The most appealing part of the platform is that it's not out to nickel and dime people who want to use the software."
They've been an Acumatica partner for five years and received an Acumatica partner award for Service Excellence in 2016.  As Acumatica's cloud ERP platform has grown, ASC Partners has utilized the improved features and increased functionality. "It's been an amazing journey with the product," Craig says.
Part of the journey has included attending our annual Summit since ASC Partners came on board. For their first four years at the Summits, their team focused on the training tracks. He says, "The training tracks have been extremely helpful. It's really important, especially as new features and functionality come out, that those trainings are available. You get to actually speak with people who not only have been involved with the design of a new feature or function but have sliced and diced it, and have a different perspective on how to implement it."
He goes on, "They're not really cookie cutter trainings, they're very interactive. They allow you to ask some good, honest questions about things you've encountered during the implementation of this platform. I've sat in a couple of the technical training ones, not because I'm a programmer but just to get a better understanding of how it works – they've been invaluable. I think the more you know about the framework and capabilities of the platform, the better it is and the easier it is to configure and sell it on our end."
Acumatica Summit 2018 delivers community and collaboration
Because they've had such thorough training in their last four years, their plan for Acumatica Summit 2018 is to network and socialize with the Acumatica community. He mentions the importance of collaborating with other ISV partners, sharing in each other's cloud ERP experience and knowledge to improve business practices.
"It's so nice to see folks who are still in the ecosystem coming back year after year. We've met folks up and down the East coast. One of the nice things about this platform – especially being in the cloud – is that we're not really limited by geography," Craig says. "We've definitely made some really good acquaintances, especially with some of the ISV partners and getting to pick their brains when we need to come up with a solution selling to a prospect has been great."
He believes it's one of the better communities he's ever been a part of and appreciates the collaborative nature of the community members in making Acumatica's cloud ERP product succeed for everyone. The lack of competition and the idea of treating others as family add to his expectation of enjoying Acumatica Summit 2018.
When asked about highlights of last year's Summit and what he's looking forward to this year, Craig says, "The availability of the executives is a highlight. They're very visible. They don't just show up, do their speeches, and leave. They genuinely listen to the concerns the partners have – to me, that's one of the best parts of the event."
He notes that his experience in the Microsoft space was completely different. Because ASC Partners is a small firm with five consultants, he says the accessibility was limited. "To have folks like Jon Roskill and Ali Jani, to have direct access to our account manager – these folks are always available, and it really doesn't matter what size of partner you are. They're really invested in getting partners to a point where they're successful.
"Plus, the marketing team has always been super helpful, as we continue to invest in an integrated marketing approach to our business, it just made sense to participated Campaign Factory Partner Program, which is showing great results."
Another thing Craig's looking forward to at Acumatica Summit 2018? The time he'll get to spend with his customers. He says he has a number of customers attending; interacting outside of the office and discussing Acumatica and the future of the product will be beneficial.
Learning and fun at Acumatica Summit 2018
Acumatica Summit 2018 is set to take place in Nashville, Tennessee, also known as Music City. Craig appreciates that the Summits are in different geographical locations every year. He also says he's driven through Nashville but never spent any time there.
"I'm really looking forward to it. We're country music fans so hopefully we get some social time outside of the conference so we can go see some of the sights," he says.
Rest assured, even though the Summit will be filled with extensive trainings, breakouts, keynotes, fascinating speakers, and more there will be time to check out Nashville's exciting music scene.
The Acumatica team is looking forward to seeing you, our partner or future partner, at the event. And with the end of the year quickly approaching, Acumatica Summit 2018 is going to be here before you know it! If you haven't registered, we hope you'll do so right away and plan on spending time collaborating and growing with Craig and the Acumatica community.