Project bidding no longer needs to include crossing your fingers. Our Construction Job Costing with Acumatica Project Accounting infographic shows how you can beat the competition by providing accurate estimates using Acumatica Construction Edition.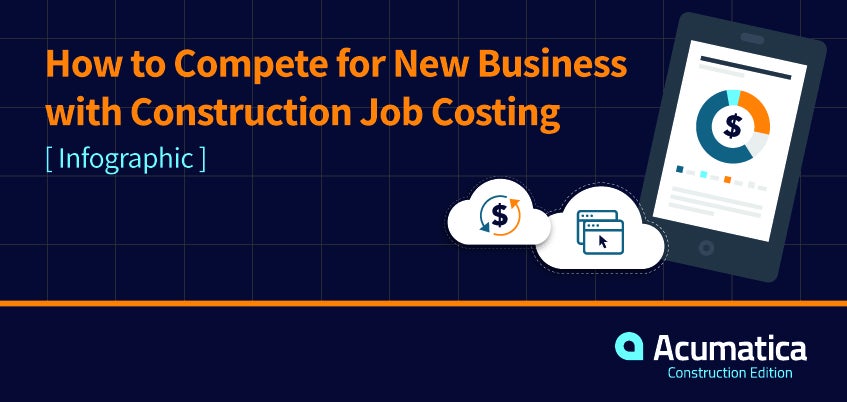 Before the availability of modern construction accounting software, your bidding process rested on guesstimating your costs from labor to materials. Now, Acumatica Construction Edition—which is powered by our Acumatica Project Accounting application—offers the toolset you need to secure new business with concrete and accurate costing and takes the guessing out of it. Construction job costing with the right construction ERP sets you up for increased profitability and customer satisfaction.
Check out our Construction Job Costing with Acumatica Project Accounting infographic below to learn how our building software helps you efficiently manage every project-related activity from setup, bidding, tasks, and change orders to close-out and warranty service needs. Whether you're in the office or out in the field, you're ready to go—even when you're on the go.

Acumatica customer Texas Scenic Company, Inc. has found success using Acumatica Construction Edition. They were using a legacy construction accounting software when they were introduced to Acumatica. Our construction ERP was exactly what they needed to improve their business insights and efficiency.
"It's a modern cloud solution that handles our manufacturing, service, distribution, and construction business in one cohesive integrated solution allowing a seamless flow of data," says Chief Financial Officer Ron Fairchild.
The company, which designs, manufactures, and installs theatrical stage equipment (and more), includes a staff that handles new construction or renovation project needs. They pride themselves on completing their projects on time and on budget. With the project accounting and project cost capabilities in our construction ERP, they're even better equipped to bid accurately and to meet their customers' expectations.
If you have any questions about our Construction Job Costing with Acumatica Project Accounting infographic, our Acumatica Construction Edition, or our true cloud ERP solution, contact us. Our experts are available to help.