Let's face it, business requirements are more complex today than they were 10 and 20 years ago. Even small businesses must now have robust functionality to comply with government regulations and compete in this globally connected society. This can often be a challenge for small to midsize businesses, as the systems that used to have that type of functionality were too costly to acquire.
A good example of this is the evolution of Customer Relationship Management (CRM) software. Before there was a mainstream awareness of CRM, only a small portion of small to mid-sized organizations used a true CRM solution. However, this created new challenges for organizations, as many of them did not have the resources to efficiently maintain customer information in their ERP, eCommerce and CRM systems. The Acumatica ERP platform provides both a B2B eCommerce module and CRM module built-in, which makes it easier and much more cost-effective for organizations to deploy and manage since the data resides in a single SQL database.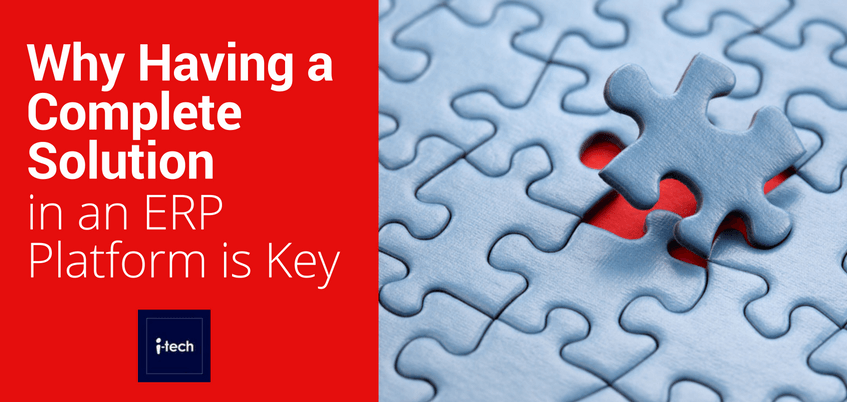 Too many ERP platforms still require multiple 3rd party solutions and integrations to meet an organization's core business requirements. Some common examples are credit card processing, freight carrier integration, multi-currency, electronic payments, warehouse management, sales tax automation, EDI, document management, outlook/email integration, automated workflow & notifications and Business Intelligence & Dashboard capabilities. Often times, integrating 3rd party solutions is difficult and costly. Keeping up with software version upgrades and compatibilities can also be problematic over time.
The Acumatica ERP solution natively incorporates many of these core business requirements. Additionally, the Acumatica Development platform has made it easier for ISV's to provide seamless product extensions so you never feel like you are leaving the core solution. This makes deployment, training and upgrading simpler and more cost-effective.
Another great benefit of the Acumatica Development platform is the ease with which customizations can be built and maintained. Most good ERP solutions will meet 80-90% of an organization's requirements. However, that last 10-20% is typically very important and provides a lot of value. For many cloud-based ERP solutions, this is either not an option or not a cost-effective option. With Acumatica, many moderate to extensive customizations can be developed safely and cost-effectively providing the client with the last 10-20% and a complete "end to end" solution. Whether it be building integrations with other systems, creating comprehensive dashboards, or extending the functionality of the core Acumatica features, the Acumatica Development Platform allows an organization to get the most out of their ERP investment.
The role of an ERP Software Solution Provider is to help their clients solve their business challenges in a cost-effective manner. Providing an "end to end" solution using the Acumatica Cloud ERP Platform is a fantastic option to accomplishing this goal. If you or your team are looking for a new platform, I'd be happy to assist with your exploration. You can contact me here.
———————————————————————————————–
i-Tech Support is an industry leader in key areas of technology including Managed IT, Advanced Technology, ERP Software Solutions, Cloud Services, and Information Security. Our specialists craft solutions to answer business and technology challenges for organizations in every major industry. We leverage this experience into the design, implementation, and support of innovative solutions to help our clients get more out of their IT investment. i-Tech is a gold certified Acumatica ERP Software partner.