Attending Acumatica Summit 2018 offers our partners the opportunity to network with hundreds of like-minded individuals in one place and at one time. Andrew Kim of Avalara shares his opinion on the importance of connecting with fellow partners, learning from each other, and using that knowledge to accelerate success in the cloud.
Over the past few weeks, I've had the pleasure of interviewing several of our valued Acumatica partners about why they're attending Acumatica Summit 2018. The majority of these partners are returning to our Summits year after year (with the exception of one partner who plans to attend for the first time this year!), and their reasons for attending are hopefully as motivating to you as they are to me. If so, you still have the opportunity to register and secure a spot at our premier cloud ERP event.
Haven't had a chance to read all of the past posts on these partners? Feel free to check them out right now: Kensium, PC Bennett, i-Tech, ASC, ASI, and Crestwood Associates.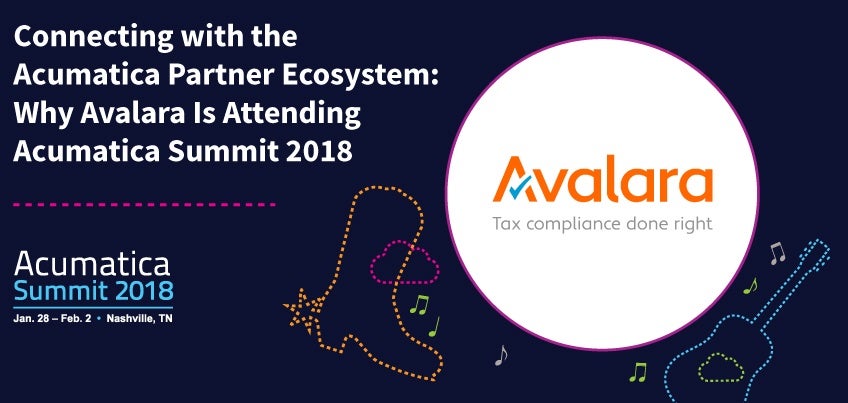 Partner Avalara's connection with Acumatica and Acumatica Summit 2018
Avalara is a cloud-based and all-encompassing sales and use tax compliance solution and has been a valued Acumatica partner since 2011. When they first started the partnership process, Andrew Kim (Director, Strategic Alliances) says they looked at Acumatica's customer base and saw the need for tax automation capabilities and tax compliance advice – something Avalara could supply. For him, the partnership between the two companies was a logical conclusion.
"I imagine they [Acumatica] looked at a lot of vendors and probably said with Avalara, it is a cloud-based technology and it focuses on SMBs and midmarket companies; it makes sense for us both to align," he says.
The strong partnership has been further developed through the continual alignment of their cloud strategies, the close interaction between the two CEOs, Jon Roskill and Scott McFarlane, and the connection between key team leaders in each company.
"We have our partner manager with Christian Lindberg who has been very hands on and has been there to guide us through partnership success," he says.
He points out that Acumatica believes in being readily available to customers. "From a customer standpoint, I think Acumatica has done a good job because it focused more recently on roadshows and having localized user groups. It gives Avalara accessibility to not only interact with Acumatica, but also with customers and prospects that we're looking to connect with."
With Acumatica Summit 2018 almost here (January 28-February 2, 2018), Andrew and the Avalara team will be attending for the fourth year in a row. He says that the Summit provides direct access to the Acumatica community.
"For us, it's more about engagement with the ecosystem. Since we're not an Acumatica reseller, the best thing is really to just get entrenched, meaning having access to the VARs and ISVs we actually partner with, as well. That to us is big value. It's kind of a win-win all around," he states.
He goes on to say that networking with the VARs, the only channel by which Acumatica's cloud ERP reaches market, is a great way to understand how they are reaching and attaining customers, and to get those introductions that are so important to growing any business.
Andrew also sees Acumatica Summit 2018 as an avenue for taking the pulse of the industry and making product roadmap decisions based on that information.  In fact, meeting with the ISVs leads to the possibility of even more value-driven partnerships.
"What's interesting to us is there are a lot of ISVs who have been in the ecosystem for a long time, others that are newer. For us to actually spend time with those folks, to really share best practices of what's worked, what's not worked, how they approach the ecosystem, and how they're giving the Acumatica customers more value – that's all really good insight for us to know," he says. "Sometimes depending on who the ISV is, we can actually partner with them, to say, 'well, here's a shared story of how we can build a full solution around Acumatica with different partners that attack a certain key vertical' and tell a really good story about how we add value for Acumatica customers."
Find value in attending Acumatica Summit 2018
Like Andrew, you can find amazing value in attending Acumatica Summit 2018. From extensive breakouts, hands-on training tracks, and live demonstrations to inspirational speakers, a huge partner EXPO, and some fun entertainment to boot, you can expect to substantially increase your cloud ERP expertise. In addition, it's taking place in a pretty great location: Nashville, Tennessee, which has plenty to do and see when you're not focusing on enhancing your cloud ERP knowledge at the Summit.
This year Avalara, one of our Premier Partners, is hosting an After Dark Party, Nashville style, along with four co-sponsors who are also Acumatica partners: Artsyl, Century Business Solutions, avidxchange, and InfinityHR. The event is open to all Summit Attendees, so bring your line dancing skills and RSVP today!
Register for Acumatica Summit 2018 before it's too late! The Acumatica team is ready to collaborate with you during our weeklong adventure. See you there!