Acumatica's CMO reveals how cloud ERP technology is rescuing businesses around the world during the COVID-19 crisis.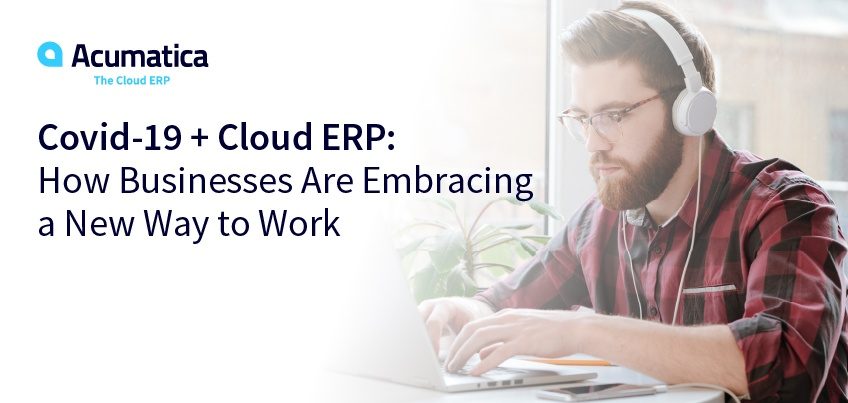 The COVID-19 pandemic isn't stopping businesses that have embraced the new state of work. Through the power of cloud ERP technology, they've ensured business continuity, which means they are accessing their business systems from anywhere (at any time), working in isolation without being isolated, safeguarding the security of their cloud data, and even thriving in an unsettled time.
Working remotely with cloud ERP
The idea of moving from the traditional in-house employee model to an offsite workforce is not a new one. In fact, it's been around for decades, and the many benefits of working remotely have already been felt by both sides of the business equation: flexibility, time-savings, increased job satisfaction, less stress, and enhanced creativity for employees; higher productivity, reduced operating costs, fewer geographical restrictions for hiring new employees, and lower turnover rates (because of increased loyalty) for employers. And the reduction of our carbon footprint benefits everyone.
Divya Ganesh, Acumatica's Director of Product Marketing, notes in a recent post on  enabling a remote enterprise that technology is making the remote transition possible, citing the improvements to and accessibility of powerful laptops, low-cost monitors, high resolution cameras, and SaaS-based communication and collaboration tools, as well as hybrid computing, cloud file storage, high-speed networking, and endpoint security systems. She also explains that modern cloud ERP software, like Acumatica, provides the remote access every business needs to be a connected business in this time of crisis and beyond.
Acumatica's cloud-based ERP solution can ease your evolution into a remote-based organization. It is a fully integrated, user-friendly business management solution with the service commitment and telecommuting capabilities businesses need in today's uncertain environment. Acumatica rests on a flexible, open platform designed from the ground up to give users easy access to third-party applications, scalability, security, and the confidence they'll be able to continue operating during the COVID-19 pandemic and beyond.
Seth Bray, CEO of PennAir and Acumatica customer, says. "While our competition struggles to adapt, our team has been able to work anywhere and maintain business continuity under any scenario because we're running PennAir on Acumatica in the cloud."
Sustain and accelerate your business with cloud ERP
How does Acumatica cloud ERP sustain—and accelerate—your business during and after a crisis? Let's start with mobility and insight. With Acumatica, you have direct access to business tools, functions, and live data from any device with internet access. This mobile access and insight to your business operations is available day or night from the comfort of your home. You and your team can experience uninterrupted connection and seamless collaboration as you work to meet your customers' evolving needs.
Maintaining an efficient operation when employees are isolated in their homes, (perhaps learning how to work remotely for the first time) is critical, but it can be a major challenge. Thankfully, cloud-based technology provides 24/7 mobile access, allowing you and your team to manage your business without disruption from any location. Generate reports, track profitability, and manage customer relationships from right where you are. This includes managing financials virtually, which helps you keep a finger on your business' day-to-day performance and provides the insights you need to make informed decisions based on accurate, real-time data.
Interestingly—but not surprisingly—businesses are re-evaluating their work processes in light of this crisis. The urgent need to work digitally is causing them to prioritize digital transformation, spurring 73% of IT managers to either keep or move up their digital transformation plans. It's the right move. They will reap the benefits of using cloud-based technology, which include lower costs (no need to invest in hardware and IT), improved competitiveness, increased job opportunities, and a future-proofed business management solution.
Cloud ERP to the rescue
CFO of Safety Management Group, Rebecca Ogle, says, "My team has been working remotely since Tuesday, March 17, and we've all been able to stay business as usual: efficient, functional, and productive—and still serving clients. It's been so nice to know we have reliable software we can use from the comfort of our home."
And in a recent post on Acumatica customer Interaction Associates, Chris Williams, Director of Business Operations, explains why the organization went 100% remote a few years ago and how Acumatica has aided them throughout the process.
"Acumatica has been really transformative for our business. It's causing us to understand key metrics and financial results quicker. Because it's cloud based, it enables us to scale when we have a sudden burst of business," he says. "If you're looking for a cloud-based solution that is flexible for your current and future business needs, I would highly recommend considering Acumatica."
Acumatica can help you execute and deliver with a 100% remote workforce, too. Download our free eBook, The New State of Work in Challenging Times and get the cloud ERP tools and resources you need to embrace the new way of working. Our team is standing by—remotely—to answer any questions and/or to schedule an online demonstration.