The CFO of Dakota Red Corporation says Acumatica Summit 2019 is the place for Acumatica customers to learn the ins and outs of using Acumatica's cloud-based manufacturing ERP. Today, he'll share his three main reasons for attending his second Acumatica Summit and why he thinks you should go, too.
Matt Stoner is a busy guy. As the CFO of Dakota Red Corporation, he oversees the financial concerns of the company as well as Human Resources and IT. But even with his packed schedule, he's making time to attend Acumatica Summit 2019 (coming January 27-February 1, 2019 in Houston, Texas) and shares three reasons why this is an important event for him and for all Acumatica customers.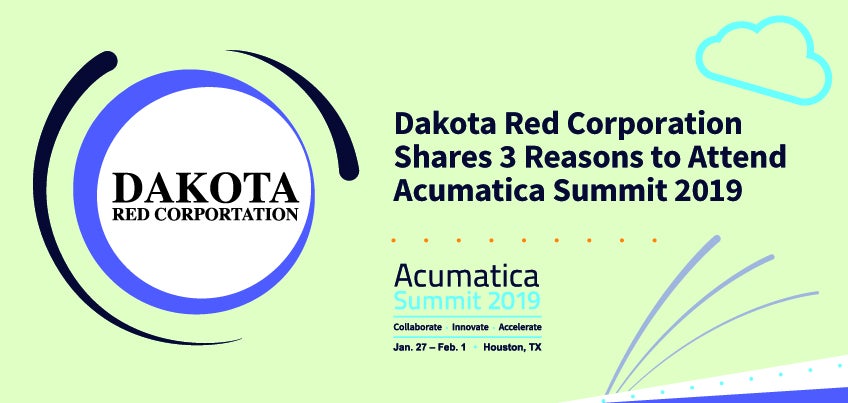 First, why Dakota Red chose Acumatica
In 2016, Dakota Red executives began looking for manufacturing ERP software that could handle their multiple locations, improve their reporting capabilities, and scale with them as they grew.
"We needed something cloud-based. We have a few locations that are somewhat remote and getting direct connection between locations was difficult," Matt says. "We explored a couple of different options, including NetSuite, and we liked the look and feel of Acumatica."
As a holding company, Dakota Red Corporation consists of King's Material, Midland Concrete Products, Hawkeye Ready Mix, and Stone Concepts. They have 12 locations and 15 entities, which supply ready mix concrete, concrete block, and other masonry landscaping products. From 1988 until 2017, they piecemealed their accounting, payroll, inventory, and reporting needs through various systems including Sage 100. They needed a single ERP for manufacturing system to efficiently manage their business processes, handle their BOM costing, and more. They chose Acumatica.
"We liked the fact that it is a newer company and the innovation that comes along with that. We saw that it was going to be a product that was going to be continually invested into," Matt says.
Part of their research into Acumatica included attending Acumatica Summit 2016. The company's IT Manager went to learn more about our cloud ERP product and platform, and Matt says, "He was really impressed with the roadmap and the innovation. He could tell where the product and the company were going."
You can read their case study for more details as well as watch Dakota Red's video testimonial below.
Customers can see, shape the future at Acumatica Summit 2019
After the company went live with Acumatica—implementing our Manufacturing Edition, which includes Financial Management and Distribution Management—in January of 2017, Matt, the IT Manager, and one of their Purchasing Managers (who was very involved in the implementation and the inventory configuration) attended Acumatica Summit 2018.
"I anticipate sending at least one-to-three people every year going forward," Matt says.
If you're an Acumatica customer contemplating whether you should attend Acumatica Summit 2019 or not, here are the top three reasons he thinks will sway your decision:
1. Acumatica's transparency and the customer's role in shaping Acumatica's future
Acumatica Summit 2019 is where you who use Acumatica's cloud manufacturing ERP every day can see firsthand what Acumatica is planning for the future. Acumatica CEO Jon Roskill and other members of the executive team introduce enhancements to our cloud ERP product and platform as well as new applications (such as our Construction Edition this year), new partnerships, the market forecast, and R&D initiatives during the Monday and Tuesday keynote sessions.
"We see the benefits in seeing the roadmap, what's coming down the pipeline," Matt says.
He was also impressed with Acumatica's desire to include customers—along with the VAR and development communities—in shaping their future.
He says, "One session I really liked was where Acumatica was presenting different enhancements being considered, and there was live voting. Customers and VARs were able to participate in helping prioritize and develop that roadmap."
2. Networking with other Acumatica customers and Acumatica executives
For Matt, meeting with like-minded customers who use Acumatica cloud ERP is a real draw for attending Acumatica Summit 2019.
"Networking with Acumatica customers is a huge benefit, especially in getting their perspective on real-life issues," Matt says. "We also met some people in related industries to ours, so that was good to have those points of contact."
He also had the pleasure of meeting several Acumatica executive team members during the Solutions Showcase reception and at our annual Monday night Celebration Party.
"Acumatica is a good host, and we enjoyed the hospitality and the events in the evenings," Matt says. "This is where a lot of the customer networking happened along with meeting actual Acumatica employees and developers. It was also neat and kind of surprising to me to see the CEO [Jon Roskill] and other executives right there, not only on stage during the sessions, but at the events in the evenings and being able to approach them and talk to them."
Being available to our customers, from the leadership members on down, is a priority for Acumatica at our Summits and beyond.
"That was really eye opening for us. When our IT Manager attended Summit 2016—we were still looking at the product—I remember him coming back and talking about how our VAR introduced him to Jon Roskill along with some other executives. The opportunity to talk with them one-on-one adds great value to attending the Summits," Matt states.
3. Trainings and Solutions Showcase
Though Matt was unable to stay for all the customer trainings, he did mention that he may or may not have attended a few of the VAR training sessions.
"Some were flagged more for VARs than customers. I crashed a few that were flagged more for VARs. It was helpful to hear a different perspective," he says. "We definitely come to visit with other customers, though, and learn how to improve our processes that we use every day."
He also felt the Solutions Showcase with the Acumatica ISVs was a don't-miss event for customers. "Being able to go around to all the different vendor booths and see what third party options are available. That was great exposure to see what was out there beyond the out-of-the-box Acumatica model. It's a good resource for customers and a great opportunity to network with each other."
Acumatica: "approachable" cloud ERP
Matt encourages other customers to check out Acumatica for themselves and compare us against other material requirements planning systems.
"Acumatica is the type of company we like to do business with—companies that are approachable and seem more like a business partner rather than a quick sales pitch and then on to the next sale," he says. "We're very happy we went with Acumatica."
Register for Acumatica Summit 2019. You'll have the chance to meet with people from your industry (as well as other industries) and learn how Acumatica can be customized and utilized to its fullest. You'll get insight into Acumatica through the trainings and through the eyes of the leadership who run it. In addition, you'll enjoy our fun after-hours' events and our amazing venue—the Marriott Marquis Houston—while also having some free time to check out the visitor attractions and local restaurants located nearby.
I hope you'll join us!
I also hope you'll take a minute to read our first post in this series on customers excited to attend Acumatica Summit 2019 and see what InSync Heatlhcare Solutions had to say. Our next post is coming soon.
Until then, contact our team if you have any questions about our cloud manufacturing ERP or if you would like a free demonstration.