The third-annual Acumatica Hackathon, taking place during Acumatica Summit 2019, promises to be even bigger and better than ever. This is the perfect opportunity for developers who have a passion for creating real-world, problem-solving applications to gather together, create, and make their mark.
 As a developer, does spending hours working alongside—and competing with—your peers to create innovative and exciting applications for the Acumatica xRP platform sound like time well spent? If so, the third-annual Acumatica Hackathon at Acumatica Summit 2019 (coming January 27-February 1, 2019 to Houston, Texas) is the event for you.
Developers interested in participating should register right now. By registering today, you'll secure your spot in a very popular event as well as benefit from our early bird pricing that's available for a limited time only.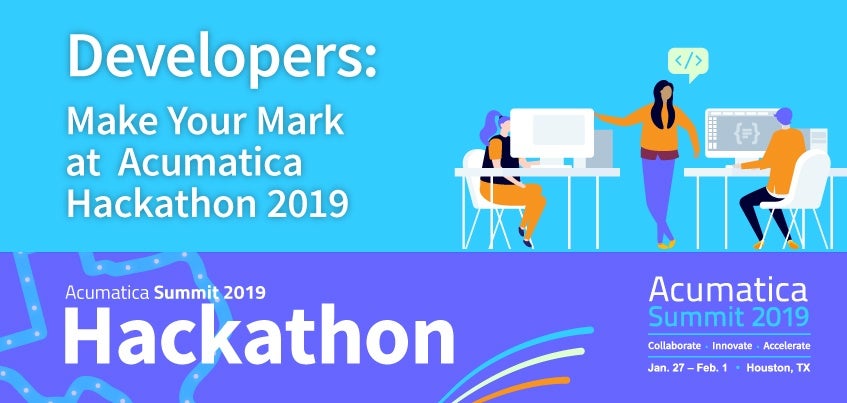 The history of the Acumatica Hackathon
In 2017, the very first Acumatica Hackathon took place in La Jolla, California during Acumatica Summit 2017. Over 60 members of the Acumatica community participated, including both developers and non-developers; the non-developers included partners, customers, and Acumatica team members. Teams were formed a couple of weeks in advance along with an assigned Acumatica subject matter expert (SME).
They came prepared to win. With the ideas they already had in mind, they spected, coded, and documented their app in a 4-hour period (while enjoying pizza, assorted snacks, and beverages to keep them going) and presented their projects to a panel of judges. After the judges assessed each project, two winning teams were picked. The winning solutions focused on sending SMS & Call Notifications with Twilio integration and Dynamic Customer Price Class Changes; they were published almost immediately in GitHub and were showcased during Tuesday's Keynote.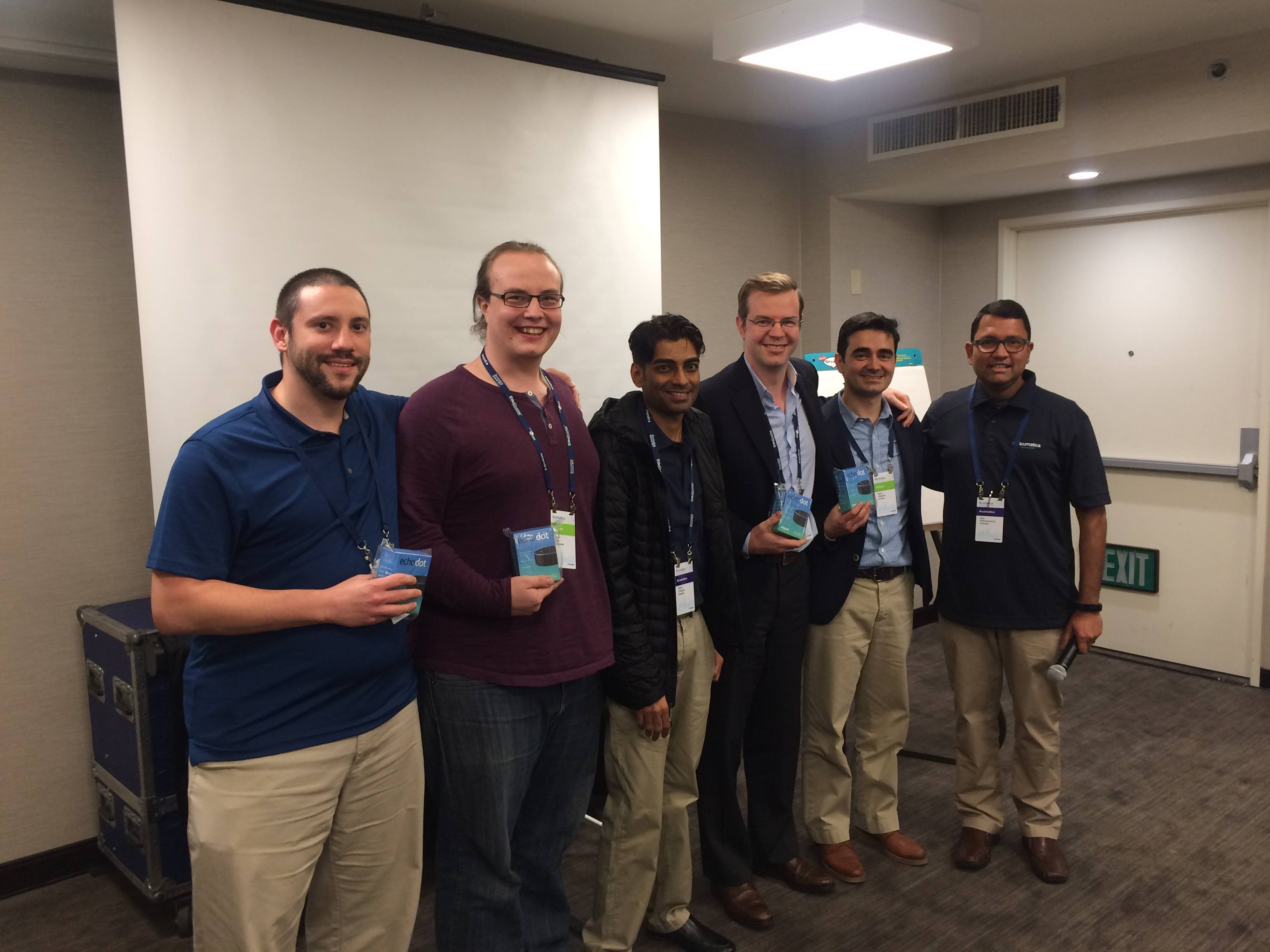 Pictured: Team Epsilon, one of the winning teams from Acumatica Hackathon 2017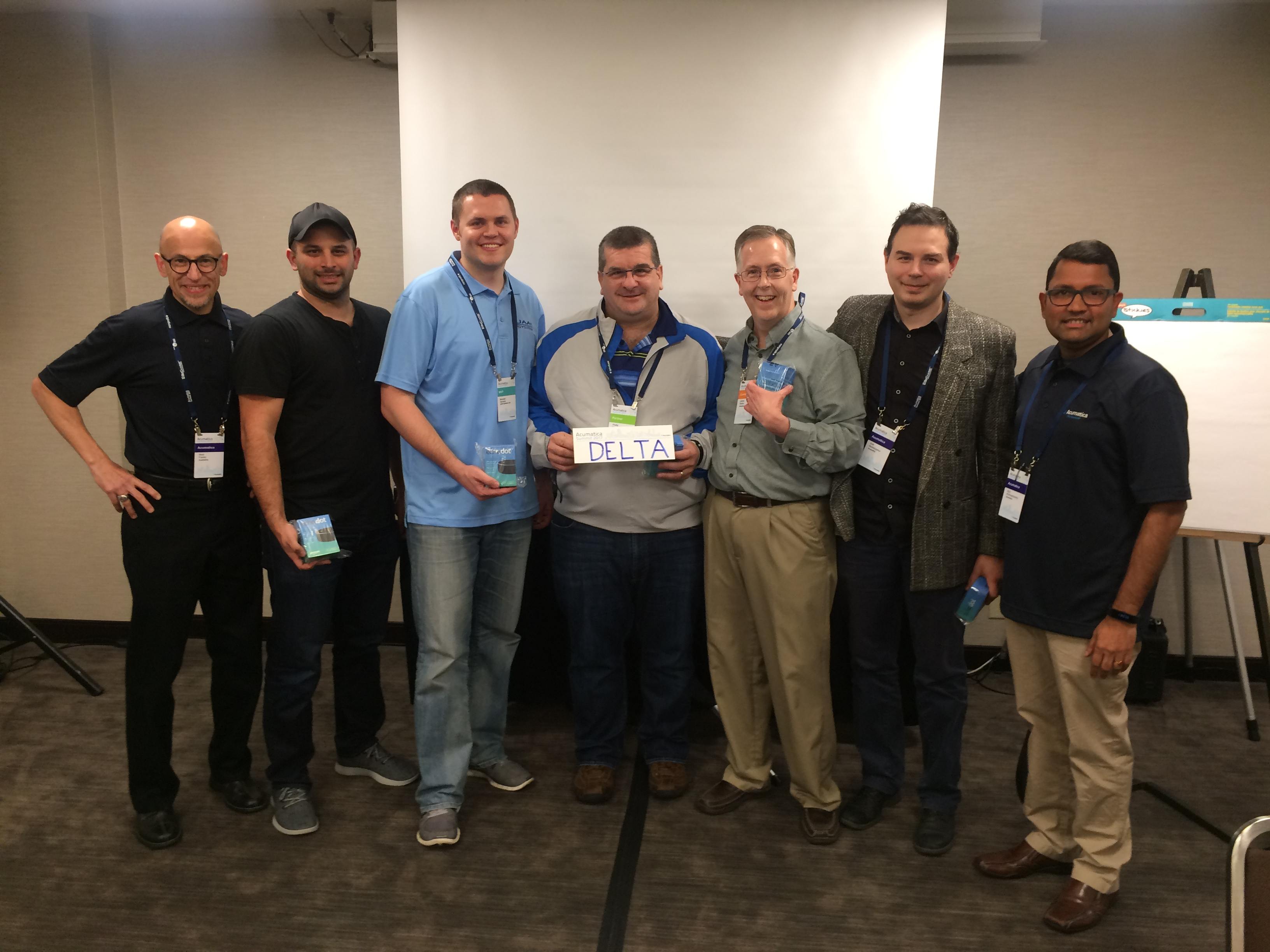 Pictured: Team Delta, the other winning team from Acumatica Hackathon 2017
The inaugural Acumatica Hackathon was deemed a success. The camaraderie of the diverse group of participants was evident in the laughter that accompanied the hard work. Because they enjoyed the experience, the participants requested more time to make their developer mark at the next Hackathon. We heard their feedback and immediately began planning an expanded edition for the next year in Nashville, Tennessee.
Acumatica Hackathon 2018 saw increased participation and garnered further accolades. Unlike the year before, teams were given approximately 24 hours to complete their projects, starting at 2 pm on Saturday before the Summit began, going until midnight (or later), and restarting on Sunday at 10 am to finalize their work. Judging by Acumatica's CTO, Chief Product Officer, and VP Platform Strategy began at 12:30 pm with each judge looking to see how the presented and newly-minted solutions added unique functionality to Acumatica's cloud xRP platform. And every team delivered.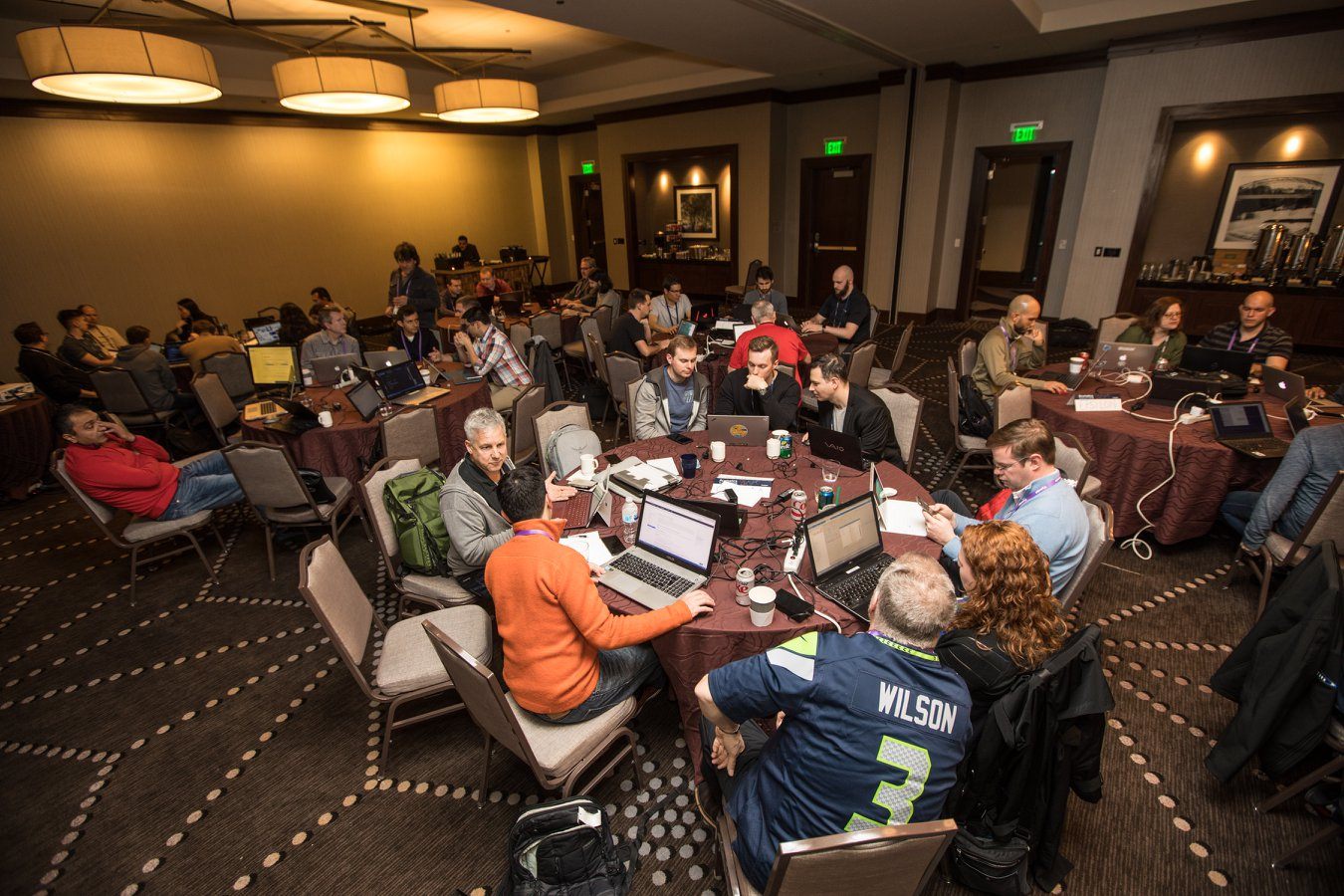 Pictured: Teams hard at work during Acumatica Hackathon 2018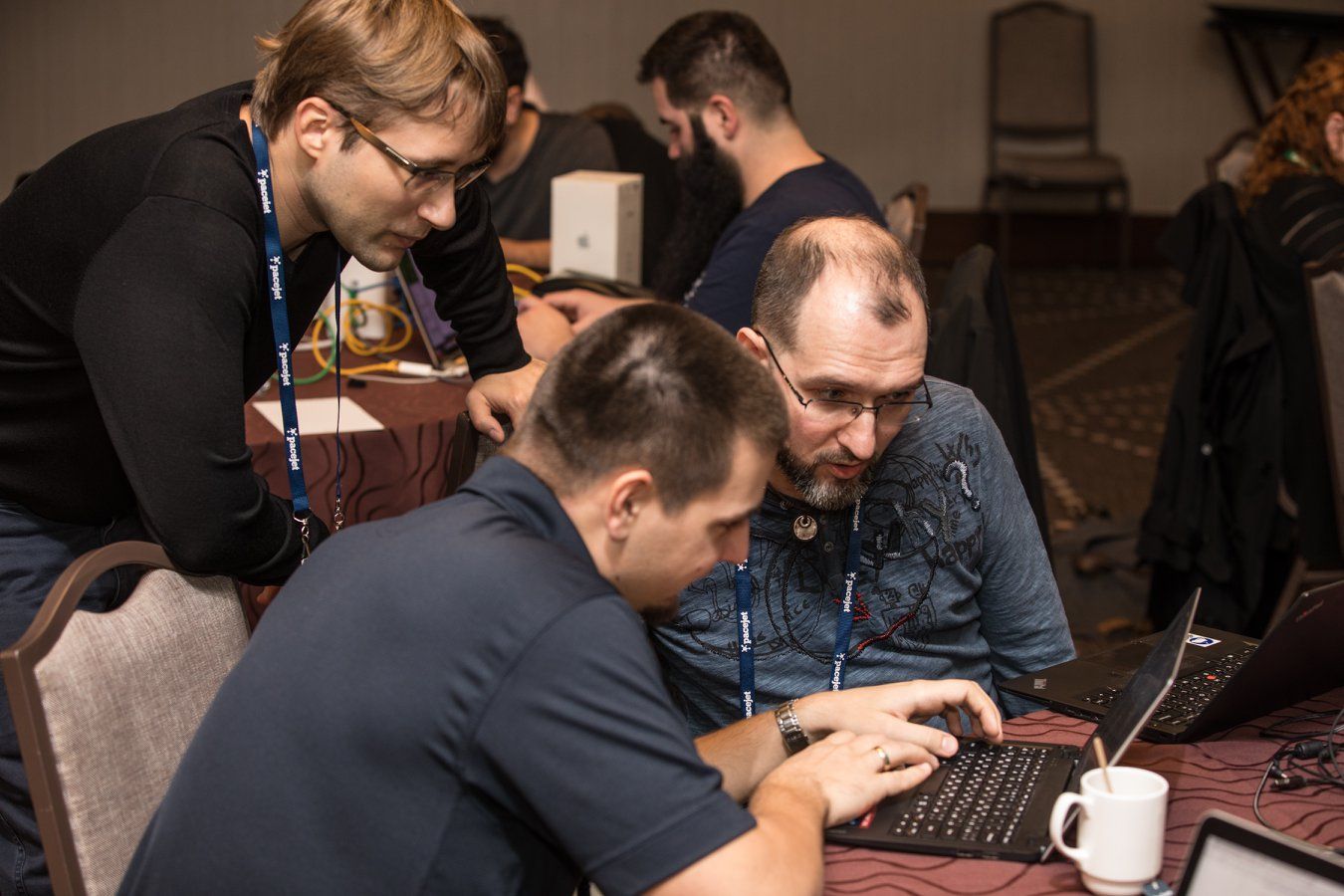 Pictured: Developers hard at work during Acumatica Hackathon 2018
Real-world business solutions for Acumatica customers
The real-world, quality business solutions provided by the Acumatica Hackathon participants have impacted Acumatica ISVs, VARs, and customers, and their deliverables are still available on GitHub. And while every team did an amazing job, the judges had to choose the top three winners for Acumatica Hackathon 2018.
Team Epsilon, the third-place team, enhanced our Acumatica e-Sign integration with DocuSign and Adobe Sign. Using our original code published in GitHub, they simplified and extended the integration by minimizing the manual clicks as well as automating the sending out of documents to be signed.
Second place Team Alpha created AcuFace. The solution, which the team said was the result of taking advantage of the cloud's many services, extended the Acumatica xRP platform by integrating Azure Cognitive Services to add facial recognition to approvals.
And Team Beta, dubbed the "best of the best", came in first place with their solution. Integrating with a VoIP server, freePBX, they provided click to dial and returning contact information for caller ID. It automatically creates activities for inbound and outbound calls and uses push notifications to pop up contact record for incoming calls or create a new contact for unknown callers.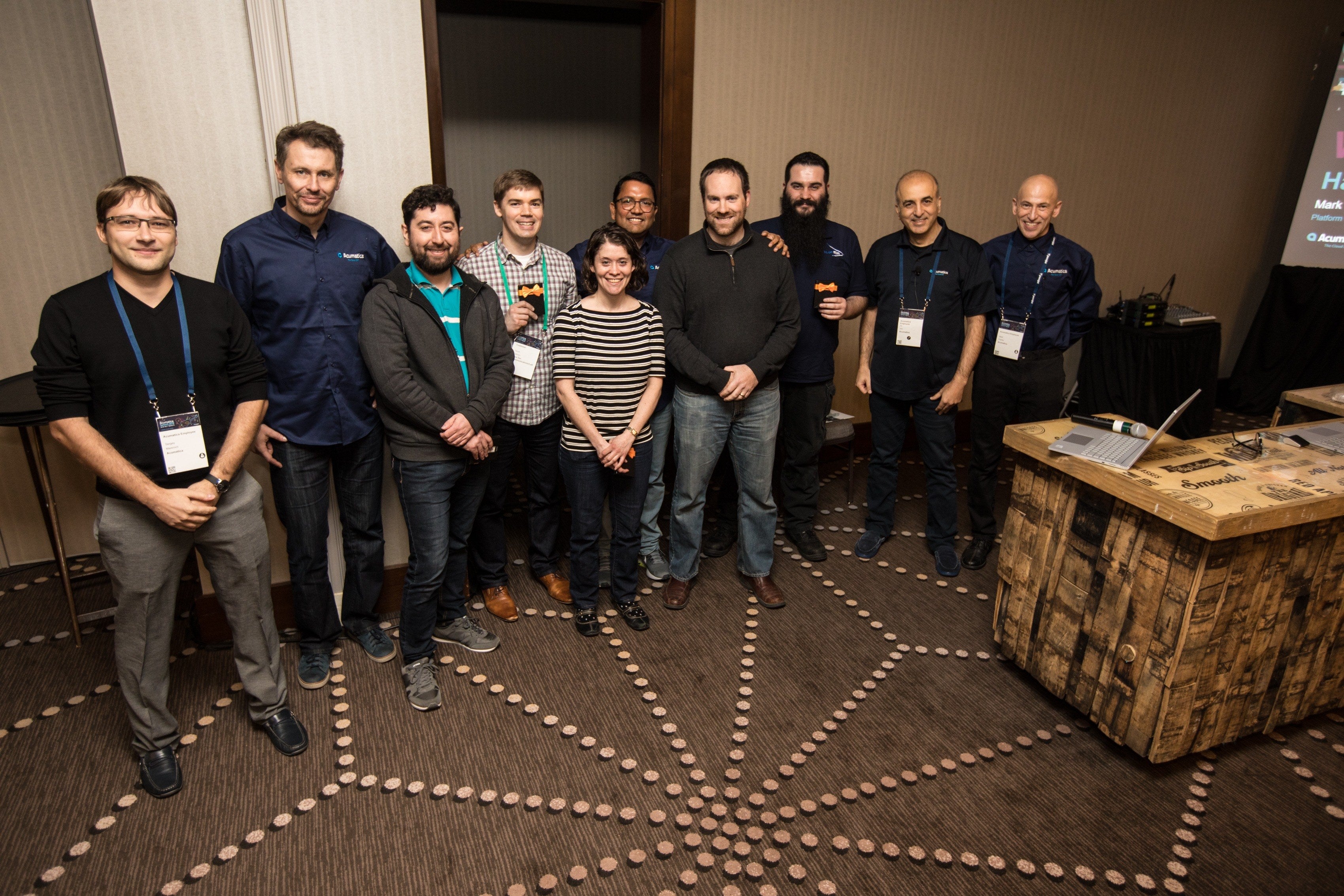 Pictured: Team Beta, the winning team from Acumatica Hackathon 2018
The remaining teams:
Created a new toolset for developers to add license enforcement to customizations.
Captured AP invoices from incoming e-mail (or from a bulk scanner) and providing an environment for AP Personnel to code and process the document.
Provided support for blanket sales orders: When actual orders are created from the blanket order and shipped, order and shipped quantities are updated on the blanked order. Also, one can see all the actual orders and shipments right from the blanket order.
Used Acumatica Push services, with one team creating an interactive BOT. The BOT receives changes in user-defined data and allows the end user to respond from applications like Skype.
As you can see, selecting the winners wasn't easy. Every value-filled application that came out of last year's Acumatica Hackathon was impressive.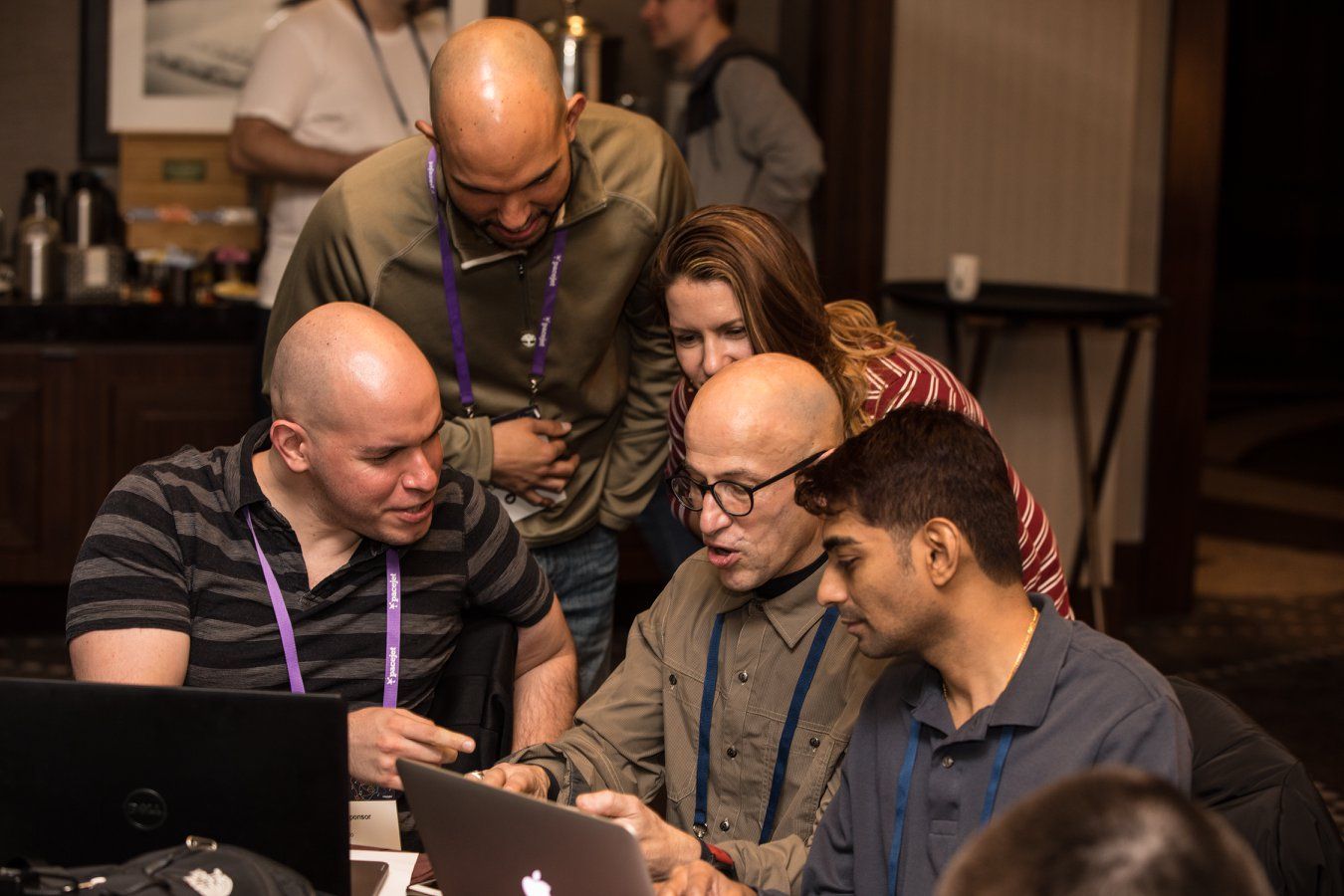 Pictured: Acumatica's Mark Franks with Hackathon 2018 participants.
Acumatica Summit 2019 and Acumatica Hackathon
In a recent post, Mark Franks, Acumatica's Platform Evangelist, called on developers to attend Acumatica Summit 2019, giving his top three reasons why. His first reason? The Acumatica Hackathon. He wrote, "The teams work hard, but they have fun doing it. And if you participate, you'll be developing applications that are not only interesting but stretching the imagination of what can be done on our robust platform."
If this whets your appetite to try your hand at developing an award-winning application, then register right now. Doing it sooner than later allows for time to generate great ideas you and your team can bring to life during the Acumatica Hackathon. Early bird pricing expires November 9th!
Also, you may have noticed that I mentioned "award-winning" application. That's because we'll be introducing a new prize for Acumatica Hackathon 2019 in addition to the coveted bragging rights. We'll disclose what that tangible prize is in an upcoming post and will also discuss the benefits of engaging with the developer community in another post coming soon.
Contact our team if you have any questions or feedback about our now yearly Acumatica Hackathon or our cloud xRP platform. We encourage full involvement by our developers. In fact, check out our Acumatica Developer Network (ADN) website for updated developer-focused news and insights and for the Acumatica ADN Blog, where Mark Franks just wrote another post that may be of interest to you, Acumatica Summit 2019: Oh, Come Ye All Developers!.
We hope you'll come make your mark at Acumatica Hackathon 2019.