Having a passion for beer, Devil's Peak Brewing Company had successfully grown their business to the point where their need for a cloud based financial ERP led them to Acumatica. The company benefits from Acumatica's end-to-end ERP system with functionality and integration capabilities wrapped up in an easy-to-use and cost-effective platform.
"Beer as it should be."
This is the slogan on the home page of Devils' Peak Brewing Company (DPBC) and it's an attention getter, even if you're not a beer aficionado. It also encompasses the mission of this innovative and award-winning brewing company as they strive to educate South African beer consumers on the effort, craftsmanship, and passion needed to produce exceptional beer and on the incredible variety and quality of beers they create.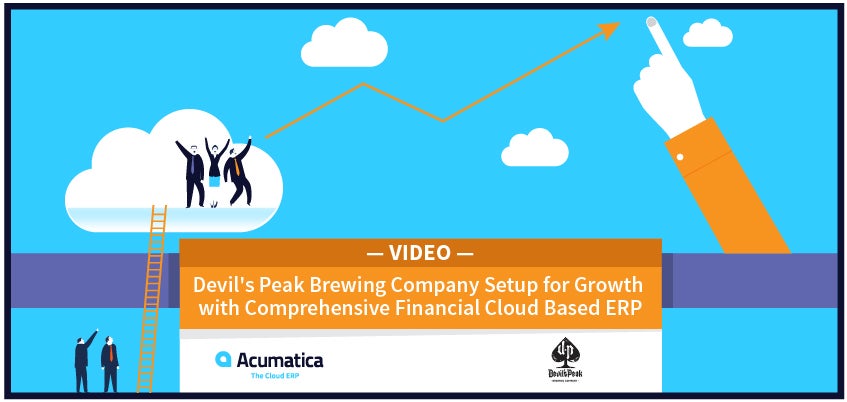 DPBC is the third customer success story in our four-part series. If you missed the first two, go here and here to watch the customer success videos of other Acumatica customers who have grown through the implementation of our complete ERP solution.
Beer producers and Acumatica: Brewing success
First introduced to the market in 2012, DPBC produces a wide range of American, Belgian, and English style ales, keeping quality as their number one priority. As they grew, their supply chain became more extensive and their operating system requirements became more complex, forcing them to quit QuickBooks as their financial and accounting software. They needed an end-to-end ERP that was cloud based and able to handle their financial, manufacturing, distribution and integration needs. Enter Acumatica.
Take a look as Managing Director Derek Szabo talks about the origins of the company, their desire to produce outstanding beer using the best ingredients from around the world, and the difference Acumatica has made to their business' future with our comprehensive cloud based financial ERP.
Growth and Acumatica: Yes
"Acumatica was able to handle the full end-to-end functionality, it was cloud based, and it was exceptionally cost effective," says Szabo in the video.
Acumatica's Financial Management Suite fulfills the intricate requirements of any size business. The financial management applications include general ledger; accounts receivable and payable; cash, currency and tax management; deferred revenue accounting; recurring revenue management; inter-company accounting; fixed assets; and mobile ERP applications. Included with all of these features is the full integration with Acumatica's Customer Management, Distribution Management, Manufacturing Management, Field Services Management, and Project Accounting product suites.
Along with the suite's capabilities just noted, Szabo also mentioned that the user interface was easy to use and the help guides were useful and "friendly".  Here are some of the other benefits he noted about implementing Acumatica's end-to-end ERP system:
Full support by Acumatica starting with the preparation process and continuing all the way through testing, training, and going live
Continued ongoing support after going live
Confidence that Acumatica will scale with DPBC as the company grows in complexity, adding new regions and new products
Future plans to integrate with supplies, vendors, and potentially international partners are possible with Acumatica
As an all-encompassing ERP – which is what DPBC needed for supply chain purposes – Acumatica has the adaptability and functionality to meet every company's unique requirements.
"I would definitely recommend Acumatica to other businesses. It covers the full ERP functionality, it integrates with other products well, and it's cost effective," states Szabo. His personal experience with Acumatica as his cloud based financial ERP has been successful. The collaboration has resulted in growth with the partnership expected to produce even more growth in the future.
Acumatica is your side-by-side and end-to-end financial ERP system. We promise to accelerate your business and develop right alongside you. Contact us and we can discuss how we can become your partner in your company's evolution.
Stay tuned in the coming weeks as we wrap up this series highlighting a few of our customer success videos, with part four coming soon.