The early bird pricing for Acumatica Summit 2019 is about to expire. Because our cloud ERP event offers the best training, networking, and fun around, we hope you'll register today and experience it all at a discounted rate.
Acumatica community members, this is your last reminder: Register now for Acumatica Summit 2019 (coming January 27-February 1, 2019) to secure the early bird rates before they end. The date you need to remember is Friday, November 9, 2018 at 11:59 pm PST. Once this date passes, so does the special pricing.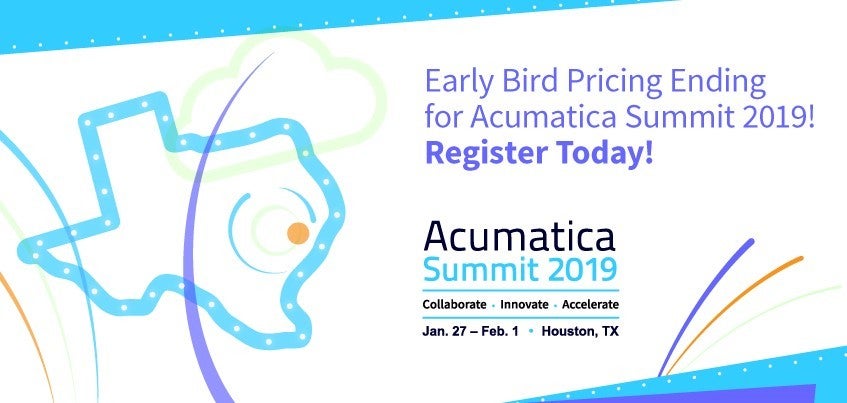 Why you should register for Acumatica Summit 2019 right away
Let me start with the most obvious benefit of registering for Acumatica Summit 2019 before Friday, November 9, 2018 at 11:59 pm PST: cost savings. These are savings you can use for other business needs. So you can see how much you'll save, here's a direct comparison of rates before and after the early bird timeframe:
For Summit Only attendees – $699.00 vs. $899.00
For Summit & Training attendees – $1,499.99 vs. $2,199.00
For Training Only attendees, the cost – $1,199.00 vs. $1,699.00
But registering early for our annual cloud ERP software event offers additional savings, such as the ability to book your flight earlier, which is often less expensive, and being able to reserve a room from our block at the Marriott Marquis Houston, which is at a negotiated rate. Keep in mind that the beautiful guestrooms at our special rate are limited. And if you haven't yet, check out what else our venue offers in way of amazing amenities, including a wide range of dining options right in the hotel itself.
Besides all these savings, you'll be able to secure a spot in our popular and limited-seating training tracks. Registering early would eliminate the concern of not getting into a training session you really want or need. Past Summit attendees who have attended our cloud ERP training have rated the knowledge gained from it as extensive and superb.
For example, in a recent post about Acumatica Summit 2019, Acumatica customer Michael Lupro, owner of Lupro & Associates LLC, said this about attending the Summit and the learning he has experienced there: "Acumatica Summit is the most exciting event of my ERP life every year. New features and customer success stories are impressive, and each year Acumatica advances more into the forefront of modern ERP systems. It is beautiful cloud ERP software and improves each year. I like seeing my fellow Solution Providers and the always increasing ecosystem of add-on solutions from Acumatica partners. I always take the full five days and attend the educational seminars on Wednesday, Thursday, and Friday of the Summit. All-in-all, a jam-packed week of learning all about Acumatica."
As Michael says, Acumatica Summit 2019 is filled with the cloud ERP software resources, tools, and information you need to accelerate your success in the cloud. They range from keynote addresses by Acumatica CEO Jon Roskill—who inspires the audience every year with insight into how Acumatica cloud ERP is doing and where we're headed—to breakout sessions specifically designed for Customer, Marketing, Partner, and Sales needs. More information on the content being prepared is available in our Breakout Sessions and Training Tracks pages.
Attendees can also meet Jon and other Acumatica executives in person, network with industry peers, watch live demonstrations of Acumatica innovations, and speak with Acumatica partners about their business solutions while enjoying the venue, location, and planned entertainment.
Today is the day to register for Acumatica Summit 2019
While you can wait until Friday, November 9, 2018 at 11:59 pm PST to register for Acumatica Summit 2019, thus securing the early bird rates, there are benefits to doing it today, benefits we discussed, such as better rates for both lodging and flights and securing your seat in important training tracks. In addition, you can start planning for your trip in advance, making reservations at the many visitor attractions Houston offers during your down time.
In our opinion, the ROI of attending Acumatica Summit 2019 is impressive. Don't wait!
And, as always, we invite you to contact our team if you have any questions or feedback about our upcoming Summit or our cloud-based ERP.