Are you seeking a new distribution management system and feeling overwhelmed as you wade through your options? Don't be. Download Acumatica's free checklist and easily compare your options.
Comparing competitor products before you make any purchase is essential—especially when it's a large expenditure such as a distribution management system. As a distributor, you have a lot of options, many of which seem to have similar features. This is why we've created a free comparison checklist. It helps you evaluate the offerings of three top vendors, including Acumatica. You can get started right now by downloading our Distribution Management System Evaluation Checklist.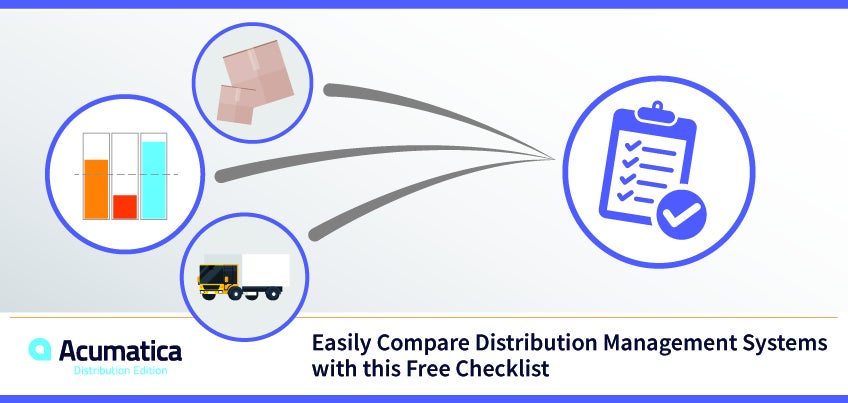 Which distribution management system is right for you?
Differentiating between distribution management systems feels like a big, time-consuming job, but it doesn't have to be.
The checklist provides the five categories (productivity, functionality, technology, and value) you should be using to measure the systems. Specifically, you'll learn the nine productivity features, the 12 functionality features, and the six value features (and all the resulting benefits) the distribution management software you select should possess. It checks off whether each vendor delivers the features found within each category while also fleshing out the necessary technology capabilities of a strong distribution management system—including the definition of what it means to be a "true cloud" option. Determining which of these factors are most important to you and your company is the hardest work you'll have to do.
And while the checklist is an easy and effective tool you can use to compare all distribution management system options, it's also a great way to compare Acumatica against our competitors. Let's take a deeper look at Acumatica's Distribution Edition.
Our distribution ERP software was introduced in our Acumatica 2018 R1 release. It aids you in streamlining your supply chain processes using Advanced Financials (General Ledger, Accounts Receivable, Accounts Payable, and Cash Management) along with the following (all of which are provided at a bundled cost):
Find out what else Acumatica's distribution management system provides in the checklist. Another  way is by hearing from Acumatica customers who have firsthand experience with our distribution ERP software, customers like Bob Davis Sales.
Bob Davis Sales provides sales, distribution, and technical support for the exploration of crude oil and natural gas. The company made the decision to choose Acumatica over Intacct, SAP, and NetSuite in 2016 and hasn't looked back.
Bob Davis Sales has multiple locations, two in Texas and one in Louisiana. They were running these locations separately and inefficiently before investing in Acumatica's distribution management software. With this decision, they centralized their three operations, their customer accounts, and their inventory needs. With the right inventory management software in place, they were able to log into one system and access their inventory, sales, and more in minutes versus hours and days.
"We've really taken the human element out of things like special pricing and leaned on the Acumatica system, which has paid a lot of dividends. It's made my life a whole lot easier," says Brett Davis, Operations Manager.
The benefits they've received include streamlined processes, improved productivity, increased profitability, and more. To find out what 'the more' is, check out their Acumatica success story.
Work smarter, not harder: use our comprehensive distribution management evaluation list
Of the distribution management systems you've compared, which one is easy to use, has true universal availability, and provides comprehensive reporting? Do they support multi-entity needs, have integrated Business Intelligence, and combine CRM and ERP in a single database? Not sure? Download the checklist right now and find out.
Acumatica's Distribution Management System Evaluation Checklist is a tool our customers, such as yourself, can use to easily and confidently find the right cloud ERP system for their needs. The information helps you formulate the right questions to ask as you differentiate between the available distribution management systems and inventory management software options.
For additional help, contact our experts. They're ready to assist you in any way possible.
Download the Distribution Management System Evaluation Checklist