Cloud ERP software solutions provide small and mid-sized businesses (SMBs) with the ability to effectively manage and integrate their core business processes, which leads to increased functionality, visibility, and customer satisfaction. However, before an SMB can enjoy these benefits, SMB Group says there are steps you should take to pick the best one and, along with Acumatica, offers a complete eBook to demystify the process.
Is your small to midsize business (SMB) operating with cloud ERP software or are you spending hours manually creating and processing spreadsheets, compiling financial data from different systems, tracking inventory, fulfilling customer requests, handling HR concerns (and much more) while staying at the office until everything is done? If so, you may think that's the cost of doing business.
Not anymore. SMB Group, along with our team at Acumatica, knows that automating your core business processes, and adding mobility, eliminates this cost and produces immediate, quantifiable results. Their comprehensive eBook, Clearing the ERP Clouds 2017 (which we're offering as a free download right now!) explains why evolving buisnesses need to keep pace with technological advances if they want to remain competitive and grow.
And, according to SMB Group, this means researching and adopting the best cloud ERP software for you and your business.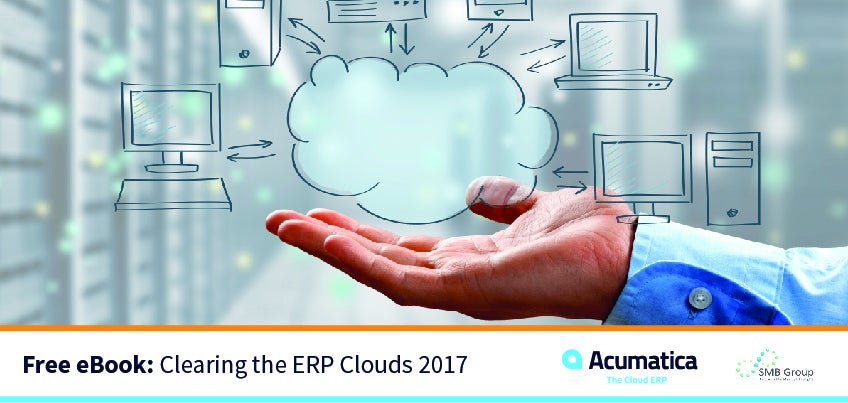 No business should fear implementing cloud ERP software
In their eBook, SMB Group states, "78% of SMBs agree that digital technologies are changing their industries." Yet, 68% of those same 750 SMB respondents feel that technology solutions do not deliver the results they need and, while the solutions provide assistance with basic business functions, they don't truly impact business outcomes. What's going on here?
Several things are happening to create this discrepancy:
SMBs are not choosing the right solution for their business; if they choose a technological foundation that is unable to save their business time and money, or align with their growth objectives, then it's the wrong technology.
SMBs understand – and desire – the flexibility, visibility, and mobility that comes with a cloud ERP solution, but the fear of how much it will cost holds them back.
SMB Group has some tangible advice about how to not only determine (and evaluate) the perfect cloud ERP software solution for your business, but also how to afford it. They state, "Because cloud ERP is typically offered in a subscription model, they help ease financial obstacles that often get in the way of deploying traditional on-premises ERP."
They also note, "As SMBs get comfortable using cloud solutions in other areas, adoption of cloud ERP is poised to grow. …SMBs now have more cloud ERP options, including software-as-a-service (SaaS), public cloud, private cloud and hybrid cloud models, and that more vendors are tailoring cloud ERP solutions to company's needs and budgets."
The value of adopting cloud ERP software and the different cloud ERP models
When you download this free SMB Group eBook, you'll read about the reasons companies like you are either considering or planning to use a cloud ERP software solution. The top four motivating factors for the respondents include seeing cloud ERP as
more cost effective (51%),
easier/faster to deploy (50%),
more flexible (48%), and
offering better security (42%).
We at Acumatica believe that these alone justify the investment of your limited time and money into researching a cloud ERP system, but we also know that there are even more reasons to do so, including "significant speed and agility benefits" as well as having "all of your business-critical information…stored in one database."
Even knowing the benefits of adopting cloud ERP software, the concern about which cloud ERP deployment would work best for you and your business can be a big hurdle. SMB Group breaks down the cloud options you'll most likely come across in your research and highlights the importance of scrutinizing each one before making a choice:
Public Cloud/SaaS: "Do it for me" approach
Private Cloud: "Do it yourself" approach
Hybrid Cloud: "Blended" approach
The eBook provides detailed explanations about each approach and even differentiates the trade-offs between the cloud ERP models. It also addresses two other major concerns you may or may not be contemplating: faux cloud ERP (vendors who host legacy client-server ERP on a server with remote terminal software access – not considered a true cloud solution by the SMB Group) and security.
Regarding security concerns, SMB Group says, "It's not surprising that more than one-third of SMBs say security is their top technology challenge, according to the SMB Group 2017 SMB Routes to Market Study." They go on to note, "…42% of customers surveyed cite better security and reliability as a top reason for choosing a cloud deployment."
The right cloud ERP software solution for you
Legacy ERP systems can't keep up with continual digital innovation, says SMB Group; these systems hinder growing companies' ability to fully integrate their key business processes due to their "clunky data file uploads or rigid custom code." Because many cloud ERP software solutions provide open application programming interfaces (APIs), they can flex with each business' needs, making integration faster and less expensive than legacy ERP.
So, which cloud ERP solution is the right one for you?
According to SMB Group, the first step in figuring it out is doing a business assessment and offers some of the questions you should be asking. What are your business goals? What kind of resources do you have available? What amount of customization do you require? There are even more questions in the eBook.
From there, SMB Group suggests you evaluate a cloud ERP software solution's capabilities by looking for an "incremental, yet integrated approach" as the best method, ensuring they have appropriate reporting capabilities,  focusing on third-party providers' integration solutions, and ultimately, finding out how easy it is to use the cloud ERP software.
Finally, it's time to choose your cloud ERP vendor. SMB Group suggests compiling a list of vendors based on a variety of resources including – but not limited to – reviews, analysts, and a trusted advisor. They also point out the need for your vendor candidates to have a "successfully validated SAS 70 Type II audit," confirming they have made their security measures a priority.
Are you ready to choose the right cloud ERP software solution?
We have by no means covered everything the SMB Group discusses and we hope you download their free eBook now. This is one of the most important business decisions you'll ever make.
As SMB Group says, "The business and technology landscape is evolving rapidly. To stay ahead of the curve and capitalize on these shifts, SMBs need a new, more flexible approach to manage core business processes and gain the competitive edge that makes or breaks business results."
If you're interested in learning more about the flexibility, adaptability, and mobility we offer your business, contact us today!