In continuing our outreach to our ISV partners, I have asked Harsha Sarjapur, president of InfoSourcing to share with our audience some insight & lessons in developing on our platform with real-world examples for our developer & partner community.  Over the next several months, you can expect to see more of these guest posts from our partners – sharing their experiences, wisdom, and development practices – which we hope will help stir readers' minds of what is possible in various vertical domains.
Order Processing Integration with 3dCart eCommerce
With the integration of rich web services, you can build third-party systems in the cloud with relative ease. Acumatica offers a flexible development platform that has enabled InfoSourcing to synchronize orders with 3dCart and quickly build an integration within the ERP system.  Within a couple rounds of testing, we were able to do live processing of orders from multiple stores.
3dCart, one of many shopping cart software solutions out in the market, helps mid-size distribution companies with integrating shopping carts on their customer's websites. We started work with one of Acumatica's customers, Kevins Worldwide, an award winning in-house embroidery, screen printing, and promotional products company located in Scranton, PA. They offer businesses with fulfillment, distribution, warehousing and eCommerce web store management services. With more than 30+ eCommerce websites – hosted as part of their turnkey services, and carrying a large inventory to process distribution order from their 10,000 sq. ft. – their warehouse operations quickly became a challenge.
Kevins team was manually processing orders from 3dCart, keying in orders manually into their legacy system until they discovered the Acumatica Cloud ERP solution.  InfoSourcing, a certified ISV partner of Acumatica, implemented a Cloud ERP solution for Kevins Worldwide in 2016 and developed custom plugin for "Order Sync", a 3dCart connector to Acumatica to be able to process web orders and ship them faster.
Acumatica Development Platform
We utilized what Acumatica had to offer with its platform – a powerful API/Web services and easy to customize and upgrade platform.  These and other features, gives developers the flexibility to build custom solutions on top of Acumatica and improve efficiency across the entire ecosystem.
How InfoSourcing Built 3dCart Integration with Acumatica Cloud ERP
Any new custom development project requires in-depth design and gap analysis. We put together this solution much more efficiently since we have worked with several different ecommerce solutions in the past, providing us a deeper understand how shopping carts and the distribution industry function.
The InfoSourcing team used an out of the box distribution module to integrate the order processing from 3dCart. We had the opportunity to create a simple import scenario by importing the orders.csv file. However, we wanted to leverage what the Acumatica Customization Framework had to offer and built an order import framework that Kevins or any other customer could use to import orders from the 3dCart shopping cart into Acumatica. This order processing framework allows users to configure multiple websites to manage distribution processes.
We designed a configuration screen for website management, setting up defaults and mapping, adding an additional processing screen using Acumatica's process screen functionality; allowing us to schedule the downloading of their orders or the ability to manually process all of their shopping carts.
Website Management
Each website management configuration screen allows you to create the connectivity between Acumatica and 3dCart API's, setup default configuration settings needed to process orders from 3dCart to Acumatica, and test the connectivity. At this point, we're ready to import orders. We wanted to keep the setup intuitive & simple, allowing an IT manager to manage without having to refer to the documentation.  Using a pragmatic approach in building products, as learned from my previous experience of being product manager, comes into play here.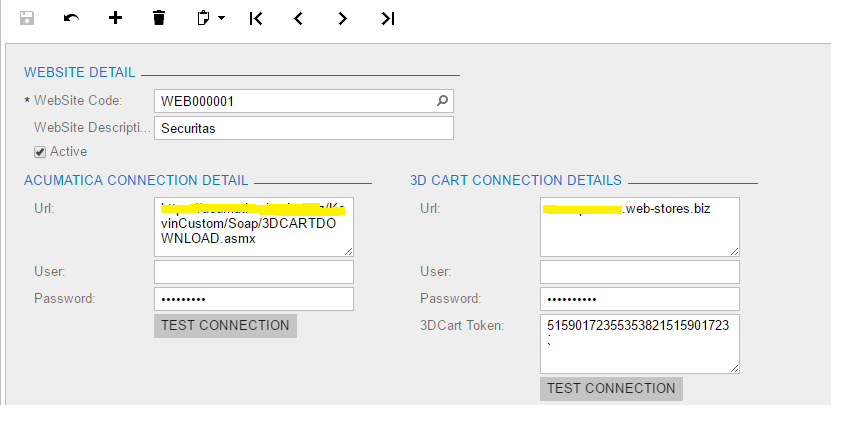 We extended Acumatica's process screen framework allowing Acumatica users to import web orders from multiple websites. The processing screens allows users to select single or multiple websites. We can even extend this functionality to schedule a job to run and process a few sites every hour with multiple schedules.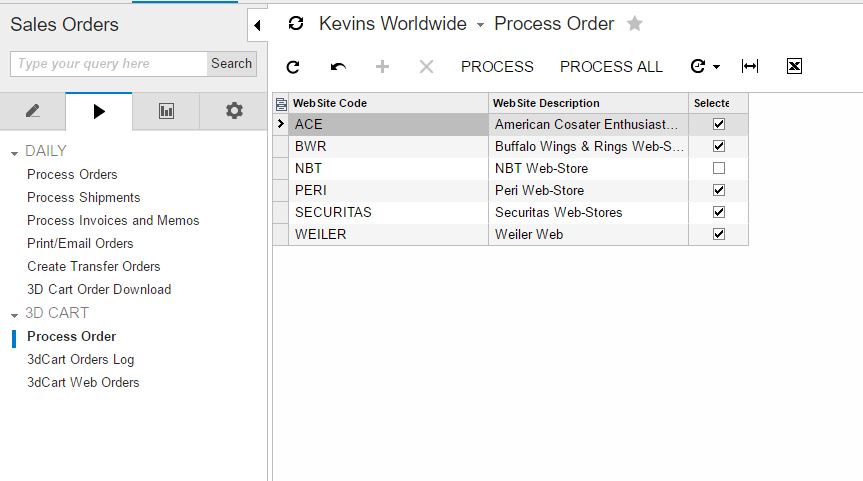 Below is a code snippet showing how we used the PXProcessing view and a custom function to call order processing.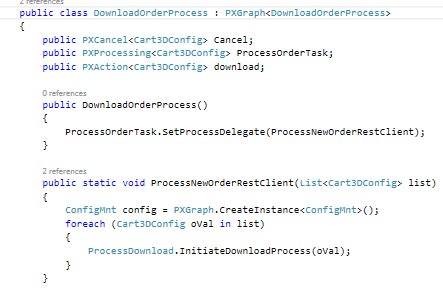 Acumatica's extensive APIs enable you to automate business processes, quickly create sales orders for incoming web orders –  and do this in real time as needed, if the volume of orders increases.  The OrderAPI lets you to create sales orders based on defaults configured in our configuration and follows our business logic. In this example, Kevins Worldwide wanted to create orders from specific stores to specific business accounts in Acumatica and test all web customers as their location and contact.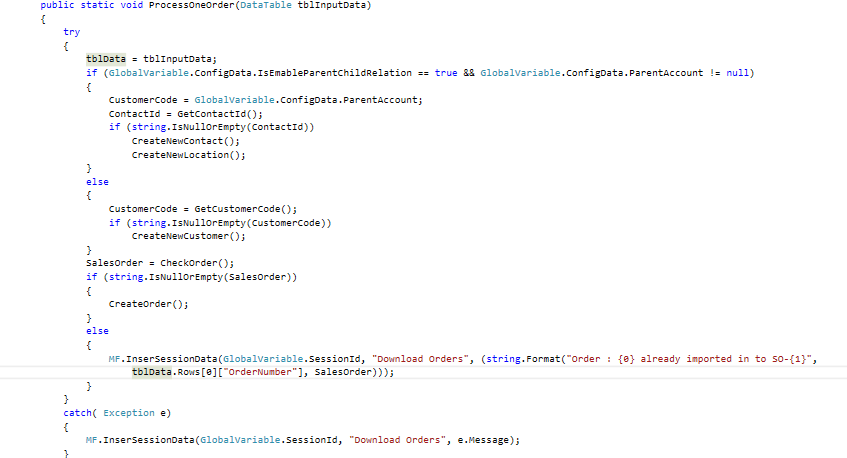 Once orders are downloaded, you can build a few generic inquiries to view all the web orders created.  Furthermore, logging all the order processing information is captured,which is handy in troubleshooting – making an IT manager's life easier for processing web orders.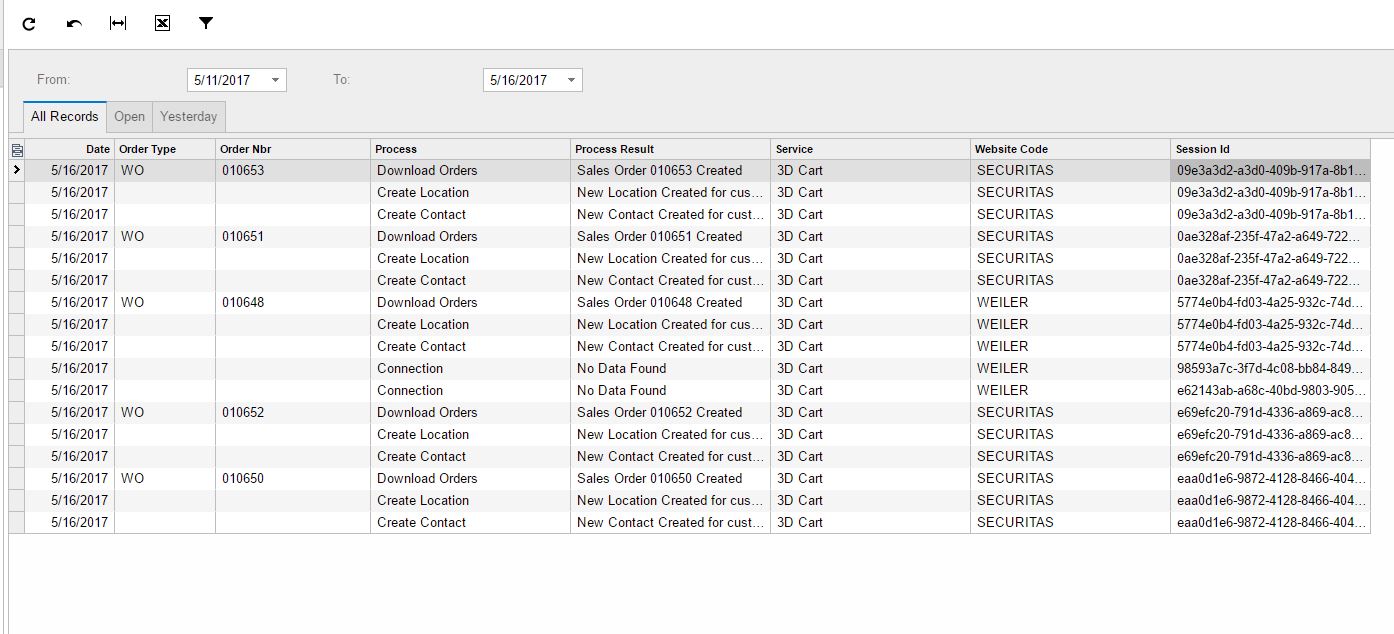 Comparison of Web Orders Between 3dCart (left) and an Acumatica Order (right)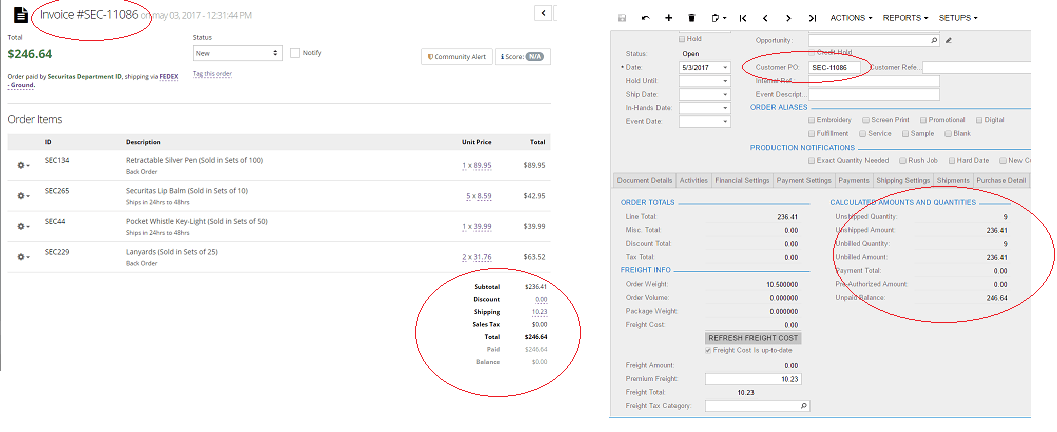 Conclusion
With multi-cloud technology, business operations can scale at an alarming pace. We will have more vendors realize the true potential of cloud and expose their intellectual property as RESTful web services that can be consumed all across, and it ultimately benefits our ecosystem of customers, developers, partners and vendors.
In this post, we highlight the rich eCommerce web services from 3dCart being tied into Acumatica's Order processing a glimpse of what you can build. We could certainly scale this plugin to accommodate product sync features and manage your entire shopping cart through Acumatica platform.
We can extend product listing into marketplaces such as Amazon, eBay, shopping feeds and many other revenue generating sources – the key to all these integrations is a powerful API/web services and a good cup of coffee.
To learn more about the great work InfoSourcing is doing, visit them here.