Our four-part series on customer success videos continues with Ray Allen Manufacturing. The company's desire to expand required manufacturing ERP software that allowed them to add unlimited users without having to contact their vendor first. Their choice of Acumatica has provided the company with a wide array of benefits highlighted in the video.
As the second post in a four-post series, we turn to another Acumatica customer success story. You may have missed our first post about growth through implementing Acumatica's Financial Management suite by the Cesar Chavez Foundation. We hope you'll take a moment to check it out. These video stories are both fun to watch and insightful. They are a great way to enhance your business' growth through watching, learning, and implementing the actions of other businesses as they accomplish their present and future financial goals by utilizing Acumatica as their ERP system of choice.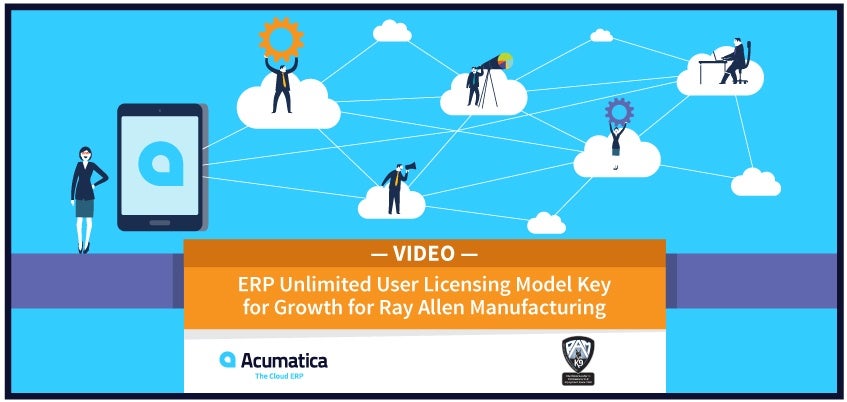 A cowboy, a manufacturing company, and Acumatica
This next customer success video features Ray Allen Manufacturing, a company with a great beginning.
It was founded – fittingly enough – by Ray Allen. As a young boy, Allen traveled by wagon from Missouri to Colorado, where he settled and put down ranching roots. He soon met his wife, Frankie, and established a saddle and harness business in Colorado Springs. "Cowboy" Allen connected with the U.S. Army (the Mule Division at Camp Carson to be exact) when they moved their Sentry Dog Program to that location. He was asked to provide basic K-9 products; this was the start of his professional K-9 equipment-manufacturing career, which lasted until he sold his business in 1977. The company's website offers more details about Ray Allen, his life, and how his company evolves from his singular vision to a "world leader in quality and innovation of professional K-9 equipment." I encourage you to check it out.
Fast forward to 2012 and Steve Cates takes the reins as President of the company. Since then, it has experienced double-digit growth. Acquiring J&J Dog supplies (a leader in the competition dog obedience and agility markets) in 2014, the portfolio company continues to provide and produce innovative products.
Their continued success and growth became too much for their legacy system to handle; their search for an ecommerce ERP that would support their manufacturing ERP and would have the ability to stabilize their current business while not losing sight of their desire to expand in the future was imperative. This plan for expansion includes the possibility of new acquisitions that would require more users of the ERP software. Acumatica's unlimited users licensing model fit the bill.
Cates says that Acumatica's licensing model gave them room to grow without having to contact the vendor and renegotiate for more users. "We can just keep the business moving."
In the video below, Cates also says, "One of the reasons we chose Acumatica ERP was because we were happy with the base foundation but (Acumatica) also allowed us to add best-of-breed products on the other side."
Watch as Cates shares about the company and describes the benefits of choosing Acumatica.
The founder's legacy (not the legacy system) continues
Ray Allen Manufacturing has been operating successfully for decades. To keep succeeding in this modern and high-tech world, they added JAAS Advanced Manufacturing Software (JAMS) (the Acumatica Manufacturing Management Suite). They also chose Acumatica's Commerce Edition using Magento with the Kensium Magento Connector. The team at Ray Allen Manufacturing – collaborating with Acumatica partner M2 Technology – was able to customize the system to meet their unique requirements.
"The benefits since we've been on Acumatica have been vast," Cates says.
Ray Allen Manufacturing is more efficient, streamlined, and productive because they chose a manufacturing ERP and ecommerce ERP that allowed for unlimited user licensing and customization, among many other things. The knowledge of their Acumatica partner helped them integrate their systems and provide increased accuracy in reporting, inventory, product life cycles, and customer service.
Is your company looking for an ERP for inventory management or an ecommerce ERP? You and your business can have the exact same success and growth with Acumatica as Ray Allen Manufacturing has experienced. We'd love to chat with you about your options!
But what happened to Ray Allen after he retired? He remained a part of the self-described family business until his passing in 1990. His company accomplished leadership status in the professional K-9 equipment industry and Acumatica is proud to be a part of their ongoing mission of excellence.
Stay tuned in the coming weeks as we continue on in our Acumatica customer success video series.