We at Acumatica understand that our success in offering the best cloud ERP solution is due to the efforts of the Customers, Partners, and Developers in our community, and as a community, we all gather in one place once a year. Acumatica Summit 2018 is on point to match – and exceed – last year's amazing event. Acumatica's Noel Buslon shares the reasons he's excited to attend.
If you've ever attended our Summits, then you've experienced how each one gets better than the last. I know Acumatica Summit 2018, coming January 28-February 2, 2018, will be no exception. You'll learn the latest and greatest on our products and solutions, receive product certifications, have the chance to meet the leadership team, and network with peers.
As our premier cloud ERP event draws ever closer, I suggest you register for Acumatica Summit 2018 right away so you don't miss out!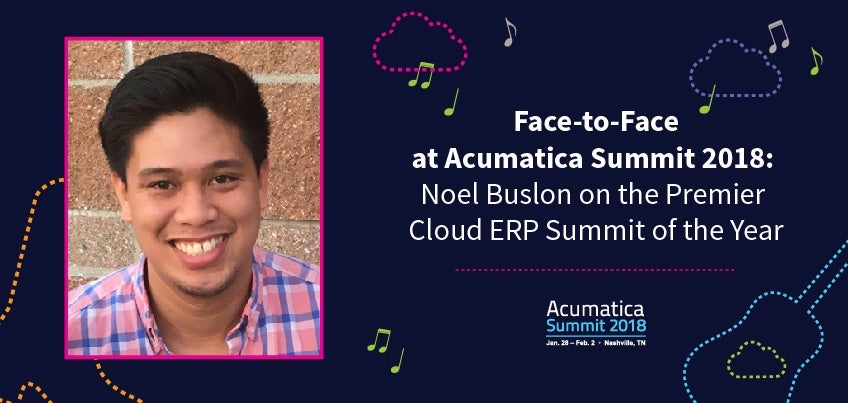 Direct interaction, learning (and fun) at Acumatica Summit 2018
As an Inside Sales Rep, I've worked with many potential and current Acumatica Customers. I'm now transitioning from that role into a Partner recruitment position where most of my time is spent walking companies interested in partnering with Acumatica through the certification process and beyond.
The thing I enjoy most about these roles is getting to know people in the cloud ERP community. At our annual Summits, I've deepened those relationships through face-to-face interactions during the different training and breakout sessions as well as at the EXPO and entertainment planned for the event; I expect no less from my time at Acumatica Summit 2018.
I've been able to follow up with the VAR Partners I've brought on board to see where they're at in the recruitment process. It's awesome when I hear that their experience with our Partner channel program is successful, falls in line with what I promised from the start, and shows the value we place on those who sell and implement our Acumatica ERP solution.
Acumatica also values building our community through sharing insights and knowledge of our products and platform and providing the support and training needed to be successful. This is apparent in the variety of breakout sessions and training tracks offered at our Summits. Last year, I visited session after session and witnessed how genuinely excited attendees were about Acumatica's innovative presentations, which are unique every year.
The feedback from many of these same attendees was that they receive value from Acumatica's Summits, especially compared to other conferences they attend. Acumatica Summit 2018 is on track to be another event that fully satisfies the cloud ERP needs of our hundreds of attendees.
Finally, I don't want to forget to tell you about this year's location and venue. We're heading to Nashville, Tennessee – the Music City – and staying at the Omni Nashville Hotel. I'm super excited to see what everyone keeps talking about, from the amazing live music options (even pop up concerts right on Broadway) to delicious Southern cuisine, and so much more. I can't wait!
Join me at Acumatica Summit 2018
Listen, this event is big – big on value, community, training, support, networking, and fun. If you haven't yet, register for Acumatica Summit 2018. I've attended many conferences and the benefits of Acumatica's premier event are vast, including the reward of being a part of this supportive community.
I hope to see you there!