Have you decided to automate your field service business' processes to increase profits, functionality, and customer service? If so, your search for an integrated service management system – such as Acumatica's Field Service Edition – requires asking the right questions, getting the right answers, and using them to make the right choice.
In a previous post, we discussed Field Service Management – what it is and how it benefits your field service business. If you missed it, take a moment and read it here for that important definition and the incredible benefits. The intent of the post was to highlight the profitability and functionality you receive when you embrace the idea of automating and updating your legacy system software to field service management software through a highly rated, reputable, and integrated ERP system.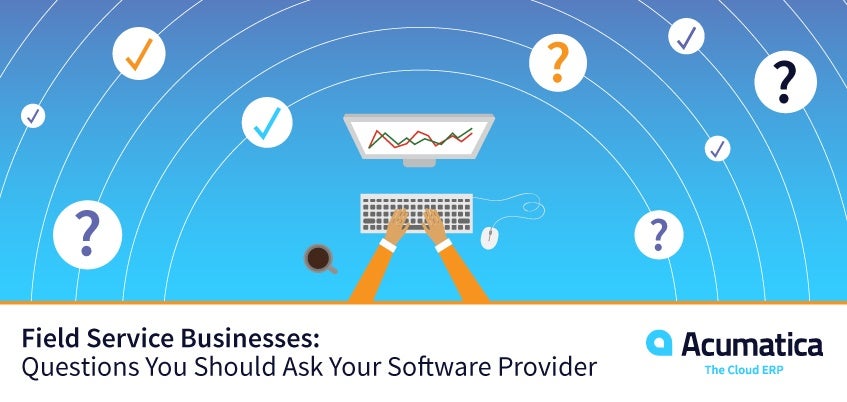 Today's post will assist you in making the best choice of field service management software for you and your service organization by giving you the exact questions to ask your potential software provider. Their answers, or lack thereof, will help you weigh the pros and cons of each vendor – based on facts – that will help you pick the right one. It's essential you know the answers at the beginning so that time-consuming, costly surprises don't arise in the middle of your field service software implementation.
Vital questions to ask your potential software provider
Facts are a necessity in the search for a service management system; you know your business, your needs, your customer's needs and what you want to accomplish. What you don't know is if the ERP provider you are considering will meet your expectations. When researching the various vendors offering field service software, such as Acumatica and our Field Service Edition, asking the right questions will give you the right answers. To make it easier, we'll break the questions down by category.
Customer engagement/customer service
Can my customers communicate their questions and concerns directly to my team and me in real time and through an online application?
Does your software proactively and automatically request information from my customers (i.e. feedback after an appointment, need for more services, etc.)?
Does your field service software allow my customers to keep track of and manage their own appointments, orders, and repairs in real time and online?
Scheduling/Routing/Dispatch
Can a field service scheduler easily select technicians for each job based on the skill of the person and the specific needs of the job through your software?
Does your field service software provide schedulers with a web-based mapping application to track ever-changing traffic conditions along with the ability to consider multiple appointments, emergency calls and appointment locations when planning service representative routes?
Is there a seamless connection between the field technician's activities and CRM, sales, inventory, purchasing, accounting, and financial reporting needs?
Does your software allow service reps to dictate their onsite notes and upload them in real time?
Can your solution inform customers when appointment changes occur?
Customization/Implementation/Support
Can I customize your system to fit my personal, and changing, needs?
Are the dashboards easy-to-use and flexible?
Who can make the changes my company needs to make and how quickly can they be made?
Do you have an unlimited users licensing model?
Are you able to break down what is included in the implementation and what are the stages (time frame)?
What are the channels of support available throughout – and after – the process?
Business Continuity/Data Security
Is your solution cloud-based, ensuring that your technology can upgrade, update automatically, and be compatible with other systems?
How does your solution protect and secure my data?
What are your up-time statistics?
Mobility
Does your solution provide a real-time view of our business anytime, anywhere, and on any device?
Is service information and customer data updated in real time and accessible on location?
You need to ask a variety of questions to get a quality product
As you read the long list of questions, you may have thought of a few of your own. This list encompasses the most important ones as you research and evaluate service management systems. We at Acumatica are available to answer every question – whether they are the ones we have suggested or your own – and explain why our Field Service Edition can meet your exacting requirements.
As an all-encompassing ERP, our web-based and fully mobile Field Service Management applications aren't an afterthought, but an integrated and integral part of our full system. Please contact us so that we can discuss how to streamline your business and ratchet up your customer service. It will be worth it!
Download Free Whitepaper "Field Service Management Software"