For every retail business, there comes a time when it becomes necessary to upgrade an existing business management system or implement a new one. It can be a daunting task if you don't know what questions to ask or what requirements are necessary for choosing the best ecommerce ERP system for you. Acumatica's free Commerce Business Management Checklist is the tool you're looking for to simplify, expedite, and successfully complete the process.
Attention retailers: do you need an ecommerce ERP that can provide a centralized view of all your sales needs as well as improve your front-end experience by improving your back office systems?
If so, researching your options is a key step in selecting the right one. But knowing what you require in an ecommerce ERP may not be clear. This is where Acumatica's free Commerce Business Management Checklist comes in handy.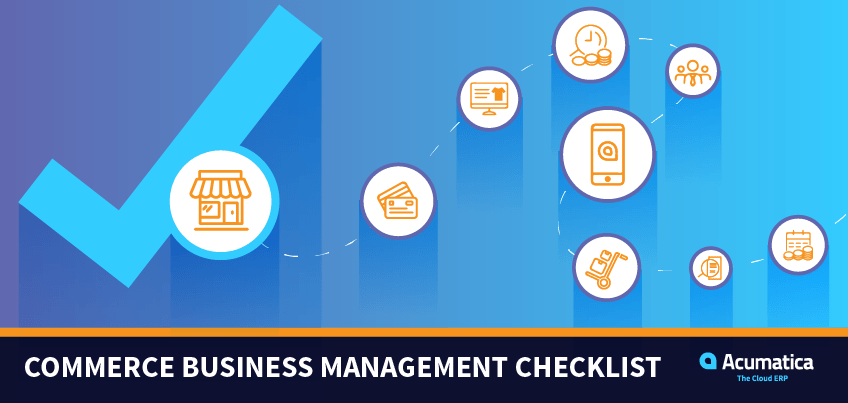 It's our way of helping you make the right integrated ecommerce ERP choice for your business' needs by pointing out exactly what you should be looking for. Download your free copy here to start propelling your business forward in the ecommerce industry and ensuring faster growth.
But if you're debating whether you need an ecommerce ERP or not, it's important to note that the best ecommerce starts with a tighter integration through an integrated ERP solution. Acumatica put together a Whitepaper explaining the benefits of an ecommerce ERP and how it provides a seamless customer experience. Whether shopping via a website, a mobile device, or a traditional store (also known as omnichannel shopping), customers have high expectations – expectations you know have been met if a customer makes a purchase and then returns for more. This is all possible when an omnichannel ERP – such as Acumatica – provides a clear view from a single system of your business' processes. Centralized control highlights the advantages of connecting your front office and back office systems. And a significant advantage is enhanced customer service.
Because enhancing customer service is imperative to the success of every business, upgrading an existing ERP or purchasing a new one is truly a necessary step.
Businesses and customers benefit from integrated ecommerce ERP implementation
The decision to purchase an ERP system will positively affect the way your company performs from the get go, ultimately providing the customer with the best service and experience possible:
Reduce stock-outs and back orders
Speed up the order and fulfillment process
Streamline the return and exchange process
Provide a successful omnichannel experience for customers
Improve data management and receive easier, more accurate tracking and reporting of financial data
Track inventory in real-time
Enhance integration with an ecommerce website
Increasing efficiency and effectiveness by automating your back office systems means choosing the appropriate ERP for your business. This requires an in-depth assessment of your options by comparing the features of the different products available. Let Acumatica's ERP Commerce Business Management Checklist help you test them across five important categories: productivity, functionality, technology, value and risk.
An ecommerce company that understands the importance of an ecommerce ERP
Acumatica customer Caswell, Inc. (which includes Caswell, British Tools & Fasteners and Mud-Skipper Long Tail Mud Motors) is a family-run operation. It started with President Lance Caswell's father recognizing that car and bike enthusiasts would restore their old cars and bikes themselves rather than hiring others to restore nickel, brass and other metal plating. From their living room to a manufacturing plant, the company grew in both size and scope, adding two other related companies to the mix. After 13 years of relying on a software package that caused problems during every upgrade and wouldn't support their add-on company product, Caswell needed a new system.
They chose Acumatica as their integrated ecommerce ERP, implementing our Financial Management and Distribution Management suites. Caswell says, ""Acumatica is incredibly simple to use. Acumatica is reliable, and there's no IT overhead."
Through the hard work and diligence of Caswell along with that of Gregg Mercede from Cloud 9 ERP Solutions – an Acumatica Gold Certified Partner – they were up and running in just ten days. And the benefits were immediate.
One of those immediate benefits was their online stores running more efficiently due to the new automatic processes. Caswell explains they eliminated the need to print out separate orders, invoices and receipts from Magento – the company's online store –  which required them to input them into Everest (their original accounting software), connect them to shipping invoices and tracking numbers and then upload them back into Magento
"If we had 50 orders a day, it took one person all day to process," Caswell explains. "Now, because everything is integrated and batched, the whole invoicing process takes only an hour as opposed to all day, which freed up a whole staff member."
You can read more in-depth about Caswell, Inc.'s experience with implementing Acumatica's all-inclusive ERP in their case study located here, which includes the benefits of improved customer communications and inventory management, along with the reduction of IT-related headaches.
Do you need an integrated ecommerce ERP?
Please download the free Commerce Business Management Checklist now if you believe your company (and your customers) will benefit from implementing an integrated ecommerce ERP. It's the complete Checklist necessary for you to decide which ecommerce ERP and omnichannel ERP will work best for your business. Our team is also here to answer your questions and demonstrate Acumatica's end-to-end ERP capabilities. Give us a call or send us a message so that we can assist you in this next, and vital, step in growing your ecommerce and retail business.
Download free copy of Commerce Business Management Checklist