Evolving technology has opened the doors for the healthcare industry to adopt a secure, cloud-based ERP solution. Acumatica's new eBook, written in conjunction with Concerto Cloud Services, has the questions you should ask as you begin researching the right healthcare cloud ERP solution for your business.
Recently, we joined Acumatica partner Concerto Cloud Services in putting on a healthcare ERP webinar. The free webinar is available on-demand if you're interested in hearing our discussion about growing your business with a modern compliance and security solution. Today, we'll take this topic a step further by offering you a free eBook on evaluating your cloud ERP and managed services options. You can download the 12 Questions Every Healthcare Industry CFO Should Ask about Cloud ERP right now.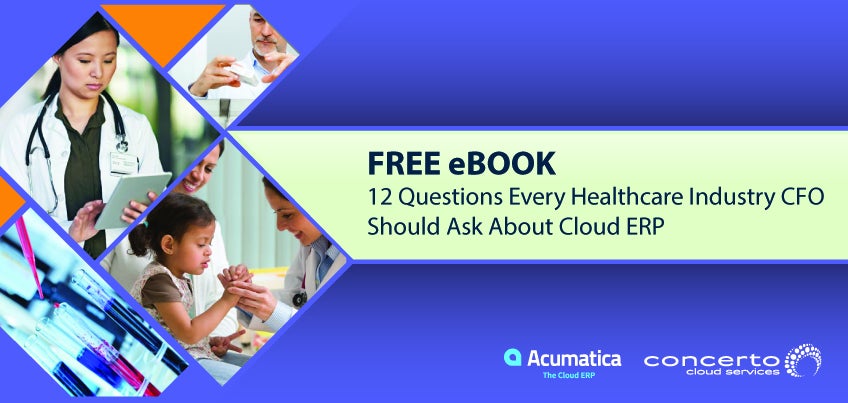 Is cloud-based healthcare ERP for you?
If you're a CFO of a healthcare organization, then you've probably asked yourself (or been asked) whether adopting a healthcare cloud ERP is the best strategy for you and your business management needs. Certainly, upgrading your outdated accounting systems would increase efficiency, but you may still have some concerns. Will your health records be secure? Will the cloud help (or hinder) you in meeting your healthcare compliance requirements? You may also question if this big leap to a cloud-based healthcare ERP allows you to access your critical business data more easily than your current system and whether it seamlessly integrates with other software applications.
These questions are all on the right track, and we have some more for you in our free eBook. We divided it into four sections, each one addressing the critical factors you should use to evaluate your healthcare ERP system options:
Section 1 questions address the system's ability to increase efficiency
Section 2 questions address the system's HIPPA compliance and security practices
Section 3 questions address the system's ability to support evolving business practices and a mobile workforce
Section 4 questions address the system's provision of flexible, insightful business intelligence
We, along with Concerto, understand that outdated software and legacy systems have kept you chained to manual business processes. But technology is constantly evolving, and for those of you in the healthcare and life sciences industry, the time has come to move your business management systems to the cloud. It's your turn to take advantage of modern software and the many benefits of cloud ERP, such as security, accessibility, flexibility, scalability, and mobility. Having built-in workflows, automated tracking, insightful business intelligence, and so much more can jumpstart growth for your business.
Evaluate Acumatica and Concerto for your healthcare ERP needs
The twelve questions are exactly the ones we hope you'll ask when you evaluate Acumatica cloud ERP and Concerto Cloud for Healthcare for your business management needs. Kathy Killingsworth, Vice President of Governance, Risk and Compliance for Concerto, agrees and says security and compliance along with integration capabilities are top priorities for both Acumatica and Concerto.
"Security with ERP is a very important to anyone in the healthcare industry. That's something we bring to the table. We're experts in compliance and making a secure platform," she says. "We also have the ability to connect to other platforms and have a fully managed hybrid cloud solution that we often utilize for healthcare industries. We can secure many different platforms and work with a lot of different platforms and solutions. We're the connection point."
Together, Acumatica and Concerto may be the answer for moving your healthcare business from a legacy system to a modern, cloud-based healthcare ERP. To find out, download the eBook, get the twelve questions, and put our healthcare cloud ERP to the test.