Service-centric organizations are realizing that growing their businesses requires moving their applications to the cloud. As cloud ERP solutions for service companies are varied, companies need to do their research and select the best one for their specific needs. The Gartner Market Guide provides an action plan for making the correct ERP choice.
The cloud – or as we say at Acumatica, the multicloud world – is here to stay. It's not a passing "idea" or a concept suitable for only certain businesses. It is the mobile, streamlined, and competitive method by which organizations are improving the adaptability of, and adding value to, their ERP deployments. This includes service-centric companies who are recognizing that transferring their applications to the cloud is essential for business growth. Because of this fact, Gartner, an information technology research and advisory company, has provided a market guide for CIOs and application leaders to use as they wade through the various cloud ERP solutions for service companies, deciding who will best help them accelerate their business within this multicloud world we inhabit.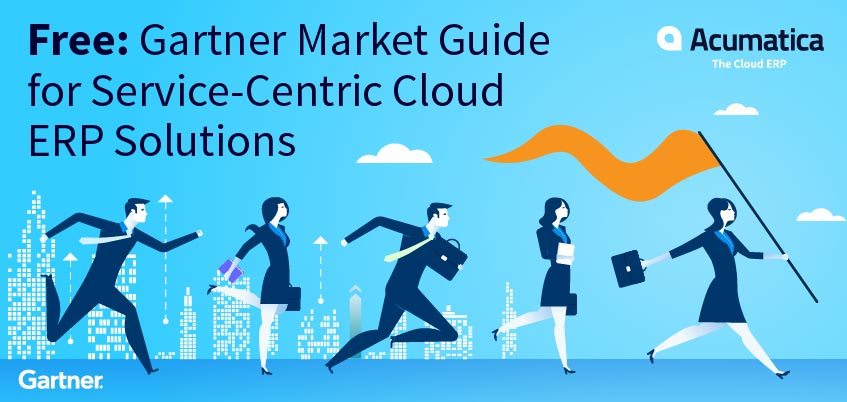 Gartner says that at least 30% of service-centered organizations will choose to move their current ERP applications to the cloud by 2018. Is your company one of the 30% researching the best ERP for service companies with the objective of acquiring updated and cloud-based technology? If so, we want to give you this informative report to further your evaluation process. Please download your free copy of the Gartner Market Guide for Service-Centric Cloud ERP Solutions here.
Why and how to choose the Cloud ERP solution for your organization
Acknowledging your service-centric company's need to adapt to digital business processes is the first step. Once that step has been taken, you and your team will need to formulate a plan on how to optimize your business for a multicloud world . Gartner notes that this includes outlining and approving a postmodern ERP strategy before starting a service-centric cloud ERP vendor evaluation; the bottom line for choosing to advance your technology is to improve your business processes while maintaining your business strategy.
The guide explains why a "postmodern ERP strategy" is necessary before choosing a platform that's right for your organization. Gartner fully defines postmodern ERP strategy here. The basic tenet is confirming that whichever technology strategy you choose – and it should be one that allows the administrative and operational aspects of your business (such as finance, HR, purchasing, manufacturing and distribution) to become automated and connected – must integrate in such a way that your business' agility and flexibility are not compromised.
It's also important to define your business' core objectives as you research cloud ERP solutions for service companies. Make sure that you are not selecting an ERP for a single purpose – an ad hoc adoption procedure – because it can cause disappointment when issues or concerns arise. Gartner states that value cannot be derived from an ad hoc adoption of cloud SaaS applications without advance planning, research, and strategizing. 
Acumatica's value-driven Cloud ERP solution
"Acumatica positions us for growth and lets us establish our own workflows to keep up with our needs. We have ultimate flexibility to make sure our ERP works the way we need it to, not stuck with what used to work," Charlie Hutchinson, CFO of IntraCoastal Environmental (ICE) says. ICE specializes in complete oil spill response and environmental services, utilizing the most effective strategies, equipment and labor force, 24-hours a day, every day of the year. Because they're in an industry with strict guidelines regarding hazardous waste handling, the company needed an all-inclusive resource management system that could handle the legalities while ensuring continued growth. In addition, ICE has two sister companies in their beginning stages of development that were requiring the ability to advance alongside ICE but needed to do so as independent entities.
Acumatica was their ERP platform of choice. The implementation for all three organizations resulted in significant benefits including (but not limited to) a roll out that was easy and accessible to all three companies, the ability to have a large number of users without a large cost, and a completely functioning ERP right from the start that could still offer future customization.
Find the full case study of ICE's experience with Acumatica here. You can also watch their story in this exciting video testimonial.
You will see how they were able to integrate their distinct systems, meet exacting governmental guidelines, and provide an accounting solution that could scale with the companies – all of which equals benefits to their customers.
Providing our customers with the tools that help them focus on putting their customers first through efficient and accurate service is an Acumatica foundational principle. Acumatica Field Service Management suite is an example of one such tool. CRM, sales, inventory, purchasing, accounting and financial reporting are all integrated. For those working in the field, the web-based applications are fully mobile which allows a real-time view of their customer's actions and requirements, the ability to reach appointments via the quickest route, and confirmation that the field operative is the right person for the job. We recognize customer service is a priority for you because it's a priority for us.
What is your Cloud ERP solution?
Evaluating, researching, and defining objectives are key components to finding the best ERP for service companies. If you are pursuing this move for your business, please download the Gartner Market Guide for Service-Centric Cloud ERP Solutions here.
We want you to make the appropriate choice for you and your organization and are eager to talk with you about your options. Contact us with any questions – we are always happy to discuss how Acumatica can accelerate your business in our multicloud world!