Selecting a cloud-based ERP solution that includes construction software – like our Acumatica Construction Edition – should be on every construction firm's radar. Why? SMB Group's newly revised eBook for small and medium-sized businesses answers that question and reveals the incredible value of a modern system.
If you're in the construction industry, you understand that getting a project done quickly, efficiently, and profitably requires using the proper equipment. It's a given that you wouldn't use a shovel when the job calls for an excavator. But there's one piece of crucial equipment many construction firms have yet to utilize: a comprehensive cloud-based Enterprise Resource Planning (ERP) solution with construction software, such as Acumatica and our new Acumatica Construction Edition.
SMB Group, which focuses on technology adoption and trends in the small and medium business (SMB) market, has updated their guide Clearing the ERP Clouds 2017. This guide explains why it's imperative that you find and implement a cloud-based ERP system to handle your project and accounting management needs rather than using outdated, unintegrated systems. A modern and cloud-based system is the proper equipment for making your projects succeed and helping you to outperform your competition.
Because we believe this is an extremely important topic and decision, we're making SMB Group's guide available to you as a free download.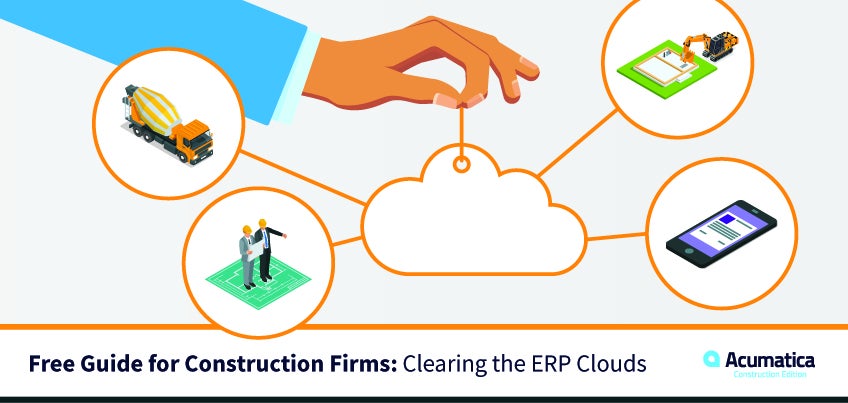 Construction firms that choose cloud ERP choose success
When considering implementing modern construction software, you should be aware of the valuable technical features and benefits you can expect. For example, Acumatica Construction Edition provides a real-time view of every project, all of your data in one complete back-office system, the ability to adapt the software to your specific requirements, and seamless integration of your multiple processes (such as project accounting, contracts, change orders, document management, compliance, retainage, inventory, and customer management, plus more.). And all of these things are available to you wherever you are, whenever you need it.
But as you're considering this step, you may also have some concerns such as cost, security, maintenance, and the implementation process. Or you may be wondering which cloud ERP to choose in the first place and which ERP deployment makes the most sense for your construction firm.
SMB Group addresses these questions and concerns in their free guide, as does the  recent blog post about Acumatica Construction Edition for residential construction companies. That blog post also goes deeper into the features and benefits of a cloud-based ERP system including increased flexibility, visibility, and customer satisfaction. SMB Group's free guide and this post, along with our press release, can help you research your options.
As SMB Group notes, "The business and technology landscape is evolving rapidly. To stay ahead of the curve and capitalize on these shifts, SMBs need a new, more flexible approach to manage core business processes and gain a competitive edge that makes or breaks business results."
Is Acumatica Construction Edition the construction software for you?
Acumatica is at the forefront of technological advancements. We've worked hard to craft and embed construction software within our cloud ERP system that is all-inclusive and customizable to your business' needs. SMB Group's guide points out that if companies such as yours are going to succeed, then you need to be aware of and to utilize the functionality of cloud ERP systems such as ours.
Take a moment and download Clearing the ERP Clouds 2017. It's a detailed cloud ERP resource geared to small and medium-sized businesses and provides you with the information your construction firm requires to become even more profitable and competitive in the years ahead.
Feel free to also contact us directly about any questions you have on our new Acumatica Construction Edition. We are excited to collaborate with you as you focus on growth in the New Year.