Growing retail businesses have many enemies, but one looms a little taller than the rest. Antiquated retail management systems.
When your system lags behind, your growth is sure to follow. Why? Because in order to grow, you have to reach modern customers where they are: on the move and ever-evolving.
That's exactly why we've created a new webinar, Solutions for Retailers. Plenty of retail companies have walked where you've walked, on the cusp of significant growth without an integrated retail management system to facilitate that growth. During this webinar, you'll hear familiar problems diagnosed, listen to stories that resemble your own, and learn exactly why and how you should adopt a new system.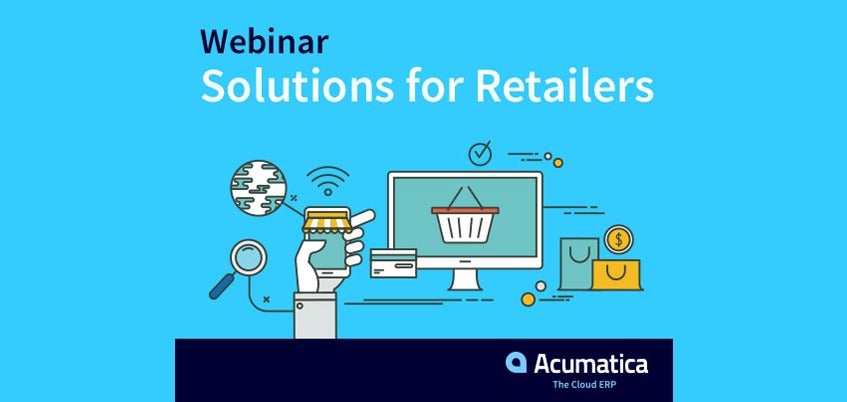 And of course, take advantage of the Q&A session we'll hold with our guests. They have the knowledge; when you bring your questions, they'll respond with actionable answers.
Fusion Retail Management Solution
Mike Gill, President of Fusion Software, will be laying out the main concerns and needs for today's retailers:
Fully-integrated solutions
Great customer experience
Mobility
Omni-channel
Every retail company needs to feel comfortable in these four areas, but few do. If you don't have these things, results are predictable—and unwelcome. You won't have customers, inventory, and pricing maintained and managed in a single space. You won't be able to customize your POS user interface for various environments or have one platform for wholesale, retail, and internet orders. Integration is a giant need for retail systems. There is no reason, for example, to have a separate POS system when it can be found as an extension of a platform like Acumatica. Hear Mike dive more deeply into these problems and solutions by registering for the webinar.
Danforth Pewter: A Customer's Story
Bram Kleppner, CEO of Danforth Pewter, will be sharing a relatable account of his company's transition from an ancient software to Acumatica's ERP software, modernizing their business in the process. Danforth Pewter's POS and financial systems weren't integrated, their software was so old that it wouldn't run on new hardware, and they went through a period of discontent with the new version of their system, as well as their services partner. But the result of switching to a modern ERP has been astounding:
Half of in-store employees use the point of sale; the customer service team, which expands up to ten in the holiday season, now puts orders straight into Acumatica. Finance and purchasing are on Acumatica constantly now.
More important, there isn't a single person in the company who dislikes the change. Employees ave explicitly commented on how much more smoothly the system runs and how it lends itself to efficient, great customer service. But that's just a small piece of the story. Hear the rest of it (and how to relate it to your own business situation) by registering for the webinar today.
Could you be further leveraging technology to streamline business processes and get better visibility into your business? Absolutely. It may seem comfortable to hold off on switching to a more integrated technology strategy, but in the end, that hesitation is far more risky than the alternative. In order to grow, retail businesses require fully integrated retail management systems that are also mobile and optimized for omni-channel business.
Register for the webinar to see how businesses that combine cloud, mobile, and integrated retail management technologies improve their business outcomes and ability to compete. Hear from business users about how they are getting to the next level with systems that support growth, and then apply those learnings (and growth!) to your business.