If you're a B2B distributer or manufacturer who has moved your business online, and you're experiencing unexplained stagnation, then our upcoming webinar is for you. Acumatica and Kensium Solutions will discuss how the right B2B eCommerce software can help you remove the three main barriers to growth and get your business moving in the right direction.
Your B2B eCommerce company is up and running on the web, but you're experiencing a lack of growth. You don't know why, but you want answers. Join Bob Garofallou, Product Marketing Manager at Acumatica, and Dean Slater, Director of ERP Services at Kensium Solutions, for our upcoming free webinar, How to Conquer the 3 Main Barriers to B2B eCommerce Growth. This B2B eCommerce software webinar will provide you with the insights you need to get your business back on track. It's happening Tuesday, June 19, 2018 at 10:00 am PDT/1:00 pm EDT, and registration is live right now.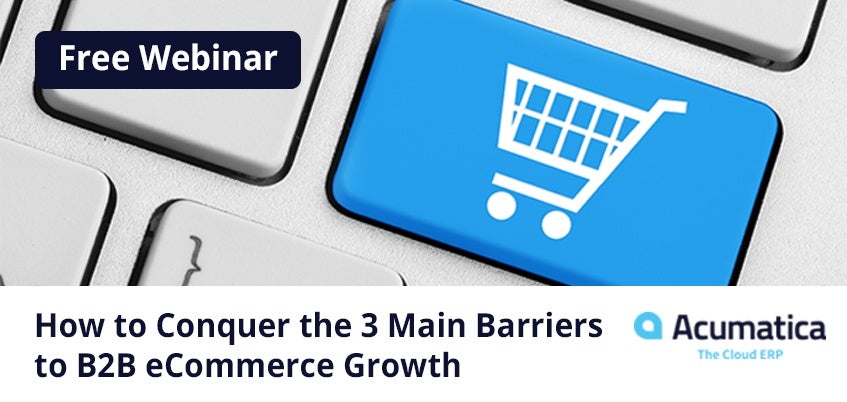 Explore the power of the right B2B eCommerce software
Acumatica and Kensium understand the barriers B2B companies—particularly those in the manufacturing and distribution space—face when they enter the eCommerce world. And while we encourage you to register for the webinar, we won't make you wait until then to find out the three main barriers, which are:
Complex supply chain
Lack of data
Legacy platforms
In the webinar, you'll learn how to manage your complex B2B supply chain, access data needed to streamline your front-end and back-office systems, and remove the obstacles legacy systems are putting in your way. You'll also learn how overcoming these barriers starts with embracing the omni-channel sales model (selling your products through a combination of online sales, mobile apps, and brick-and-mortar locations) and understanding the importance of connecting your eCommerce platform with your back-office system.
This means you need to choose the right B2B eCommerce and fulfillment software. The eCommerce ERP solution you choose should integrate your orders, inventory, pick-pack-ship processes, returns, customer support, and accounting from a central location. Your B2B eCommerce software should also increase your customers' satisfaction through fast and stress-free service—something they've experienced from major retailers.
Acumatica cloud ERP and Acumatica Commerce Edition is a modern ERP solution geared towards the SMB market. It provides the eCommerce technology that lets you integrate your operations and extend excellent eCommerce fulfillment services as efficiently as your larger competitors.
Our technology includes an ERP Magento integration through our Kensium Magento Connector; Magento is the leading commerce platform and Acumatica's official eCommerce platform. The tight integration provides access to Acumatica's Financials, Sales, Inventory, CRM, and Fulfillment systems.
Together, Acumatica and Magento ERP provide you with a unified view of your business, two-way data synchronization providing real-time updates (reducing data entry and human error), and the ability to operate your business at peak efficiency—all thanks to Kensium, Acumatica's official eCommerce partner.
Register today and learn more about B2B eCommerce software
Register for the webinar and prepare to receive the in-depth information you need to achieve satisfied customers and a growing bottom line.
Between Acumatica Commerce Edition, Kensium, and Magento, you have the complete solution for providing your customers with the omni-channel shopping experience they have come to expect. The barriers are no longer an issue and growing your B2B eCommerce business is possible.
Questions about the webinar or Acumatica Commerce Edition? You can get them answered directly by the Acumatica and Kensium teams at Acumatica Summit 2019, coming January 27-February 1, 2019 in Houston, Texas. You can also contact us at any time.