Acumatica's free Whitepaper, Field Service Management: Strategies to Improve Profit and Customer Loyalty, delves into the many reasons implementing field service management software modifies your field service operations as a whole – and your customer service in particular – for the better. The words efficient, effective, and accurate are ones you may use to describe your future services when you add field service software to the mix. More importantly, your customers may use these words as they pledge their loyalty to you and your company.
If you view field service as an unavoidable requirement and a "side" responsibility for your business rather than a revenue generating and customer loyalty tool, then you may want to download our free Whitepaper, Field Service Management: Strategies to Improve Profit and Customer Loyalty. This perspective-changing paper explains how field service management software not only integrates your management and accounting systems, as well as automates your scheduling/dispatching systems, it also highlights the benefits of streamlining your processes for increased customer satisfaction and therefore, increased profits.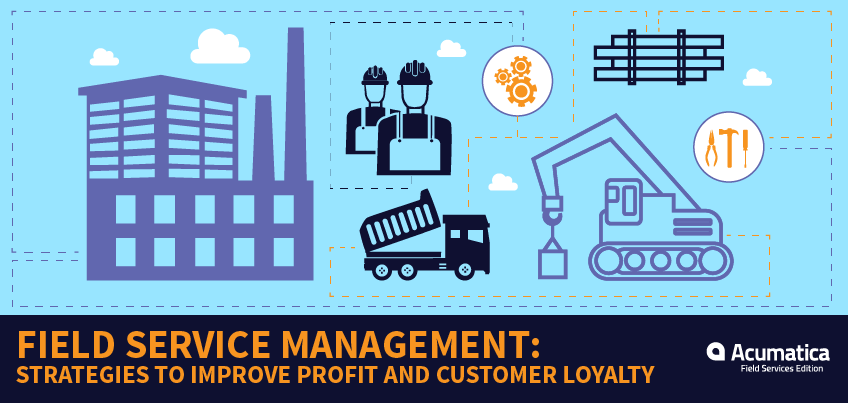 Optimizing your field service opportunities offers your company a chance to polish your customer service crown and edge out the competition. Efficient and effective on-site service speaks volumes to your customers about their importance to you and your business.
Even if you agree with this concept, field service software may not be on your top ten list of things to research, and you might view it as a time-consuming project with as-yet undecided benefits. You may reconsider, however, when you hear about Demtech Services, Inc. and their experience with implementing Acumatica's flexible, adaptable, and easy-to-use ERP system.
Service management systems provide improved customer service and accurate inventory resulting in efficiency and growth
Demtech Services, Inc. began in 1999 by "Demo Dave" McLaury. His many years in the thermoplastic welding equipment industry provided him with the experience and know-how to start his own company and utilize the faster and lighter technology available to him. The company launched its Pro-Wedge welder, shipping thousands of units to installers worldwide ever since; it continues to update and improve the Pro-Wedge with the latest technology and engineering available.
With their innovating ways, the company expanded and with it, the need to update from QuickBooks to an all-encompassing ERP. They chose Acumatica.
Acumatica gave the company "better business intelligence, when we're talking with our vendors and customers. It's an accurate ERP system, not just a bookkeeping system that lacks accounting controls," says CFO Roger Collins.
In 2011, the company created "Demtech On The Move". Their elite team of technicians travel the United States with fully equipped mobile units providing service wherever it's needed.
"They can now access Acumatica with their tablet or smartphone to create orders, check inventory, or do whatever they need," notes Collins. "Carrying a multi-million dollar inventory, you've got to have good controls for that … It's not a good thing when your inventory is off. With the new controls that Acumatica has in place, our inventory is much more accurate." He also cites increased efficiency with Acumatica.
Please go for further details if you want to read more about Demtech's successful field service software implementation.
Does Demtech's story make the idea of implementing field service software appealing? I urge you to download our free Whitepaper to find more reasons as to how a service management system can benefit you and your business.
Field service management software applications and benefits
The combination of Demtech's stronger customer service and increase in efficiency and accuracy with the fact that Acumatica's incorporates CRM, sales, inventory, purchasing, accounting, and financial reporting justifies contemplating the adoption of a service management system. If you need more justification, here is a list of specific benefits you will read about in the Whitepaper as well as experience for yourself if you choose to consider field service management software:
Schedule and dispatch service technicians online – use their time effectively, minimize unproductive travel time, respond to emergencies calls quickly and efficiently
Deploy inventory optimally to support maintenance and repair needs, track the receipt of needed parts to schedule installation as soon as they are received
Maintain full equipment identity, configuration and history records to support service operations and provide intelligence for performance improvements and equipment support over the lifecycle
Exploit mobile technology to remove administrative burden from technicians and make best use of their time
Ensure fast and accurate billing and accounting, build and use extensive database for analysis, performance improvement and best support for existing equipment and engineering the next generation
Field service management software is worth it
It really is. Your customers – and your bottom line – will thank you as the recipients of the multiple positive changes you create with field service management software. I have only touched on the ways you will accelerate your business with this implementation. Please download our free Whitepaper here; the time it takes to read it is negligible in comparison to the time you will save when you acquire a service management system geared specifically to your needs. Contact us and we'll start renovating your field service processes today.