Advanced Solutions Consulting (ASC) has provided their customers with over 18 years of ERP knowledge and expertise. As an Acumatica partner, they sell Acumatica's cloud ERP exclusively, and share below as to why they will continue to do so.
Advanced Solutions and Consulting (ASC) has been an Acumatica partner for over five years. In that time, we've never regretted the decision to switch from Microsoft Dynamics to Acumatica cloud ERP. The fact that Acumatica's ERP software is a comprehensive business management solution for companies in diverse industries—and that the Acumatica team is focused on providing quality customer service—means we can provide our customers with an advantage over their competitors and a solid return on their ERP investment.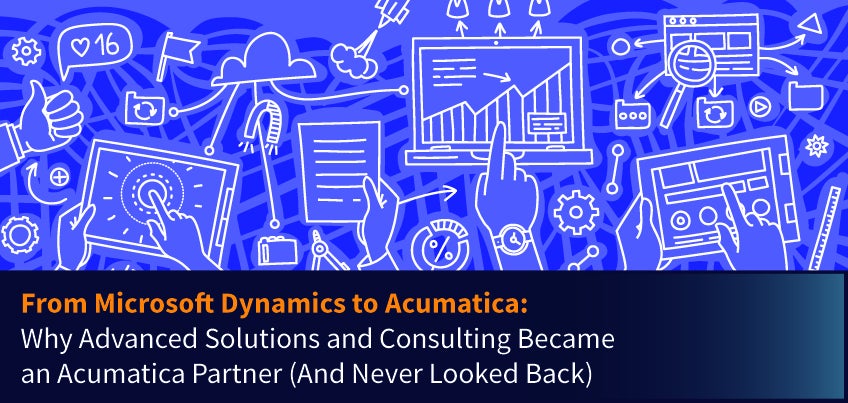 About ASC and why they became an Acumatica partner
At ASC, our team includes talented consultants who are battle tested, with numerous successful deployments of ERP software solutions. We promise to help our customers install, integrate, and automate Acumatica within your existing business systems. CEO Jim Carrol, who has a deep knowledge of ERP solutions developed over the last twenty-plus years, is our team leader, and he has seen it all. He recognized very early on the inevitable "digital transformation" of the industry. Early cloud players, like NetSuite and Salesforce (and even Amazon), were spearheading this movement. He also saw the workforce start to change with the increasing entry of millennials.
His foresight was instrumental in turning ASC into the business it is today. ASC started its ERP consulting business as subject matter experts in Supply Chain Management, primarily for "widget" manufacturers and distributors. The original practice was built around Solomon and GP (now known as Dynamics). Both companies were acquired by Microsoft as it entered the ERP business. ASC successfully built its practice with hundreds of customers, mostly in Southern California.
During this time, Acumatica entered the market with a cloud-based ERP solution. The product was built natively with its "app-look-alike" platform. ASC saw that leveraging the power of the cloud was the pathway to success and joined Acumatica at the early stage—the rest is history. We have benefitted from being an Acumatica partner, including been a winner of the coveted Acumatica's MVP Program for their VAR Program two years running.
Acumatica has become a leading provider of ERP solutions to the middle market (known as Tier 2 in the ERP landscape). Acumatica's success is being validated with exponential growth in new customer acquisitions, which is a direct result of the significant growth of its partner program. This includes dominant VARs who have historically built their practice with QuickBooks, Dynamics GP, Sage and NetSuite.
ASC's vision going forward as an Acumatica partner
ASC is now faced with an increasingly crowded and competitive environment. On the solution side, Acumatica's competition includes other solution providers like Intacct, Workday, and the burgeoning Dynamics 365. On the sales channel side, ASC increasingly runs into other Acumatica VARs.
Recognizing this shift, ASC has decided to achieve competitive advantage with these two strategies:
Focus on select industry segments where the Acumatica cloud ERP solution is perfectly positioned to assist customers transform from their legacy ERP. Two examples of these micro-niches are Multi-Unit Franchise Operators and Retailers (including those selling online and/or through omnichannel commerce). They want seamless flow of information from their eCommerce Platform integrated with its back-end Supply Chain Management and Accounting Software.
Over the years ASC has developed an impressive array of ISV solutions—also known as "plugins"—built to work with Acumatica's xRP platform.
These strategies have already started to bear fruit. Here are some examples of successful ASC customers and the Acumatica products they implemented:
HVAC, Manufacturer & Distributor, CA: This is a family-owned heating and air conditioning distributor with highly trained associates and thousands of products in-stock from hundreds of the industry's top brands. They have two manufacturing plants. Their strategically placed manufacturing plants allow them to make custom metal products with next-day delivery and pick-up choices. They also manufacture nearly every size, length, and type of line set imaginable. They are using Acumatica's Financial Management Suite, Advanced Distribution Management Suite, Customer Relationship Management, Ship Station (w/Bar Code), and Magento Connector & Configurator. They went live in Q1, 2017.
CPG eVape, CA: This company is reimagining the vaporization paradigm by combining modern technologies, materials, and processes with simple, sleek, effective, and coveted product design to replace cigarettes. They have an exceptional team with backgrounds in technology, healthcare, and biotech. They are using Acumatica's Financial Management Suite, Distribution Management Suite, Salesforce Integration, and Magento Integration; they went live in Q2, 2016.
CPG Cosmetics, CA: This company is an on-line cosmetics retailer with a mix of multiple business systems and manual processes centered on a Shopify website/shopping cart. It prides itself on creativity, innovation and customer service. They will be using Acumatica's Financial Management Suite, Distribution Management Suite, Customer Management Suite, Savant ADC Warehouse Management, and Native Shopify Connector; they will be going live in Q3, 2018.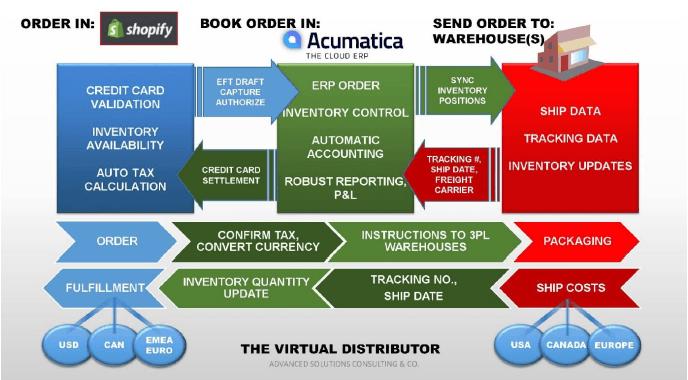 Pictured: Example of Acumatica eCommerce Edition. Customer places order (items) in Shopify → Order is booked instantly in Acumatica → Acumatica sends pick list (items) to the Warehouse and updates inventory → Warehouse sends shipping instructions 3PL → Customer receives items → Acumatica reconciles financial transactions
Learn more about the benefits of being an Acumatica partner
As an Acumatica partner, we're proud to offer our customers a product that encompasses everything they need to run their business efficiently, securely, and profitably.
To learn more about Acumatica cloud ERP's features and benefits, check out these 2018 news releases:
You can also contact ASC; we'll be happy to help you replace your legacy ERP/Accounting Software with the true cloud ERP, Acumatica.