For the last few months, we've been sharing the benefits of attending Acumatica Summit 2019 through the eyes of Acumatica customers. On deck today is Sean Hooper of Fuji Component Parts USA, Inc. He shares about his experiences with our annual cloud ERP event as an Acumatica customer, explaining why he's attended several Summits in the past and why he's planning to network with even more customers this year.
Acumatica Summit 2019 in Houston, Texas is getting closer. The event is coming up on January 27-February 1, 2019—and the time will fly. If you register now, you'll confirm your reservation at the Summit's venue, the Marriott Marquis Houston, and secure seats for the training tracks you need.
Today, Sean Hooper, the General Affairs/IT Assistant Manager for Fuji Component Parts USA, Inc. (FCP), discusses why he's looking forward to attending the Summit. He has been preceded by his fellow Acumatica customers InSync Healthcare Solutions®, Dakota Red Corporation, Korpack, and Ray Allen Manufacturing. Check out why they are looking forward to attending Acumatica Summit 2019 (in the links above).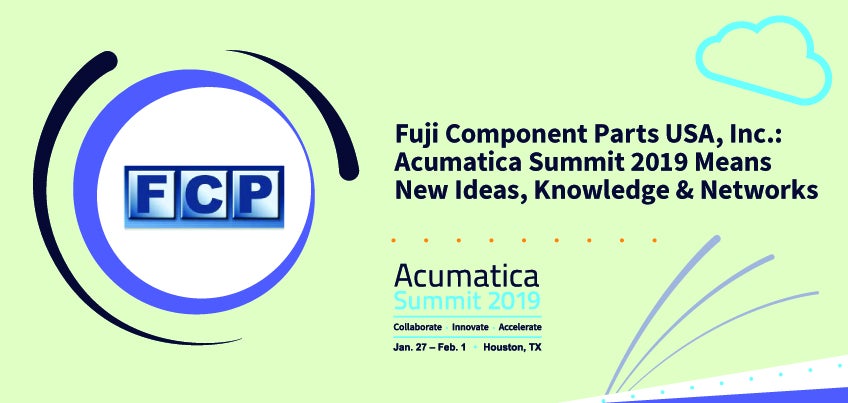 FCP on Acumatica's cloud software and Acumatica Summit 2019
FCP, established in 1988, distributes alloy steel, aluminum, brass, plastic, rubber, and foam component parts to customers in North America, South America, and Japan. The business had been running on Infor FACTS for more than a decade, but the FCP team knew they needed to upgrade.
"It was choking us with how restrictive it was and how much change we had put in the system at the time that we could no longer grow with," Sean says. "Every time [we made a change], it involved upgrading to a newer version. There were process issues with these types of changes."
The company decided to implement Acumatica's Financial Management, Distribution, and Customer Management editions along with B2BGateway's EDI solution for Acumatica in June 2016. They're now able to exchange any business documents—purchase orders, inventory updates, and advanced shipping notices—through any communication method and file type. The communication is seamless and reliable and reduces manual data errors. The ISV extension has been a smooth transition for FCP.
"It's been very positive. We've been able to import, export, and customize to however we see a problem. We can change pretty much anything we want to and can hit it from any angle," he says. "We've had very small issues here and there, but it's all easily and quickly fixed."
Acumatica Summit 2019 provides a wealth of cloud ERP knowledge
During their decade-plus with Infor, Sean admits they didn't go to any of their events. But with Acumatica cloud ERP, they wanted to attend the yearly Acumatica Summits to get the information and assistance they needed to have a successful implementation. He quickly realized that the Acumatica community was a wealth of knowledge. While he didn't attend many of the networking events last year, such as the Monday night Celebration Party, he will this year. Taking advantage of the networking opportunities at Acumatica Summit 2019 will let him access the knowledge in person.
"As I learned last year, you talk to customers and you find out you have similar issues. You mention how you solved it, or they have a solution to a problem you have," Sean says. "They may even be doing something entirely different than you ever thought about, getting your brain working in a different way."
He continues, "You can learn from books or online, but it's the combination of other customers asking questions you didn't think to ask and hearing the answers that really open you up to even more solutions. Another customer asked a question I wanted to ask, but it branched off in a different direction. It actually solved issues I didn't even know I had yet."
Registering for Acumatica Summit 2019 means you'll be privy to information about our cloud ERP software and ERP platform that will help streamline your business processes and catapult your success in the cloud.
"I recommend attending [Acumatica Summit 2019] because it's an overall great experience," Sean says.
Our team of experts is available for any questions you may have about Acumatica Summit 2019 or our cloud ERP solution. We look forward to speaking with you and hope to see you at the Summit!