If you're a small to midsize manufacturing or distribution company looking for a product-centric cloud ERP, then you're a step ahead of your competitors. You recognize that the digital age has extended to your industry and your business can no longer ignore it. But what does this mean? Per Gartner, it means it's time to clearly define your core business objectives, formulate a strategy, and start assessing your manufacturing cloud ERP options.
Gartner, an information technology research and advisory company, has released yet another indispensable market guide and we're making it available to you for free (usually requires an expensive subscription to obtain!). The guide will help CIOs and ERP leaders of product-centric companies decide A) if they want to release their traditional methods of doing business and embrace the digital business model and B) if deploying in the cloud through a product-centric cloud ERP is the right way to go. If these are decisions you and your leadership team are struggling with, download the Market Guide for Product-Centric Cloud ERP Solutions now and start finding answers.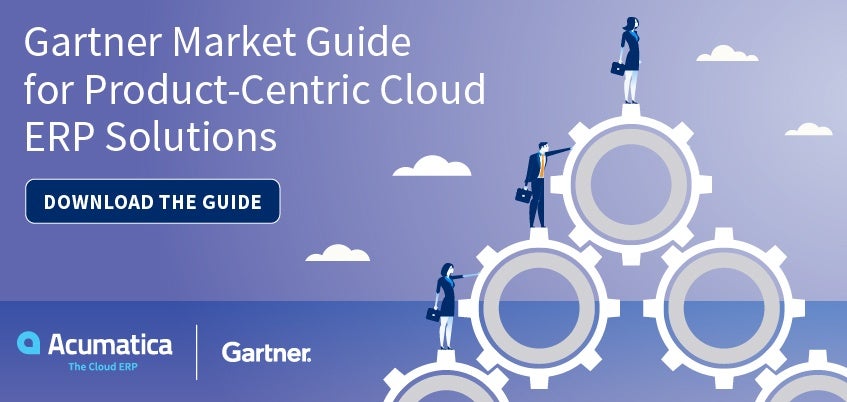 Steps to take when evaluating manufacturing cloud ERP options
Before any product-centric business begins assessing their ERP options, Gartner strongly advises CIOs to first define their postmodern ERP strategy. According to the report, you should ask yourself, will adopting new technology sustain my overall strategy and make improvements to my business processes? Will a product-centric cloud ERP integrate with other potential cloud or on-premise applications I currently have or am considering? And do I recognize that inherent in all ERP implementations are challenges and changes, thus choosing a product-centric cloud ERP should not be for only one purpose or ad hoc in nature?
Once you answer these questions and you have your strategy in place, you should turn your attention to what Gartner says a product-centric ERP suite should include:
Administrative ERP
Operational ERP
Specialized industry-specific modules or applications
The Gartner product market guide goes into more detail about product-centric cloud ERP functionality, including the need to provide financial management and at least offer other administrative ERP options such as human capital management (HCM) and indirect procurement.
Adoption of product-centric cloud ERP slow but sure
Product-centric businesses (those that physically produce, sell and/or dispense products as well as sell services by employees or contractors) rely on their numerous and complex business processes to integrate successfully in order to fulfill customer expectations. Gartner notes that these organizations – usually either manufacturing companies or distribution companies – are slower to accept manufacturing cloud ERP options than service-centric organizations, especially those that manage larger operations through multiple on-premise manufacturing execution systems (MES). Gartner estimates that about 35% of new product-centric ERP deployments in large enterprises will be software as a service (SaaS) loosely integrated with on-premises manufacturing execution systems (MES) by 2020.
But even as larger operations are moving slowly towards cloud ERP, Gartner says that more small-to-midsize product-centric organizations will adopt cloud capabilities first as they recognize the cloud benefits of adding potential value and flexibility.
Cloud ERP features, as Gartner indicates, include technology infrastructure and upgrades being the vendor's responsibility, subscription or metered cloud service licensing, use of internet technologies, near real-time capabilities, customization, and rapid deployment by the vendor, to name a few.
Where does Acumatica fit in?
These benefits are nothing new to Acumatica. Born in and for the cloud means our manufacturing cloud ERP solution has not been redeveloped or cloud-enabled – we're already there and offer exceptional cloud computing services with years of experience behind us.
We're dedicated to providing the best cloud ERP. By our definition, the best cloud ERP means the most updated, easy-to-use, and valuable solution on the market. We understand the need for consistently enhancing our product to stay on top of – and to utilize – technological advancements.
One such enhancement is our new Manufacturing Edition, developed with our long-term Global Acumatica ISV and Gold Certified VAR Partner, JAAS Systems. The comprehensive business management solution covers make-to-stock, make-to-order, engineer-to-order, project centric, job shop, repetitive, and batch processing. It also integrates with Acumatica's Financial Management, Distribution Management, Customer Management, and Project Accounting suites and supports a real-time view of your business from one central location.
In our press release about the new Manufacturing Edition, Acumatica CEO Jon Roskill says, "JAAS Systems has been selling a Manufacturing Suite built for Acumatica since 2012 and that success led us to create an integrated Acumatica Edition for 2017, with vastly increased capabilities. Today, small and medium-sized manufacturing businesses need cost effective ways to stimulate growth and increase efficiency.  Acumatica Manufacturing Edition helps them do both."
Our Manufacturing Edition provides a new, product-centric ERP suite that meets all of Gartner's product-centric cloud ERP criteria and more.
Decision time: which manufacturing cloud ERP is right for you?
We encourage you to download the free Gartner product market guide. It highlights 15 vendors, including Acumatica, who sell and market product-centric cloud ERP as a singular option though they may also offer other ERP suites. Geared as a reference for organizations seeking cloud-based ERP applications, Gartner's research can save product-centric businesses a lot of time and effort in their evaluations.
And as you embark on your evaluation journey, it may be to your benefit to register for two important Acumatica events coming soon: the Acumatica 2017 R2 Roadshow and Acumatica Summit 2018 (early bird pricing is happening as we speak).
Both events provide a comprehensive view of Acumatica. The Roadshow highlights the enhancements you'll experience with our 2017 R2 release, available today. And our yearly Summit gathers our entire community of Customers and Partners in one place to discuss all things cloud ERP. You can benefit from receiving certification trainings, networking opportunities with your peers, gaining valuable insights, and more.
Strategy and evaluating are important steps – which we think should include attending our informative and fun events – but the ultimate step is making a final decision and choosing a product-centric cloud ERP solution that supports your business objectives.
Contact our experts at Acumatica after you have a chance to read Gartner's report; we're available to answer any questions you may have and are happy to offer product demonstrations at your request.