Attention Acumatica customers: Acumatica Summit 2019, happening January 27-February 1, 2019, is a do-not-miss event. We have many reasons we think it's so important for you to be there, but we hope hearing other customers—like Korpack—explain why they go year after year will encourage you to attend.
This is the third post in our series focused on Acumatica customers who are excited to attend Acumatica Summit 2019. You can check out our first two posts highlighting the reasons InSync Healthcare Solutions and Dakota Red Corporation are returning once again to our annual cloud ERP event. Today, Nicky Novy, President and Founder of Korpack, explains why he registered for Acumatica Summit 2019. I hope what he says influences more of our Acumatica customers to follow suit.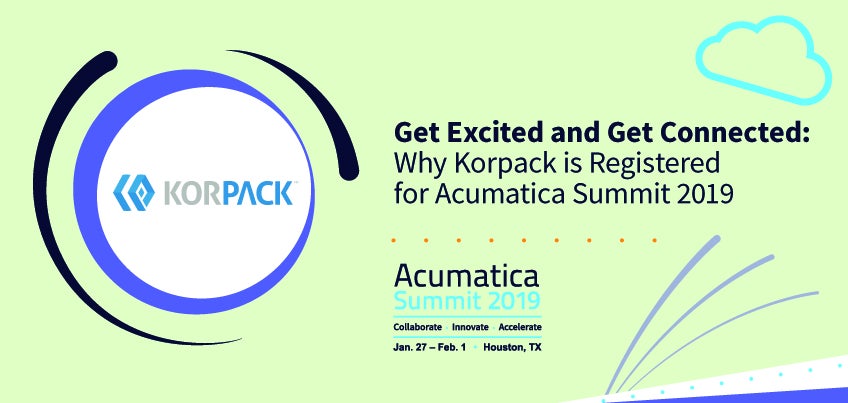 Korpack on why they chose Acumatica and why attending Acumatica Summit 2019 is exciting
Acumatica's manufacturing ERP software was Korpack's first—and has been its only— cloud manufacturing software.
"We picked Acumatica before the company [Korpack] was even launched. I came from a company that picked a different ERP system, and it actually slowed us down instead of making us better," Nick says.
His experience with an inadequate solution meant he understood the importance of selecting the right manufacturing ERP software for his new-at-the-time company. Four years in, the company that supplies standard and custom packaging along with packaging machinery and automation solutions, is still going strong with Acumatica. They implemented our Financial Management, Distribution Edition, Customer Management, FusionWMS, FusionRMS, and Avalara (Sales Tax Automation) solutions to meet their manufacturing operations management needs.
Our customizable and modern manufacturing ERP software was attractive to Nick because of the ability to access Acumatica on any mobile device. Additionally, he really liked the unique pricing model for unlimited users, the manufacturing reporting capabilities to help them make better (and faster) decisions based on live information, and more. Korpack has implemented Acumatica's Manufacturing Edition for more demand and resource planning, something they discuss in their video testimonial below.
As Korpack's CFO states in the video, they use third-party applications to run their business, and Acumatica allows them to seamlessly integrate with each one. For Nick, being able to connect with Acumatica ISVs during our Summits was helpful. It's something he's looking forward to doing again at Acumatica Summit 2019.
"We really liked talking with third-party integrators, the ISVs," he says. "We love to see the new features we can get excited about."
He also appreciated the opportunity to network with his fellow customers. "You feed off the excitement and from hearing other people's stories, how they're using Acumatica, and how they've customized it. They're businesses may not apply to what we do, but it may spark an idea that could make us better. I love hearing stuff like that."
Hearing what Acumatica is doing to improve our cloud manufacturing solution is another incentive for Nick to attend Acumatica Summit 2019. He sees this knowledge as the pathway to becoming even more efficient.
"I really like previewing the new features because we can start working on how we want to optimize the system before we even have access to them. Some things that we would have spent time customizing don't need to be. We know it's coming in an upcoming release," Nick says.
Finally, Nick says his CFO and IS Manager attended the customer training sessions from the previous Summits and will attend them again at Acumatica Summit 2019. He says they really benefitted from the information presented. Because these training sessions are popular, customers should reserve their spots as soon as possible.
Acumatica Summit 2019 provides excitement, connection, and relaxation
The Summits haven't been all work and no play for the Korpack team. They took advantage of their free time to check out San Diego and Nashville during the previous Summits, and they're looking forward to seeing more of Houston, Texas, this year's location.
"While we're at the Summits, my employees get to see me in a different light. We can go and have a nice meal, some wine, and relax a little," he says. "I think it's nice to get away and talk higher-level strategy without interruptions."
We want you and your team to have this same dedicated time away from the office to focus on how Acumatica's cloud ERP can meet your business management needs. Register for Acumatica Summit 2019 and benefit from connecting with your peers and learning new—and exciting—insights into accelerating your success in the cloud. And in the midst of it all, you'll have the opportunity to stay at the Marriott Marquis Houston, this year's venue and a AAA Four-Diamond hotel in the heart of the city.
Just as the Korpack team prides itself on being a "one stop shop" and providing their customers with tailored packaging solutions, so do our team members here at Acumatica. We use our customers' feedback, along with modern technology, to make it the best cloud ERP solution for each users' unique needs. Contact our team to let us know how we're doing, to ask us questions, or to request a free demonstration.
And if you'd like to learn more about Korpack and its success with Acumatica, you can read their full story now.