Do you need an EDI & API Connectivity solution for your wholesale distribution business? Acumatica cloud ERP and B2BGateway have a fully integrated solution that can help you seamlessly communicate with your supply chain partners.
B2BGateway is the world leader in fully-integrated EDI & API Connectivity solutions for Acumatica cloud ERP, allowing for hassle free, reliable and seamless exchange of any business documents such as purchase orders, invoices, inventory updates, and advanced shipping notices via any communication and any file type. To quickly see what this looks like, we have a short EDI video for you highlighting the benefits of having a complete data migration solution.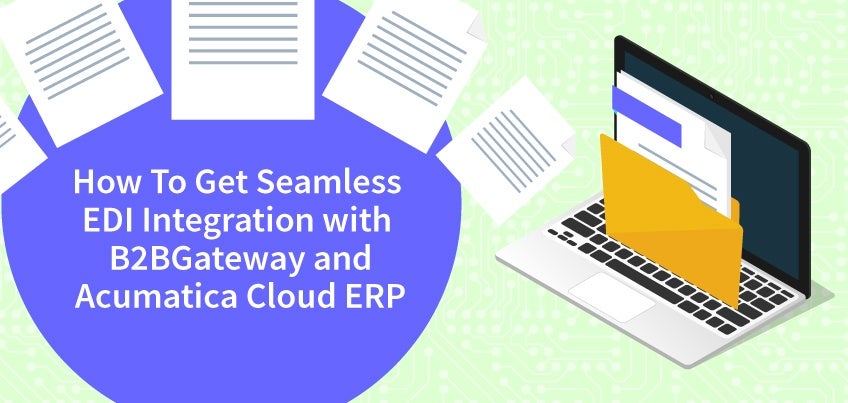 Benefits of B2BGateway and Acumatica's partnership
We have been working with Acumatica (a true cloud ERP that provides comprehensive wholesale distribution software and feature-rich cloud manufacturing ERP software) for several years, enabling the streamlining of the supply chain cycle. B2BGateway recently achieved Acumatica Solution Certification for version 2017 R2 and is well on its way towards 2018 R1 Certification.
By leveraging B2BGateway's fully integrated EDI & API Connectivity solutions, Acumatica users can now connect seamlessly with the following:
Online retailers, such as Amazon and Overstock
eCommerce platforms, such as Magento
Box store retailers, such as Walmart and Bed Bath Beyond
Third-party logistics providers (3PL)
As a wholesale distributer, we believe you'll benefit from having this capability integrated directly into your Acumatica dashboard. Our goal is to provide a 'one-stop' solution that can cater for any organization's omni-channel logistical and supply chain needs.
In addition, B2BGateway's Acumatica solution is 100% built and maintained by B2BGateway developers, enabling us to provide customization that satisfies Acumatica users' specific requirements for their business. Unlike other solutions in the market, the B2BGateway solution is not "out of the box", which results in flexibility within our mapping structure. B2BGateway was built from day one to be flexible so we never have to say, "we can't do that."
To give you a high-level overview, purchase orders are sent from a retailer and are seamlessly imported into the Acumatica users' system. Subsequently, return documents, such as invoices, inventory advices, shipping notifications and advanced shipping notices, can be returned to the retailer. This process eliminates the need for manually entering data while reducing the risk of costly chargebacks due to human error.
The complex made simple with B2BGateway and Acumatica
EDI & API Connectivity sounds simple, but it's not.
For example, each trading partner specifies their required communication method (AS2, VAN, FTP, etc), document types (X12, CSV, XML, Edifact, etc), and standards (4010, 4040, 5010, etc). These requirements can make the process very complex, but B2BGateway makes the entire process simple.  We take care of the complexity, and Acumatica users focus on running their businesses.
Here are some of our EDI solution features:
Cloud-based integration to Acumatica cloud ERP
Automatic data entry
Handle all international EDI file standards and all communication protocols
Meet all trading partner requirements and regulations
B2BGateway manages over 25,000 fully integrated client-to-trading partner relationships, and we are connected to 3,500 retailers and manufacturers that require EDI & API Connectivity. B2BGateway also aids Acumatica users in connecting to their eCommerce platforms to pull orders and send inventory updates as required. We have successfully connected clients with eBay, Overstock, Shopify, Magento, and the various Amazon connections across the globe.
Customers who have successfully used B2BGateway and Acumatica cloud ERP
As mentioned earlier, B2BGateway has successfully integrated Acumatica users of all sizes and industries. A couple examples of unique Acumatica user integrations include NZXT and Wayne Water Systems.
NZXT is a supplier of computer cases, cooling, power and lighting supplies for PC enthusiasts.  Located in Los Angeles, CA, NZXT required a fully integrated solution that allowed NZXT to send purchase orders and import invoices directly into Acumatica.  The standard EDI document flow requires purchase orders to be imported into Acumatica and invoices to be sent from Acumatica and back to the retailer.
B2BGateway's customization abilities provided the flexibility needed for NZXT to fulfill their unique business requirements. To read more about NZXT's experience with our EDI solution, check out their full case study.
Wayne Water Systems builds water pumps. Wayne Water transitioned 23 trading partners over to B2BGateway. This coupled with the introduction of Acumatica to their business produced the high risk of negatively impacting existing relationships.
B2BGateway worked extensively with Wayne Water and their 23 trading partners to complete the integrations. Since integrating the 23 trading partners, B2BGateway has continued to work with Wayne Water closely to address any production matters and changing trading partner requirements. You can read their success story for more details.
Want more information on our EDI & API Connectivity solutions? B2BGateway has offices in North America, Europe and Australia, enabling us to offer unparalleled support in many time zones, with emergency after-hours support available as well. Email us at sales@b2bgateway.net or give us a call at 401-491-9595 x 5. Let's talk.