It is 10 pm on Sunday night. Do you know where your business stands?
Today's busy executives need a quick overview of their business, at any time of the day, anywhere in the world. This means that Business Intelligence (BI) tools need to be powerful and sophisticated enough to respond.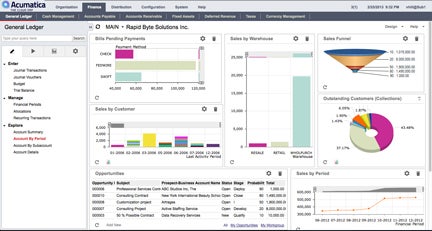 To make smart and informed decisions, you need to be able to quickly and easily create analytical graphs, in real time, to get an overall company view. Whether it's sales, manufacturing, accounting, or project management, your BI tools and should be helping you make better decisions by providing measurable financial and operational information at your fingertips.
So ask yourself, does your ERP Software solution give you this powerful analytical boost? Better still, is your ERP Software hosted in the cloud so you can truly access the data on any device, at any time?
Acumatica's Online Inquiry feature is all that.
With this tool, you can rapidly process a large amount of information, leverage real-time data into graphs, and get a 360-degree view of your business. Every time. All the time.
Your control of your information allows you to be more effective and efficient, and thus, more competitive. The user-friendly BI functionality not only mimicks the Microsoft Excel graph functions, its powerful drill-down feature allows you to retrieve detailed data results in a few seconds.
The BI tools within our Cloud ERP Software are created with you, the user, in mind. Isn't it time you took advantage?