Cloud-based ERP is the way to go if you're needing an integrated, secure, and compliant solution for your healthcare or life sciences business. Our free, on-demand webinar with Acumatica partner Concerto Cloud Services explains why.
If you're in the health or life sciences industry, we have the perfect webinar for you. Ray Rebello, Director of Product Marketing here at Acumatica, joins Tony Nessler, Channel Sales Manager at Concerto Cloud Services, to discuss the benefits of a cloud-based healthcare ERP solution with compliance and security measures built directly into it.
The webinar, Acumatica Healthcare ERP – Grow Your Business with a Modern Compliance and Security Solution, is available on-demand right now.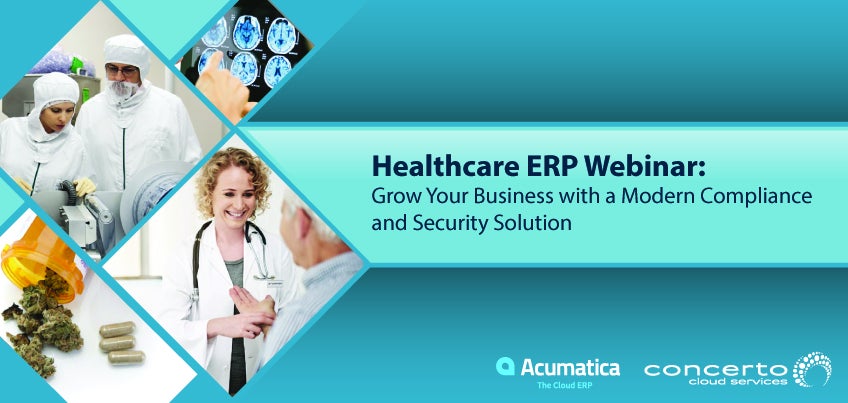 Acumatica + Concerto = a secure healthcare ERP
Concerto is a DXC Technology company that provides fully managed private, public, and hybrid cloud services to small, mid-size, and enterprise-level companies in a variety of industries. The company has been a trusted advisor for those needing a "virtual private cloud for mission-critical applications that require high levels of security, performance, and strict regulatory compliance" since 2011.
Acumatica and Concerto joined forces in January 2017. With Acumatica's fully integrated cloud ERP solution and Concerto Cloud for Healthcare, those in the health and life sciences industry have a faster and more secure way to adopt cloud ERP applications.
Steve Terp, President of Concerto, said this in a company Hub News article: "Healthcare organizations are increasingly looking to the cloud to manage more mission-critical applications such as ERP. This is why our partnership with Acumatica is so timely; it is a turnkey solution for organizations seeking a faster path toward cloud ERP adoption and, in turn, a way to deliver better, more responsive care system wide."
The webinar provides a great overview of what the two companies bring to the table. You'll learn:
Why protecting your healthcare cloud ERP system to the application layer is critical for data privacy
How Acumatica's Enhanced Security Package is the tool you need to meet regulatory requirements and healthcare compliance standards
What to look for when researching your cloud-based ERP software options for the healthcare and life sciences industry (Acumatica and Concerto also have an eBook with 12 questions your CFO should be asking about cloud ERP – more about that in an upcoming post.)
What Acumatica offers in way of a true, customized cloud-first solution
Who is seeing success today with these solutions
With the help of Acumatica and Concerto, customers in these industries can stop worrying about IT management, security, and healthcare compliance concerns and turn their focus to service and innovation.
"Healthcare is one of those areas where we [Concerto] can provide the additional layer of security and compliance, which in this case is HIPPA. Protected health records are very important," Tony says. "The costs associated with many organizations trying to become HIPPA compliant is prohibitive, so we've invested heavily in the healthcare space to help them get through the auditing process and become HIPPA certified."
He goes on, "In partnership with Acumatica, we're able to provide it for their customers all the way down to the application layer. It makes the partnership perfect. They [Acumatica] can deliver their rapid deployment of their ERP, and we can help them in the healthcare space that requires additional security or compliance."
Listen to the healthcare cloud ERP webinar today
The webinar benefits both customers and partners who are in (or are interested in) the healthcare and life sciences industry. Tony points out that partners may learn about additional avenues where they can drive revenue for their business. They can now profitably and securely engage in the healthcare space, or any vertical needing heavy compliance. For customers, they may recognize that Acumatica's ERP platform and software solution supports our multicloud world and can offer the security and compliance measures they need.
Check out the on-demand webinar for yourself. Along with the protection capabilities of these solutions, you'll learn about Acumatica's tools to track inventory with lot and serial numbers, manage customer and supplier relationships, and more.
If you have any questions about the webinar or our cloud-based ERP solution, please contact our experts at any time.