In addition to our extensive cloud ERP software training at our yearly Summits, we believe our desire for attendees to enjoy their time outside of the agenda sets our conferences apart. Acumatica Summit 2019 is no exception. It's happening in a perfect location that supplies a variety of visitor attractions our attendees will have a blast (pun intended, NASA fans!) checking out.
I'm excited that Houston, Texas, known for its size and temperate climate, is our destination for Acumatica Summit 2019 (coming January 27-February 1, 2019). I'm excited because – as I touched on in a previous post on Houston – there are a lot of fun entertainment options you can check out during your free time at our premier cloud ERP event. Today, I'll dig further into those activities as well as add more attractions I think would be a shame to miss.
Haven't registered? I hope you'll take a minute to do so (snare our early bird pricing!) and to save the date on your calendar, as well. You'll enjoy the benefits that come from focused cloud ERP training, networking, and yes, fun.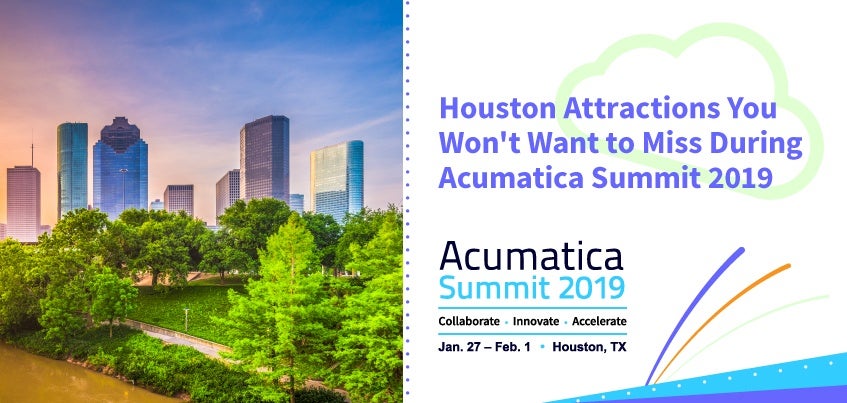 Houston's top visitor attractions
As Acumatica customer Dan Wilkins, president of Bell and Co. says about attending our Summits, "It's good to be able to go to a destination – wherever it may be – and not be at work, not having any distractions. I can just take a week and dedicate that to learning more about Acumatica and what it can do for us here."
That dedication is front and center during our hands-on training tracks, breakouts, and general sessions, but our schedule does allow for some down time. Here's a list of top attractions for you to ponder:
The Music Box Theater – If you enjoy live music and great comedy, you can experience both at this unique and funny cabaret-style theater. Rated number one on TripAdvisor's list of Theaters, Concerts, and Shows in Houston and the Best Cabaret in Houston by the Houston Press, you'll experience music from across the decades intertwined with sketch comedy. You and your business associates can sit back and enjoy a drink while unwinding from your day of cloud ERP learning. Make sure to make your reservations in advance!
Escape Hunt – What do these three titles have in common: Theft of the Texas Lone Star, Murder in Marylebone, and Houston, We've Had a Problem? They're the names of the three games (currently) available at Escape Hunt Experience Houston. You and your team members (perhaps made up of a mix of your fellow Acumatica Summit 2019 attendees) are transported to another era based on Houston themes. The goal is to solve a mystery before 60 minutes is up; a Game Master is supplied should you want or need help. One reviewer said this, "Amazing place for people who like to use their brains… ." I'm sure you can see why this would be the perfect experience for our Acumatica customers, partners, and developers!
Urban Adventures – This company wants to give you the Best. Day. Ever. It does seem they offer fun tours. For Houston, you can book one of two excursions: Houston, We Have a Tunnel! (where you discover Houston's underground tunnel system) and Historic Downtown Pub Crawl (where you visit historic pubs, sip on local beers, and learn some of Houston's history). Each tour includes a local guide and takes two hours.
Saint Arnold Brewery – As Texas' oldest craft brewery, it brews, filters, kegs, bottles, sells, and drinks the beer onsite. They are passionate about brewing the best beer possible and invite locals and visitors alike to visit their Brewery and Beer Hall to see how they do it. There's no admission and beer and food are available to purchase. Public tours happen Monday through Friday at 1:00 and 3:00 PM; on Saturdays, they're at 12:00, 1:00, and 2:00 PM.
Discovery Green – Houston's "Urban Green Space" is a 12-acre park located in the center of the city. Since it opened in 2008, it has had 1.2 million visitors enjoying their free concerts, fitness classes, and movies. You can see Discovery Green from our Acumatica Summit 2019 venue, and it may be a restful oasis during our busy cloud ERP event.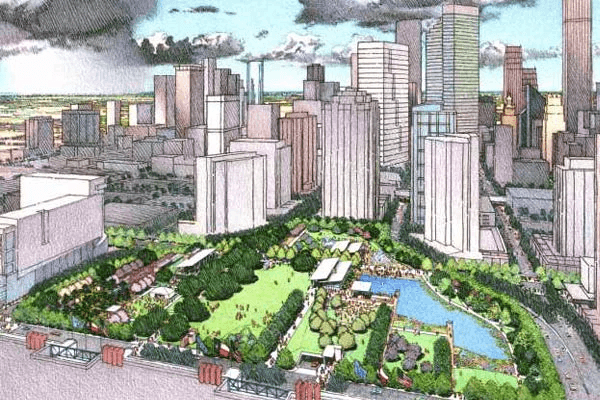 Pictured: A rendering of Discovery Green.
Buffalo Bayou Park – Another amazing green space in Houston, Buffalo Bayou Park is 160 acres along the waterway with many parks and historic areas to visit. Here's a quick rundown of several things located in the park you won't want to miss:
The Water Works: This is the park entry point situated atop a four-acre abandoned City of Houston water system site. You'll see the Brown Foundation Lawn, which sits on a partially buried water reservoir, and the Hobby Family Pavilion, which hosts performance and events. A visitor center, restrooms, and bike rental facility are also located here.
Buffalo Bayou Park Cistern: The Cistern, built in 1926, is 87,500-square-feet with 25-foot tall concrete columns. It was one of Houston's first underground drinking-water reservoirs and is an amazing and unique public space you can tour for its history and architecture.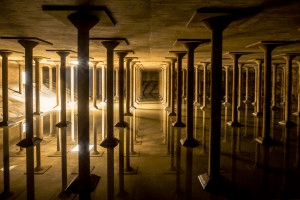 Pictured: The Buffalo Bayou Park Cistern
So much to do, so little time
Our Summits are week-long, cloud ERP events filled with keynote sessions, certification courses, inspirational speakers, a partner EXPO, and so much more. But as I've always said, cloud ERP learning and fun can go hand-in-hand. Unfortunately, I'm unable to provide as extensive a list of fun attractions as I want, but I did offer more top attractions in my previous post on Houston.I think a few are worth repeating:
Space Center Houston: This should possibly be number one on the list of things to experience in Houston. There are so many attractions within this one location, you may never leave it. For example, you can visit the historic NASA Mission Control Center where all Apollo lunar missions, nine Gemini missions, and 21 space shuttle missions were monitored. The facility is named to the U.S. National Register of Historic Places, and Space Center Houston is in the process of raising funds to restore and preserve it for further public viewing.
The Galleria: 2.4 million square feet filled with stores, restaurants, hotels, office towers, ice rink, swimming pools, and beauty salons is something to see. Even if you just stop in for a moment, you can at least say that you've visited Texas' largest shopping center.
Houston is also home to the Toyota Center, Minute Maid Park, and NRG Stadium for those who want to see what sports or entertainment events are happening during your stay.
Along with the exciting visitor attractions, our current and prospective customers who are thinking of attending may find what else Dan had to say about our Summits helpful, "It was interesting and insightful to see how other people are using Acumatica for the same goals you're trying to accomplish."
I hope you'll consider attending, not only for the entertainment factor but also for the immense cloud ERP learning that takes place every year. I want Acumatica Summit 2019 to fulfill your business management needs while supplying you with some much-needed relaxation.
Register for our premier cloud ERP software event of the year if this sounds good to you. I look forward to seeing you there!