Acumatica cloud ERP is a comprehensive business management solution. We rely on our ISV partners to extend the capabilities of our solution and on our VAR partners to market it to our users. The launch of Acumatica 2018 R2 is the perfect opportunity for our users to meet these important partners and learn how our ISVs and VARs can help their businesses succeed.
As VP of Partner Solutions, I always appreciate the opportunity to put the spotlight on Acumatica's Independent Software Vendor (ISV) and Value-Added Reseller (VAR) ecosystems. Our VAR partners exclusively market our cloud ERP solution to our users, and our ISV partners provide the industry-specific solutions our current and future users want and need to meet their specific business needs. These same users would benefit from attending our Acumatica 2018 R2 Launch Day Event in Boston, Massachusetts on Wednesday, September 12, 2018 or our Acumatica Launch Event Series in cities across the nation. They'll learn about our latest Acumatica cloud ERP enhancements and have the chance to meet our partners in person.
Today, I'll introduce you to the VAR and ISV partners sponsoring these launch events. You'll learn about how our ISVs and their third-party applications can better your business along with what services our sponsoring VARs offer.
You're welcome to refer to our Acumatica's Marketplace for a full listing of our ISV technology partners.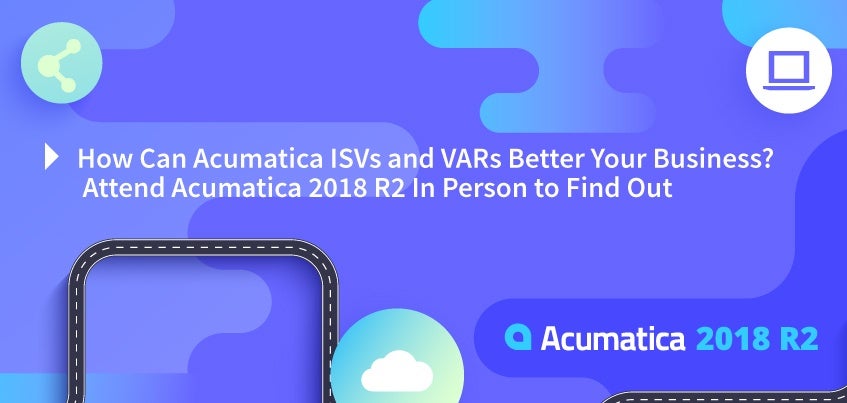 Acumatica partners sponsoring Acumatica 2018 R2 Launch Event Series
Before I highlight our sponsors, let me take a moment to invite you to register for either our Launch Day Event in Boston or for one of our Acumatica Launch Event Series' cities right now. These events provide a firsthand look at the functionality improvements users can expect from our latest release, packing in enormous amounts of information, demonstrations, and networking—all focused on Acumatica 2018 R2— in just four hours.
These exciting and informative events are sponsored by the following partners. If you attend, I hope you make it a point to speak with them. They will be there to explain how their specialized, integrated solutions can help your business thrive.
The list is delineated by sponsorship level and in alphabetical order.
Title Sponsors
HighJump: HighJump provides a complete Warehouse Management System (WMS) for Acumatica users and promises to increase mobility, analytics, and information exchange maximizing business results.
Information Integration Group (IIG): IIG's Acuboost "Rental Order Processing" enables users to streamline their rental operations, from pricing rentals based on user-defined billing periods to processing early, partial, or late returns, and more.
Solver: Solver provides BI360, Corporate Performance Management (CPM) software suite for companies of all sizes. Solver specializes in providing world-class financial reporting, budgeting, and analysis that drive company-wide profitability.
Vertex: Vertex, Inc. offers users a comprehensive and automated sales and use tax solution enabling all-size businesses the ability to keep tax rates up-to-date, determine what is taxable in different jurisdictions, eliminate the need to maintain tax codes and more.
Exhibitor Sponsors
American Payment Solutions (APS): The APSPAYS Credit Card Processing Integration solution allows all credit card payments to be processed directly and securely through Acumatica via a Secure Sockets Layer (SSL) connection, ensuring PCI Compliance.
Artsyl: Artsyl provides InvoiceAction, which automatically sorts, separates, and processes invoices (whether emailed, faxed, or scanned) directly into Acumatica, eliminating manual data entry.
Avalara: Avalara provides a sales tax automation solution saving time, money, and effort, delivering the right rate and tax calculation for every transaction and seamlessly integrates with Acumatica Cloud ERP.
B2BGateway: B2BGateway is an EDI Service Provider and allows for hassle-free, reliable, and seamless exchange of any business document through any communication method and file type; it's integrated directly into Acumatica's dashboard.
Bimser International Corporation, BEAM and QDMS: Bimser International offers Acumatica users both BEAM, an Asset and Maintenance Management software, and QDMS, an integrated Quality Management software product helping businesses comply with quality management systems (i.e. ISO) in a digital, no-paper environment.
Century Business Solutions: The company's EBizCharge is a PCI-compliant payment application for Acumatica; users can process credit cards, debit cards, and ACH checks; streamline their accounting process, and simplify the process of accepting payments.
DataSelf: DataSelf Analytics for Acumatica is a cloud-based, robust data warehousing and analytics solution that provides insight into every aspect of your business; the flexible solution is offered via cloud, hybrid, and on-premise deployments.
Edisoft: Edisoft provides a Smart Process Supply Chain Platform for manufacturers and distributors with the mobile capability and is a complete platform for EDI, Warehouse, and Carrier Management Services.
Fusion: Fusion Retail Management System (FusionRMS) and Fusion Point of Sale (FusionPOS™) seamlessly integrate with Acumatica; FusionRMS is suite of applications for the retail and wholesale distribution markets simplifying the end-user experience, and FusionPOS™ is a comprehensive POS solution for retailers.
MyWorkForceGo: Workforce Go! offers businesses a Human Capital Management (HCM) solution designed for any device; it allows users to manage their workforce while remaining ACA compliant.
Paramount WorkPlace: Paramount WorkPlace is a Requisition, Procurement, and Expense solution that is web-based and mobile; mid-market and enterprise organizations can experience enhanced communications, real-time visibility and control, and more.
PC Bennett Solutions: PC Bennett Solutions is one of the largest Acumatica cloud ERP providers, providing implementation, training, and customization services to help their customers overcome issues and effectively compete.
Scanco, WMS and XScan: Scanco Warehouse Management Solution (WMS) is specifically designed for Acumatica cloud ERP users and extends WMS functionality across users' supply chains; Scanco XScan is a Barcode Data Collection system for warehouse and manufacturing that works on Apple or Android devices.
SPS Commerce powered by MAPADOC: This is a full-service and end-to-end EDI Service Provider that integrates seamlessly with Acumatica; they take care of your complex fulfillment requirements as well as help you become compliant with all of your trading partners.
StarShip by V-Technologies: This multi-carrier shipping software provides small package and LTL processing to automate shipping labels, email notifications, EDI transactions, and more, to help companies save time, build their brand, and encourage repeat business.
YayPay: YayPay with Acumatica streamlines and automates the collections process, allowing the AR department to increase efficiency while mitigating risk and facilitating payments.
Signature Digital Sponsors
Core Associates: Core Associates AcumatiScan is an AP Processing and Content Management solution allowing users to manage documents and automate AP invoice processing easily and digitally while connected to Acumatica Construction Edition; it's designed specifically for construction and real estate processes.
Dynamic Tech Services: Dynamic Tech Services is a Business Solution Provider offering Acumatica cloud ERP for business process automation to the middle market; their team will help businesses implement the ERP system through comprehensive training and support.
Integrated Business Systems (IBS): IBS is a Property Management Solution and Accounting System for real estate organizations; the cloud-based solution offers key features for both Residential and Commercial needs.
Paya: Paya is a Payment Solution that offers fast, efficient, and secure payments for growing businesses; the company desires to reduce complexity and increase business intelligence.
Acumatica 2018 R2: connect with Acumatica ISVs, VARs and better your business
The Acumatica ISV ecosystem offers our customers a wide range of specialized extensions for any small and mid-size organization. We enhance and expand these third-party application options as we continue to add new ISV partnerships every year. And our VAR ecosystem ensures that our cloud ERP solution is available to our users.
This is what Acumatica CEO Jon Roskill had to say about our partners in a recent press release, "Our rapidly-expanding collaboration with ISVs along with our extensive VAR and OEM ecosystem enable small-and-medium-sized businesses in multiple industry sectors to properly manage operational challenges and seize opportunities as their companies grow."
Meeting our partners in person at our Acumatica 2018 R2 Launch Day Event in Boston or at one of our cities included in the Acumatica Launch Event Series gives our users a distinct advantage: they are privy to details not always readily available or easily obtained from a website or a phone call.
For any questions about our partners, Acumatica 2018 R2 Launch Day Event, or our Acumatica Launch Event Series, don't hesitate to contact our team.