If you haven't heard yet, Acumatica Summit 2017 is just around the corner. This premier invitation-only event is where our entire partner and customer ecosystem gathers to hear the latest about Acumatica's products and solutions and collaborate on accelerating success in the cloud. To register now, head over to the registration page.
If you're a current or prospective customer, you might be wondering what's in it for you. Is the Summit really worth the trip to San Diego? We say yes! In addition to the amazing content (check out all the summit has to offer), there are a number of trainings that will be especially beneficial for our customers. Last year we launched a new customer track, and based on its success, we've expanded that offering for customers in 2017. A comprehensive customer track, complete with tips and tricks, content by industry, and product roadmap will be available on Days 1-2 of the Summit. During Days 3-5, customers will also be able to get deep technical product training straight from our experts to maximize their investment and unleash the full power of the Acumatica platform.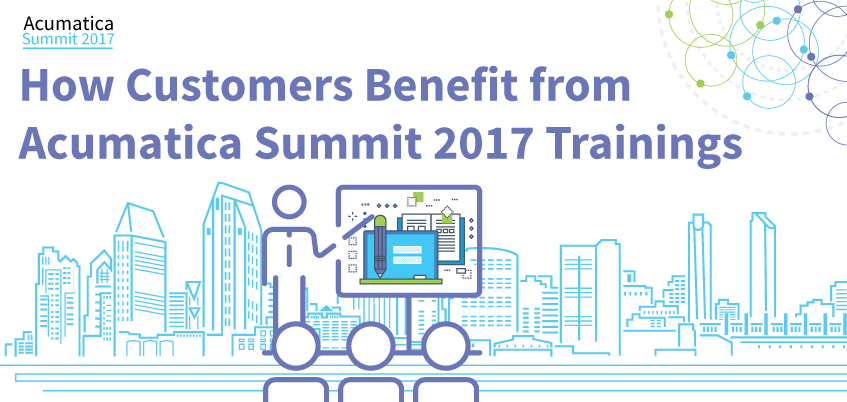 The following are just a few reasons why we think customers will greatly benefit from the Acumatica Summit 2017 Trainings:
Hands-on Exercises that Reflect Real Life Scenarios
Rather than just provide training at a purely intellectual level, our courses include real life scenarios and hands-on demonstrations. You can choose from a number of different trainings, including financials, distribution, report writing, integration scenarios, and service management. Each of these trainings will showcase stylized examples from customers who have faced challenges or had needs similar to yours. Our instructors will walk you through how our platform helped them overcome these and you'll be able to see and experience Acumatica in a real world environment.
Interaction with Subject Matter Experts
Our team at Acumatica consists of not only our support staff and fantastic partner ecosystem, but also a large group of subject matter experts. These folks have worked at businesses in various industries and will be available to help you with the needs you're facing. Whether it's financial management, distribution management, customer management, or a slew of others, this is your chance to get to learn from the best of the best. They're an extremely approachable bunch, so you'll feel right at home no matter your current level of knowledge about Acumatica.
If you're still on the fence about attending, know that you'll enjoy direct access to Acumatica's leadership, product, and engineering teams while at the Summit. From our CEO, Jon Roskill, to the amazing folks who literally code our platform, everyone on our team is approachable and excited to talk to you. Customers who attended in 2016 mentioned how much they appreciated meeting the folks behind the platform and how they were energized by everyone's excitement for what Acumatica is up to next.
Learn from Other Acumatica Users
Sometimes it can be hard to think of outside-the-box, creative ways to utilize your ERP. There could be things to implement that would save your team time and money, but you just haven't thought of them yet. Maybe you're stuck and need some inspiration. Or, on the other hand, maybe you've got an arsenal of tips and tricks that make Acumatica's suite of products work seamlessly for you and your business. Other users are going to be chomping at the bit to learn those from you. Come curious, and come willing to share.
Join us for this fantastic Summit in 2017. You'll gain valuable insight into the future product roadmaps, maximize your investment in Acumatica by engaging in hands-on technical trainings tracks, network with hundreds of your industry peers, and so much more. Visit the website for more details and to find training topics, speakers, and registration.
See you in San Diego!
Have feedback on our educational resources? We'd love to hear your ideas! Please email training@acumatica.com for training materials feedback and doc-feedback@acumatica.com for documentation (user guides) feedback.