If you're a current Acumatica customer or thinking about becoming one, attending Acumatica Summit 2018 is a great way to learn all about our cloud ERP platform and products. It's also the place for advanced, effective, and expert-led training sessions, which can benefit you and your business immensely.
Whether you're a repeat Summit attendee or have never been, you should know that Acumatica Summit 2018 – coming January 28-February 2, 2018 – will be a week-long adventure filled to capacity with breakouts, trainings, and networking. Check out our agenda to find out what it's all about. You'll see that our schedule is filled to the brim with intensely focused cloud ERP activities, but we understand that learning should also include fun so we've left some free time for you to enjoy our great location, Nashville, Tennessee (also known as Music City).
As my third post in our series about Acumatica Summit 2018 trainings, I'm excited to address the many benefits our customers experience when they attend our in-depth, expert-led training sessions. I hope you'll check out my first two posts where I provide a trainings overview as well as discuss how our partners specifically benefit. I also hope that if you're not already registered you'll do so right now.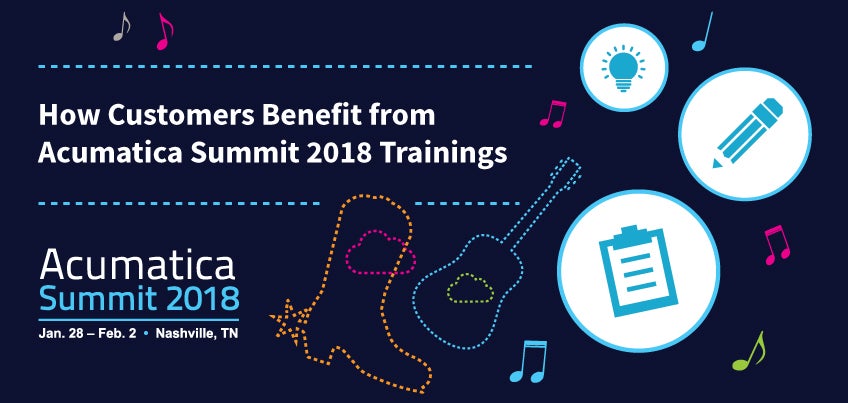 How customers benefit from Acumatica Summit 2018 trainings
Attending our Summit, especially our certification training sessions uniquely designed for every customers' level of platform and product expertise, is truly the once a year opportunity for customers to maximize their Acumatica cloud ERP experience. In fact, this is our third year where we have a track just for our customers during the first two days. This year we've divided the Customer Track into two session types: Education and Roundtables. They will be running at the same time and you'll be able to move between sessions based on your needs. For more information on this change, please check out our Sessions & Training Overview.
As to the benefits our customers receive from attending Acumatica Summit 2018 trainings, they include:
Direct access to Acumatica's leadership, product and engineering teams: At Acumatica, we feel our accessibility is something that sets us apart from our competitors. Our leadership team makes a point of being available during every aspect of our Summits, conversing with as many customers and partners as possible. Throughout the trainings, you'll interact with these folks along with Subject Matter Experts (SMEs) who come from various industries; their expertise offers you training from people who've experienced what you're experiencing and have the answers you need.
Learning through real life scenarios and hands-on demonstrations: We're adding more real life case scenarios to this year's customer training tracks. Our expert instructors will take these scenarios based on other customer's challenges or situations and explain how Acumatica's platform met their needs. This enhances your learning experience from "book" knowledge to actual tips, tricks, and features you can implement in your daily routine. In addition to the scenarios based on real Acumatica customers, you'll be participating in hands-on demonstrations, which is another great way to solidify everything you learn.
Opportunity to provide personal feedback: We take your feedback very seriously; customer feedback provides direction for the future of Acumatica's platform and products. When you attend the different training tracks – ranging from manufacturing, financial management, customer management, reporting, and more – you put yourself in a position to offer your opinions on what's working for you and what could be better. You'll leave knowing you've been heard.
Interacting with your peers: Throughout the training sessions, you'll be meeting a variety of attendees within the Acumatica community. As fellow customers, they may provide you with insights and innovative methods of utilizing Acumatica's cloud ERP you hadn't thought of. On the other hand, your own experiences and skill with Acumatica may also be of service to those same people and your willingness to share them is an invaluable benefit.
At Acumatica Summit 2018, you have a chance to gather with hundreds of like-minded people all focused on the same goal in one place at one time. We believe in the importance of community and that taking advantage of the opportunity to harness the insight and knowledge shared at our premier cloud ERP event will be to your benefit.
As you contemplate these benefits, I want to let you know that we're including a new personal preparation checklist in our advance trainings instructions this year. We'll be sending those advance instructions two weeks before Acumatica Summit 2018 and will contact you before the Summit to confirm you've received and understand the procedure. All attendees are required to fill it out and need to have the personal preparation checklist signed by an instructor in order to attend the training classes. During the Summit, you'll have time to meet with the instructors and their assistants in the first three days to ask questions and get the checklist signed off before the trainings begin. Also, make sure your laptop is ready to go!
Collaborate, innovate, and accelerate at Acumatica Summit 2018
A recurring theme at our Summits is collaborate, innovate, and accelerate. We feel the power of these three actions when we come together as a community. Register today and join us at Acumatica Summit 2018 – we'll work together to ensure your success in the cloud and to take your business to the next level!
This IDC report tells you what you really need to know about Acumatica Cloud ERP in 2018.