There are a dozen excellent reasons our partners should register for Acumatica Summit 2017—community, networking, education, trainings, company news, keynote speakers, badges and so much more.
First things first—a partner walks off the plane and gets ushered to the welcome reception at the Summit, which includes live music, amazing food, and a wealth of networking opportunities. Then, on Monday and Tuesday, they attend general and breakout sessions, hear keynotes, and enjoy being in California in January. During these days, our Partner Account Managers (PAMs), sales engineers, and other team members will reveal what a year full of product launches, mergers, and acquisitions means for Acumatica and our partner ecosystem. Be assured you'll walk away excited and energized about what's ahead in the coming year!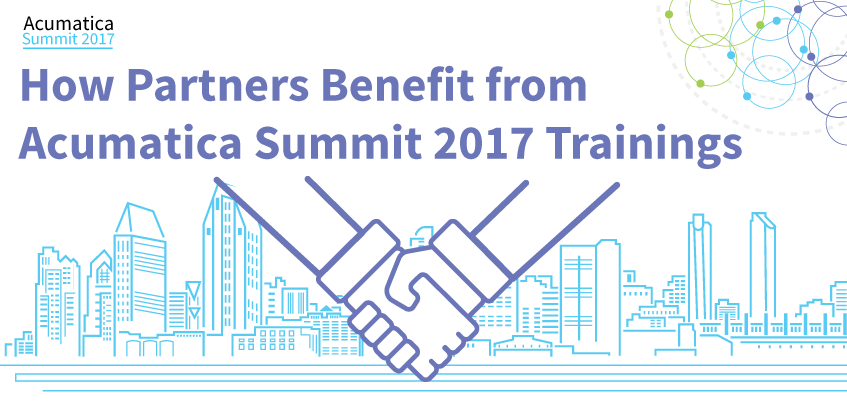 Then, on Wednesday through Friday, you'll do a more in-depth training—say, Sales Methodology. (Which is only for partners, by the way.) In this session, you'll explore our sales onboarding content, as well as best practices and sales methodology for closing more Acumatica deals. Past attendees have given this course rave reviews. It's in very high demand because partners say it's the best training they've had about sales methodology, ever. (Time to register and reserve your spot?)
We make sure our trainings aren't just instructors giving boring instructions by lecturing on and on or—heaven forbid!—reading presentation slides. No, it's a workshop format where attendees participate, present their cases, and are evaluated by others who give advice. Think engaging and interactive!
Training Badges for Partners
Acumatica badges are a sign to potential and current customers that you know what you're doing with the Acumatica platform. The goal of the sales methodology class, for example, is to gain the skills needed to earn your sales badge. The sales badge is required for partners to achieve Silver and Gold certification status. More than just growing your expertise, you'll be able to earn badges to improve the certification of your company.
Not only is a sales training badge required for Silver or Gold status, but badges can be held collectively to help propel a partner upwards. Each partner's employee who completes training at the Summit actually helps their employer achieve Silver or Gold status. This is motivating for employees because the badges stay with the individual, and it's motivating for a company because the more people with badges, the more prestigious the company becomes.
Partner Exclusive Trainings
Want more that's exclusive for partners? Have a look at these other partner-only trainings:
Ecommerce/Magento Sales and Integration Training
Sales Methodology
Pre-Sales Training and Workshop (worth CPE Credit!)
Each of these courses are only available to you and your team, ensuring the content is applicable, helpful, and insightful.
Acumatica Summit 2017 doesn't just have something for everyone. It has speakers and trainings that will enable your team's success. Register today and we'll see you in sunny San Diego in January!
Have feedback on our educational resources? We'd love to hear your ideas! Please email training@acumatica.com for training materials feedback and doc-feedback@acumatica.com for documentation (user guides) feedback.