With so many reasons to attend Acumatica Summit 2018 (check out our full agenda!) it's a challenge to focus on just one. However, our intense training sessions are definitely worth extra attention. For our partners, the benefits of signing up for trainings are many, and we hope you'll come check them out!
At this point and time, it's probably no surprise to our partners that the whole Acumatica team thinks Acumatica Summit 2018 – coming January 28-February 2, 2018 – is the must-attend event of the year. Between all-encompassing trainings, breakouts, keynotes, and EXPO geared to increasing your cloud ERP expertise and a location with tons of fun activities for your free time, there's really no reason (in our opinion) to not attend!
In this second post on our Summit trainings (you're welcome to read my first trainings overview post), I specifically address the benefits our partners receive when they sign up for our training sessions, starting Wednesday, January 31st through Friday, February 2nd, 2018. I hope what I have to say will convince you to go ahead and register today!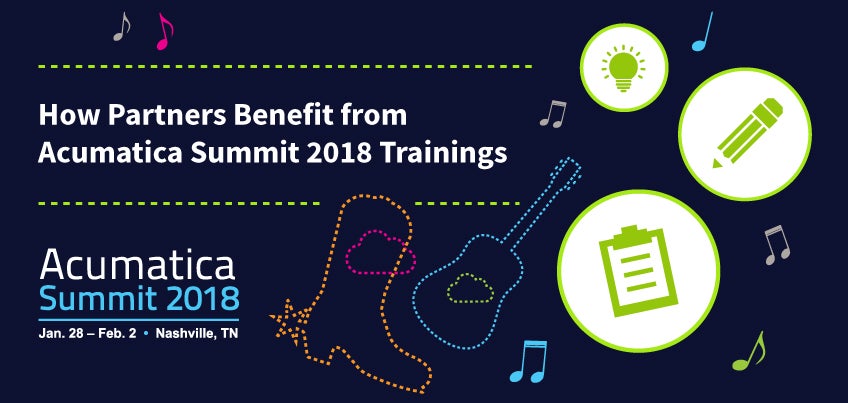 How partners benefit from Acumatica Summit 2018 and the training sessions
Acumatica is 100% channel-driven, and our Value-Added Reseller (VAR) community is essential to our success. Our annual cloud ERP event provides the perfect place to support our VARs with trainings, breakouts, speakers, and more with the full Acumatica community in one place at one time.
Partners can expect to start Acumatica Summit 2018 off with our Summit Welcome Reception and our extensive partner EXPO – boasting our largest partner participation to date – on Sunday evening. The benefit of meeting with your fellow partners and customers face-to-face in a structured yet fun environment is huge.
Monday morning, Jon Roskill officially opens with his keynote, which is the central session for the entire event. With Acumatica on track to continue our phenomenal growth, Jon will look back at 2017 as well as ahead to 2018, sharing important product, company, and partnership developments and strategic initiatives. Monday continues with the Partner General Session and a myriad of breakout sessions. Of particular interest to partners should be the Sales Track where our Partner Account Managers (PAMs), sales engineers, and other team members share how our product launches, mergers, and acquisitions positively impact Acumatica's cloud ERP platform and products and our partner ecosystem.
Our annual Celebration Party ends Monday with a bang. We've scheduled three live bands to perform in the Country Music Hall of Fame, which is connected to our venue, the Omni Nashville Hotel. From country to jazz (and a little rock thrown in for good measure), you can expect to have a great evening enjoying the bands, eating fabulous food, and networking with your fellow attendees.
Tuesday follows a similar schedule with more amazing breakouts and keynotes, and on Wednesday, the in-depth training begins!
We want these trainings to not only educate you but also be a time of enjoyment and interaction. In fact, we've instructed our expert instructors to designate time for sharing. You'll get pertinent information on how to implement a particular feature or module while learning from the experiences of others in the sessions – plus sharing yours! This type of personal interaction is effective in helping resolve issues and build relationships. Acumatica business analysts and product managers will also be on-hand to explain new features and offer assistance throughout the process.
Our Sessions and Training agenda is available for you to check out the specifics of each training course, including what will be covered, who will be instructing it, the dates and times, and prerequisites. It also breaks down the Continuing Professional Education (CPE) credits you can earn for taking the courses as well as the Partner Certification Program details.
The Partner Certification Program enables our partners to earn training badges, which leads to the benefit of achieving Silver and Gold certification status. This designation shows your current and future customers that you are a trained and knowledgeable Acumatica partner. In addition, each partner who completes certification tests after the training at the Summit will get to keep the badge as an individual achievement but also improve the certification of your company – a win-win for everyone!
Finally, even though this isn't classified as a benefit, I do need to let you know that we're including a new personal preparation checklist in our advance trainings instructions this year. We'll be sending those advance instructions two weeks before Acumatica Summit 2018. We'll contact you beforehand to confirm you've received and understand the procedure. All attendees are required to fill it out and need to have the personal preparation checklist signed by an instructor in order to attend the training classes. During the Summit, you'll have time to meet with the instructors and their assistants in the first three days to ask questions and get the checklist signed off before the trainings begin. Also, make sure your laptop is ready to go!
Acumatica Summit 2018 partner trainings: applicable, helpful, and insightful
We've created each training session to deliver applicable, helpful, and insightful information that we hope you'll apply to your daily work routine. The sessions will supply every partner with the best instructors and materials available along with the opportunities to interact in a live format and connect with peers and instructors.
Register for Acumatica Summit 2018 right now and anticipate the benefit of time away from the office with a laser-focus on what matters most: accelerating your success in the cloud, bringing your Acumatica business to the next level, and increasing customer satisfaction with Acumatica's cloud ERP platform and products.