Rental businesses no longer need to rely on legacy systems to run their business management needs. Together, Rental 360 from NexVue and Acumatica's modern cloud ERP system deliver the most effective cloud and mobile technology available today.
With NexVue's Rental 360 built natively with Acumatica, rental businesses can now utilize a modern cloud ERP system. This means they use cloud and mobile technology to integrate and automate their processes from equipment tracking to rental availability and from flexible billing to pick up and delivery.
Imagine this scenario: You're scheduled to drop off a piece of your heavy equipment to a new rental customer at a construction site. Once you get there, your customer has several questions about the equipment, such as if the rental fee is based on days or engine hours and when it's next due for maintenance. Without hesitating, you pull out your phone and answer all of the questions thanks to easy, mobile access to the equipment's complete history.
You can see who has used it, research any repair issues, and determine when it's due to the next customer. When the project is completed and the equipment is checked in, you can verify its condition quickly to get it ready for use again.
Simply put, your rental equipment is one of the main assets in your business. Now, thanks to Rental360 and Acumatica's modern cloud ERP system, you can have the most complete and modern view of all your resources regardless of your location.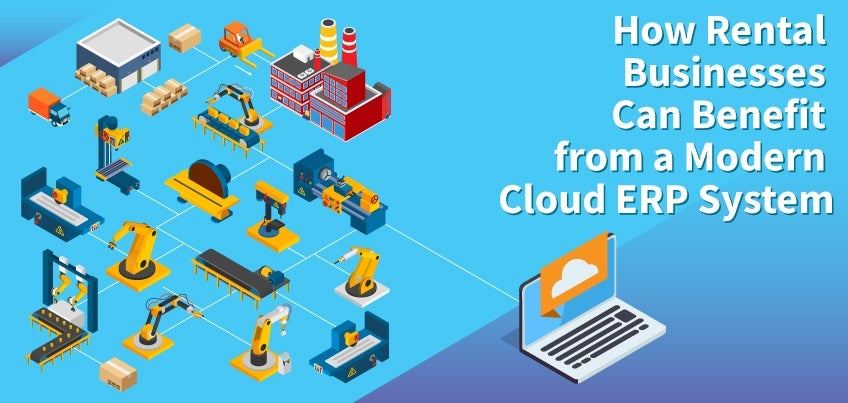 Why do rental companies love the cloud?
Companies of all types are obsessed with the cloud. The ease of administration, no need to install updates and manage servers, and the ability to stay current with technology are benefits rental companies want to experience, too. Rental 360 is an essential tool in the Acumatica toolbox for rental companies to harness the power of the cloud.
With Rental360's mobile framework, equipment rental management is more efficient than ever. A modern cloud ERP system offers companies a new way to track all of their assets in the rental space. Whether your company is a rental business with limited staff or a large corporation where rentals are just a piece of your operation, Rental360 enables better decision making. This means you can have more control of your assets, maximizing rentals and most importantly, profits.
The ability to get a complete mobile view of your rental equipment through a modern cloud ERP system eliminates the need to rely on outdated spreadsheets or to call your office for more information. You can provide better service to your customers, while also limiting the chance of human error when relaying information. Rental360 allows you to streamline communication throughout the company, helping alleviate any issues that may have been a challenge in the past. This solution takes your business to the cloud, providing you with the most advanced way to connect with your customers and staff.
Streamline workflows and boost your bottom line with a modern cloud ERP system
Rental businesses have been stuck with legacy systems and rigid, expensive, or narrow point solutions and are frustrated with web interfaces that don't come close to the true cloud experience. The good news is that now, regardless of industry or sector, the advantages of a modern cloud ERP system can boost the bottom line and simplify business management – and that's especially true in the equipment rental realm.
Contact us today to learn more about how Rental360 can benefit your business. You can call us at (203) 327-0800, or visit NexVue for more information. Let's get started!