Modern EDI – It's no longer just X12, EDIFACT or Tradacoms!
EDI stands for Electronic Data Interchange and is a way for the Acumatica user to exchange standard business documents such as Purchase Orders, Invoices, Shipping Notices, Inventory Updates, Credit Memos, etc., with their trading partners and customers without having to re-key data. In other words, the aforementioned business documents subject to agreed business rules and logic, would flow between the Acumatica users' ERP system and that of their customers' back end system without any human intervention. This leads to greater accuracy, reduced labor overheads and a faster 'order to payment' cash cycle for the Acumatica user.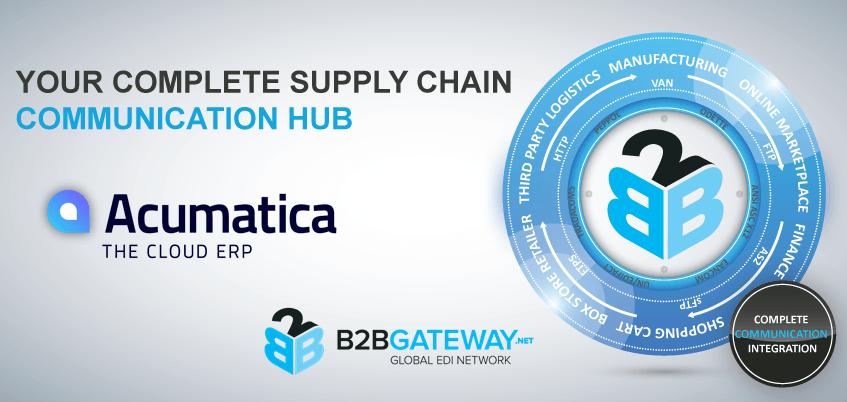 Traditionally EDI has been the stronghold of retail, wholesale distribution, automotive and logistics industries. However, in today's modern cloud world, the term EDI no longer just represents the age-old EDI standards of X12, EDIFACT or Tradacoms, but rather has become a much more generic term for the electronic exchange of all business data supported by 'Any to Any' integration. In fact, in today's terms, modern EDI represents a completely integrated communication hub for the Acumatica user to all parties that they transact business with.
While the traditional EDI data standards of X12 et al are still supported, and indeed still widely used in retail, wholesale distribution, manufacturing and logistics industries, modern EDI will also support the majority of additional file formats such as XML, CSV and flat files. Modern EDI solutions will also be built on SaaS/cloud based platforms to better support backend cloud ERP solutions such as Acumatica.
The modern EDI solution provider will support API integration in tandem with traditional EDI ports. Therefore, the modern EDI solution provider becomes a complete, integrated communication hub to support all the needs of the Acumatica user, be it the ordering of goods from a factory, selling those goods to traditional box-stores and the modern online marketplace, selling their own goods and services on their own shopping carts and integrating with a 3PL for the storage and shipping of the aforementioned goods. 
Traditional EDI
Modern EDI
File Formats Supported

X12
EDIFACT
Tradacom
PEPPOL
oioUBL
XML
CSV
Flat Files
And much more

Integration

Desktop
Limited Connectivity
SDK
ERP (Acumatica)
WMS

Cloud Based
'Any to Any'
SDK and API's supported.
ERP (Acumatica)
Accounting Software
WMS
OMS
Inventory Software

Communication Protocols
Pricing

High, used predominantly by very large organizations who could afford it.

Affordable and available all.

Industries Predominantly Serviced

Retail
Manufacturing
Automotive
Large Scale Wholesale Distribution

Retail
Online Market Places
Drop Shipping
eCommerce Shopping Carts
Manufacturing
Automotive
Wholesale Distribution
Healthcare
Insurance
Third Party Logistics (3PL)
Finance
Government
To learn more about how B2BGateway's cloud based fully integrated EDI solutions can help the Acumatica Cloud ERP user remove the need to re-key data and further automate their supply chain processes please visit our website.