Small and medium sized businesses competing in every industry are on a quest for growth and profit. To achieve these goals, they must digitally transform by maturing in conjunction with technological advances, such as ERP functionality and SMB cloud adoption. IDC has created an infographic – sponsored by Acumatica – addressing this requirement, explaining why an adaptable platform is crucial.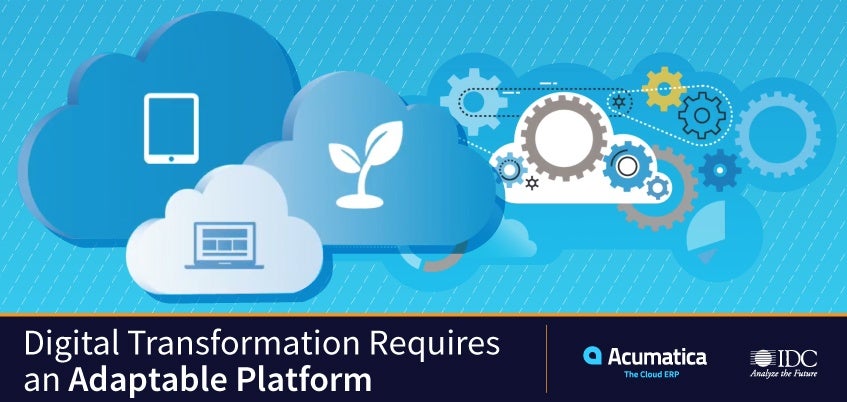 Having a system that takes practical advantage of constantly evolving technology is essential to business agility.
This quote from OPFLEX Environmental Technologies IT Director Kevin Cox says it all. A multi-cloud ERP system must address constant technological changes by adjusting and scaling accordingly. OPFLEX – a company that manufactures and sells specialized foams used in people's everyday lives and to filter oil and contamination from water – implemented Acumatica's adaptable, easy-to-use, and cloud-based ERP platform because of this fact and has reaped the benefits of ERP functionality ever since. You can read more about their story and those benefits here. Their success with deciding to grow their business through the adoption of a multi-cloud ERP solution could also be yours.
With this in mind, IDC – a leading provider of insights, facts and expertise regarding technology purchases and business strategy allowing their global clients to achieve their key objectives – combined their considerable knowledge with that of Acumatica and created a new infographic about present and future business growth and it's connection to SMB (small and medium sized businesses) cloud adoption. The infographic explains exactly how digitally transforming your business relies on an adaptable platform – and the direct benefits associated with that decision.
Do the benefits of agility, mobility, customization, and real-time visibility along with additional revenue and reduced costs for your business peak your interest? If so, take a moment and check out the detailed, animated version of the infographic in the video below.
You can also view just the infographic below.
We hope the infographic gives you reason to question how your business can benefit from ERP functionality with a quality, stable and adaptable multi-cloud platform. Contact us here at Acumatica and we'll discuss your options for growing your business now…as well as in the future.