For the second year in a row, Vineet Bhatnagar of InSync Healthcare Solutions plans on attending our annual cloud ERP Summit. He eloquently lays out the reasons for making Acumatica Summit 2019 a priority and the benefits you, as an Acumatica customer, will receive if you attend.
When was the last time you didn't scroll down to view other buyers' reviews on the product you were about to purchase? It's probably been awhile. As technology savvy consumers, we're wired to seek other people's opinions and experiences before we hit the buy button. That's why we have a new series focused on Acumatica customers and their reasons for attending Acumatica Summit 2019 (coming January 27-February 1, 2019). We think what they have to say may convince you to push the registration button.
Vineet Bhatnagar, Product Manager at InSync Healthcare Solutions®, is our first Acumatica Summit customer review and you'll get to hear his opinion—in his own words—about why he's returning to our cloud ERP Summit for the second year.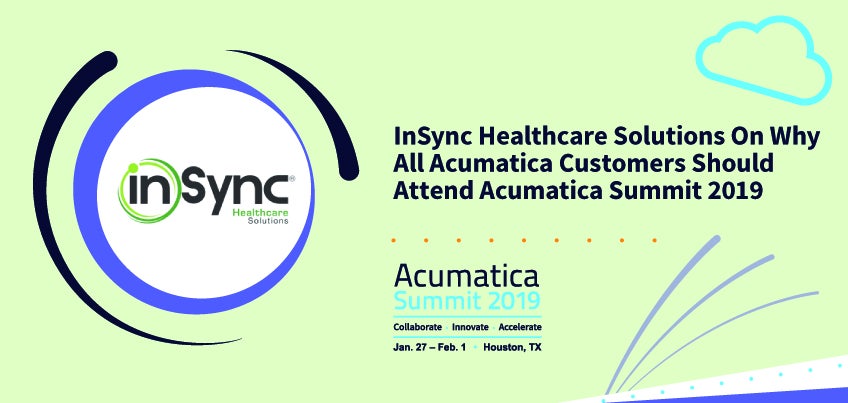 Why InSync Healthcare Solutions endorses Acumatica Summit 2019
"Acumatica Summit 2018 was definitely a great experience for me," Vineet says. "To be honest, it left me thinking about the ever-growing opportunities of Acumatica as a cloud-based ERP solution and the kind of potential it has to drive growth and empower growing companies like ours."
InSync provides electronic medical records (EMR) and practice management software solutions tailored specifically for their customers' needs. Out of 5 years of his association with InSync, Vineet has been working for two years with InSync's in-house software development team, which handles Acumatica customizations. For instance, when other workers at InSync have a great idea about how to customize their Acumatica healthcare cloud ERP dashboards and widgets, he and his team take care of it.
"We do those customizations, giving them buttons on screens, giving them different controls in various places in the UI, giving them validations," he says. "Right now, we're trying to streamline our team. Our focus is to streamline our internal processes, SOP's and workflows so that all the departments—like finance, client services, sales, and other departments—can utilize and exploit the benefits of Acumatica. A very small example is how Acumatica can send mass invoices through an email to all your customers, just by clicking on one button."
Even though they're an Acumatica customer, their EMR product and development teams put them in a unique position to also be a possible VAR and ISV partner to Acumatica. Acumatica Summit 2019 is the perfect time and place to consider the potential opportunities for InSync to grow.
"For me, it [Acumatica Summit 2018] was a great opportunity to network and speak with Acumatica partners about their credible solutions. They are actually addressing the ongoing business problems we encounter day by day," Vineet says. "We live in a multi-cloud world, and we are also a product-based company with a development team here in India. We have offices in Florida and New Jersey, as well. The whole idea behind my visit was, first of all, to meet the Acumatica team to understand their product development roadmap. Then I wanted to witness Acumatica's strength, see how big the community is."
Acumatica Summit 2019 will be another opportunity for Vineet to gather with thousands of technology-driven individuals who have the same goal of achieving success in the cloud. As he points out, it's the time when customers, ISVs, and VARs can "understand what kind of business solutions are readily available using Acumatica."
Vineet had other reasons for attending last year's Summit, "The objective was also to attend the CRM training for Acumatica. It was great working there, learning more about how exactly Acumatica can be perceived and used in our business."
During the training, Vineet spoke with another Acumatica customer, a CFO of a larger company. Even though Vineet is a self-proclaimed introvert, he says he had a great discussion with this CFO about common situations they face in their businesses, including customer management. Vineet shared with him how InSync has integrated with HubSpot to automatically send surveys to their customers as they finish a case. They record the answers in Acumatica then use the information in a widget to showcase how that customer is doing right then and there.
He says the CFO—along with some Acumatica system analysts—were excited about what they've been doing. "They really had some good words to say about what we had prepared, so I felt good, and I felt confident that we are moving in the right direction. We are really, really utilizing the platform, Acumatica, as a healthcare ERP. It's open source, so it gives us a lot of options to do integrations. It's like putting a cherry on the cake."
He plans to attend more trainings at Acumatica Summit 2019, as well as the Keynote Sessions to hear from the Acumatica executive team members.
"I was able to attend the trainings and the Keynotes with eminent speakers like Jon Roskill [Acumatica CEO], Sean Chatterjee [VP Partner Sales Acumatica], and Ajoy Krishnamoorthy [Platform Strategy at Acumatica]," he says. "These speakers were really engaging. It becomes a highly informative global platform that exposes you to a good amount of technology-driven solutions in order to grow our businesses."
He goes on, "I think attending this conference is a must because no one wants to be left behind."
Don't be left behind—attend Acumatica Summit 2019
With all his reasons to attend Acumatica Summit 2019, Vineet has a few more.
One is having the opportunity to speak with the Acumatica executives face-to-face. He appreciates the chance to discuss Acumatica's plans for the future. Learning the product roadmap has a direct impact on how he'll utilize his healthcare cloud ERP, such as tracking revenue, customer (internal and external) retention, as well as checking how much time and expense they're "devoting in development of our own product, which is InSync EMR."
Another reason is this year's location. He's looking forward to visiting Houston, Texas.
"I'll be going for the first time. At Acumatica Summit 2018 in Nashville, the City of Music, I got to visit places around the hotel, and they were quite good. I also did some shopping for my family, so Houston will be even better," he says.
And he's right. Besides the many attractions (which we'll dive into in an upcoming post), Houston has the biggest shopping mall in Texas at 2.4 million square feet and has stores, restaurants, hotels, ice skating, and so much more.
To sum up, Vineet points to the networking with other customers and the Acumatica executive team, the training, the product roadmap information, the Keynote speakers, and the fun attractions as amazing incentives to attend Acumatica Summit 2019.
He ends with this thought: "What I understand is that every business needs solutions that are common to every industry—be it customer management, case management, time and expense management, and tracking your customer interactions on a regular basis, your financial and accounting. Then your reporting and your business analytics using different dashboards and widgets that we use in Acumatica."
"There's a wide spectrum of services that gives you an insight to drive your business in the right direction and that comes out of Acumatica," he says. "Plus, Acumatica lets you incorporate your existing business workflows with the help of customization and lets you literally own the platform."
Like Vineet, you can receive this powerful insight if you attend Acumatica Summit 2019. You'll benefit from interaction with the Acumatica community and learning about Acumatica's extensible cloud ERP platform while enjoying the location. And if you register right away, you'll also benefit from our early bird special pricing—check it out! We hope to see you there.
InSync Healthcare Solutions has been an Acumatica customer since 2012. The initiative to adopt and utilize the Acumatica cloud ERP platform, recognizing it as a great ROI proposition for InSync, was a vision set forth by Charles Hutchinson (CFO – InSync Healthcare Solutions). Charles is the ultimate force behind the effective implementation of the Acumatica cloud ERP platform in InSync Healthcare Solutions. Charles also received an Acumatica MVP award last year