Poor user experience is a bigger factor in enterprise level software failures today than in the past.
Employees today access easy to use, intuitive consumer applications and devices daily.  And now, more than ever, they expect that same usability from their work products. If they don't find that usability, their software adoption can come to a screeching halt as employees find workarounds to complete their tasks.
For example, a new client came to us looking for a solution after going with a CRM that had been oversold and under developed.  You know the kind: it looks great on paper and in the presentation, but the usability was severely lacking, and their employees avoided using it. When we came in, they had sales and support staff that were clinging to their paper files, because using the new system was creating extra work for them. Another team continued to use their legacy software even though it was no longer being maintained or tracked, and they all persisted despite being repeatedly told by management to stop.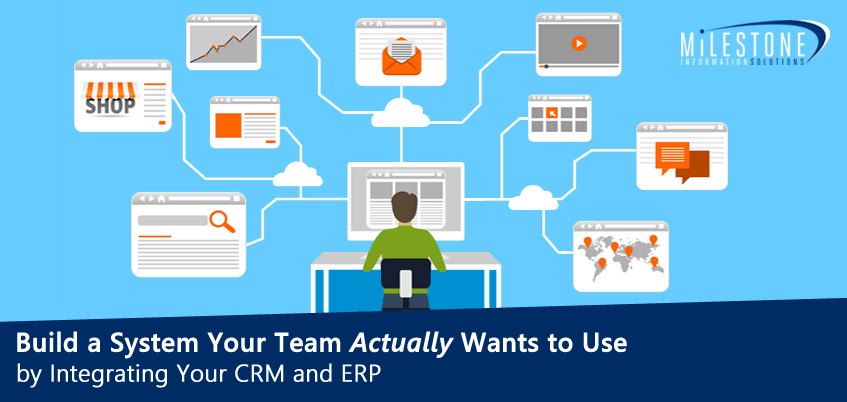 These kinds of problems create huge compliance and visibility headaches for management, and can become a giant money pit of repeated training and late stage customizations to try and encourage adoption from teams.
Thankfully, this company was able to see it was time to make some changes. Due to that experience, they were ready for us to help them dig in, and do the hard work of finding the application sweet spot between powerful functionality and ease of use, which is exactly where you want your ERP and CRM software to live.
5 Key Benefits of an integrated ERP and CRM
Some of the key features we helped our client identify for their business are laid out below:
Don't duplicate data entry tasks, and get more complete files
If your CRM and ERP don't integrate seamlessly with one another, your ERP file is missing all the good information you've collected during your customer's journey, from lead to opportunity to deal. This gives your employees only a partial picture of the interactions and makes it easy to miss key information.
So let's build a scenario you've probably experienced a time or two.  A salesperson goes through the entire process with their customer.  They receive the order and hand the new customer off to the warehouse, or order entry team for servicing. If the deal file doesn't include all the previous correspondence, they might miss a key part of the transaction or question why a part of the transaction exists at all.
Depending on their experience level, a support person might go to the CRM to try to discover the missing information, check in with the salesperson, or call the customer to find out.  All of those could lead to the right answer, but none of them are a good use of time for anyone involved.  By having an integrated CRM and ERP, all the information from the opportunity to the deal transfers seamlessly. This is standard operating procedure with Acumatica, where the opportunity file becomes the deal.
Share data more easily for improved customer service
Give your employees and customers the information they need in real time. When customers call in for support or the status of an order, your service representative should be able to see the current status without changing systems or asking another employee.  An integrated system gives employees simple, push-of-a-button access to the information they need when they need it, including status, inventory levels, shipments, order history and more.
Improved Quote and Order Management
With an integrated ERP and CRM, you can turn quotes and proposals (created in CRM) into actual orders (created and tracked in ERP) using one system.  This saves a lot of time and headache, and provides another feature that will get your employees excited about utilizing these tools.
Track your correspondence – Build your paper trail
Give your sales and support people the tools to best serve customers. This means easy, push-of-a-button correspondence tracking. Acumatica takes care of this seamlessly, as not only is the CRM built into the system, but there is also the push-of-a-button Outlook integration.  Acumatica Outlook integration gives you the ability to add emails as they come in to the appropriate account, support case or opportunity. This allows anyone to jump in the system and easily see the last time a lead or support case has been 'touched'.
You can also create leads, support cases and opportunities directly from your email.  If all the key information has already been written down, your employees won't be duplicating work. They can use the email received from a lead to move them down the pipeline by creating a new opportunity directly from that email in Outlook.  Check out the short video below to see how this works in real time.
Increased management visibility and forecasting
Give your sales manager the tools to assign leads, track them as they move down the pipeline, and watch important metrics, all in real time. No more waiting to the end of the week or end of the month to get accurate figures that help them make better decisions.
You'll have a place to track critical sales information so you can learn more about your customer lifecycle with improved analytics. Then, you can track your sales process to help identify trends and analyze key sales performance metrics to improve your processes every step of the way.
The Benefit Results? Increased Profit Margins
When your CRM and ERP are integrated and easy to use, you can streamline your business processes, you'll spend less on training, and your people will want to use the software. All of a  sudden, departments will find it easier to work together and managers can easily track operations. This will lead to increased productivity, sales, and better decision making, resulting in increased profit margins.
If you want to learn more about how you can leverage an integrated CRM and ERP like Acumatica, contact Milestone Information Solutions today for more information. Milestone has been helping small and medium size businesses improve their operations with software and technology for over 20 years.  We are proud to be an Acumatica VAR partner and would be happy to help you.