Acumatica Summit 2019 is coming soon and with it, the popular Acumatica Hackathon. Our annual hackathon gives members of the developer community the freedom to stretch the Acumatica xRP platform by developing unique and state-of-the-art applications while connecting with like-minded individuals
Here at Acumatica, we love the idea of community. Community, by definition, is a sense of connection due to common interests and goals. We experience this connection every year at our annual Summits when the Acumatica community gathers in one place and at one time for a united purpose: to advance the knowledge of—and success with—our ERP solution and cloud xRP platform. But within the larger Acumatica community is a select group made up of developers, and we hope to get them actively involved by attending Acumatica Summit 2019 (January 27-February 1, 2019) and by making their mark at Acumatica Hackathon 2019.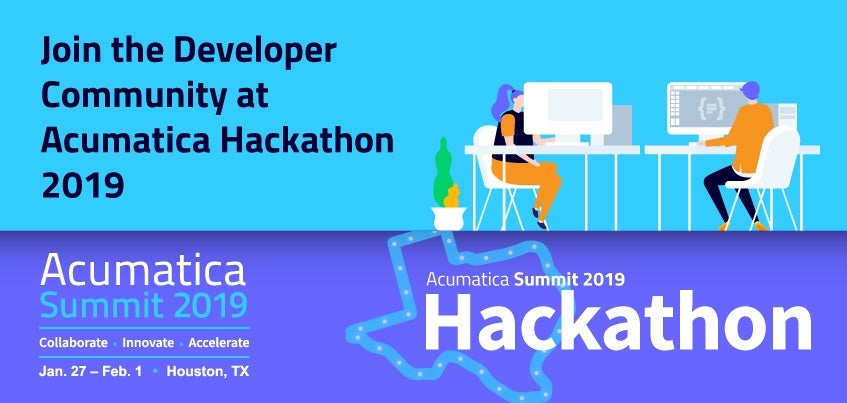 Network, contribute, and learn at Acumatica Hackathon 2019
Acumatica Hackathon 2019 follows in the footsteps of its 2017 and 2018 predecessors by offering developers, non-developers, and Acumatica team members the opportunity to showcase their coding abilities in a fun and dynamic environment.
Marco Villaseñor, CTO of Interastar Business, attended both Acumatica Hackathons.
"I really like the community that's growing around the development in Acumatica. It's a really fun event. You get to work alongside Acumatica team members and other partners from around the world," he says. "You get to learn cool tips for things you may not have time to look into during a normal project. And you have access to all this information and experience in one place."
If you read the history of the Acumatica Hackathon, you'll see that the scope, as well as the benefits of this event, have expanded. For example, the first hackathon gave each team—made up of developers, non-developers, and a subject matter expert (SME)—about 4 hours to complete their real-world business solution using the Acumatica xRP platform. However, the Acumatica Hackathon 2019 teams will receive approximately 24 hours to work on their projects with time to fine-tune details before presenting their applications to a panel of judges.
Marco and his team won first place in 2017 with a Twilio integration project, which "allowed Acumatica to send notifications via a phone call or SMS message." And in 2018, Marco's team used Acumatica Push services, creating an interactive BOT that received changes in user-defined data and allowed the end-user to respond from applications like Skype.
"The thing is, we have very innovative projects for the last hackathons," he says. "The bar has been raised pretty rapidly. We're thinking about projects that can be done in the amount of time that we have that are also innovative and useful."
He has plenty of time to think because the Acumatica Hackathon teams are put together weeks before the Summit. Team members can brainstorm together about their cloud xRP platform solutions beforehand.
Like Marco, Brendan Hennelly, the Director of Development for JAAS Systems, attended the first two Acumatica Hackathons and is planning to attend Acumatica Hackathon 2019. He, too, is already thinking about project ideas.
"Trying to think of things to do is actually the most difficult part," he says. "I like it [the Acumatica Hackathon] because you get to see what all these creative minds come up with, all the different things people can think of, do and integrate into, whether it's practical, cool, or fun. You also get to work with the Acumatica framework, but it's not a part of your job. You do it on your time, the way you want to do it. And you get to meet new people. It's a fun environment."
Brendan and his team developed an application that allowed for dynamic pricing directly on the sales order during Acumatica Hackathon 2017. In 2018, their application provided support for blanket sales orders.
When asked what he was looking forward to for this year's hackathon, he said, "It's getting bigger, more people, and I'm looking forward to maybe bigger teams with different backgrounds and more brains in the pot for new ideas. It's pretty fun to see the new things people come up with."
The amazing applications demonstrated at the hackathons make it difficult to choose the winning team, but once the winners are chosen, members receive:
Recognition by me and Acumatica CEO Jon Roskill during the Tuesday Keynote
Publishing of your project in GitHub
Bragging rights
ADN Hackathon Cup
What's the ADN Hackathon Cup? This handcrafted cup is making its first appearance at Acumatica Hackathon 2019. It will be inscribed with the names of the winning team and will travel throughout the community until the next Acumatica Hackathon.
Developers wanted at Acumatica Summit 2019 and at Acumatica Hackathon 2019
Why are we strongly encouraging developers to register for Acumatica Summit 2019 and the Acumatica Hackathon? For one, the networking, contribution, and learning opportunities are vast. These events also provide developers with the chance to contribute to the community by offering their knowledge they've gleaned while working with Acumatica's cloud xRP platform to other developers—for example, providing a tip that may save others in the community hours of research—while also benefitting from other developers' expertise and insights.
And let's not forget the Developer Track, which gives developers helpful tips and tricks, the fundamentals of our cloud xRP platform, and more. This year, the track will start with a Developer General Session and Acumatica's CTO Mike Chtchelkonogov will discuss the future of our Acumatica xRP platform. And our first ever Acumatica Developer of the Year Award will be presented and the Developer MVPs will also be announced.
"Acumatica is growing as a platform, as a product, and I think that if you only have one chance to get to know what the platform is about, and you need to get in touch with key people, then you have to go to Summit. Everyone in Acumatica is there. There's a chance to talk to anyone; they're always available. Clear up any questions you may have, learn what's happening in the community, and see what's coming in the future," Marco says. "It's the best way to start and learn about the product."
Brendan agrees and adds, "It's a great learning experience all around. You have the Developer Tracks, the different sessions where you'll pick up different technical information and product functionality that maybe you've not seen before. Being there is more interactive. You can ask questions and talk to people directly."
Ultimately, we believe it's important for developers to connect all year long. While attending Acumatica Summit 2019 and the hackathon provide face-to-face opportunities for developers to connect and be involved, we also provide other opportunities, such as writing guest blogs, sharing a sample code, responding to questions, demoing a video, and more through our Acumatica Developer Network (ADN) and the Acumatica ADN Blog.
We hope you'll join the developer community at the Summit and Acumatica Hackathon as well as check out the amazing resource that is ADN. For any questions or feedback, contact our team any time.