Acumatica's second release for 2019 is about to debut. Get a sneak peek during the Acumatica 2019 R2 Launch Event Series.
Acumatica's latest product release, Acumatica 2019 R2, is coming soon, which means our annual Acumatica 2019 R2 Launch Event Series is almost here. The initial Launch Day Event is scheduled for Wednesday, September 11, 2019, in Waltham, Massachusetts, at The Westin Waltham Boston followed by ten Roadshow Events in cities across the U.S. throughout October.
Customers, partners, and analysts who want a first glimpse at the latest enhancements to our true cloud ERP solution are invited to register today for this popular—and free—event.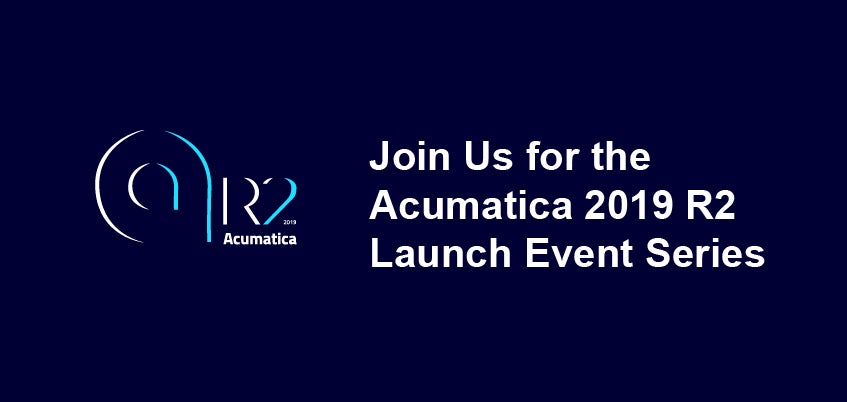 What to expect from the Acumatica 2019 R2 Launch Event Series
Acumatica 2019 R2 Launch Event Series' attendees will witness the unveiling of significant improvements made to our award-winning cloud ERP software. The initial Launch Day Event in Waltham will start at 8 am and finish at 1 pm (local time) and will include breakfast, while the Roadshow Events will start at 11 am and finish at 3:30 pm (local time) and will include lunch. The agenda remains the same (times noted below are for the Roadshow Events):
11:00am – 12:30pm: Registration, Lunch, & Networking in Partner Showcase
12:30pm – 1:45pm: Business Benefits & Functionality of Acumatica 2019 R2
1:45pm – 2:00pm: Break
2:00pm – 2:30pm: Industry Analyst & Customer Fireside Chat
2:30pm – 2:45pm: Title Partner Spotlight
2:45pm – 3:00pm: Exhibitor Partner Spotlight
3:00pm – 3:30pm: Closing, Peer & Partner Networking
These are the 2019 Roadshow dates and cities:
October 3: Philadelphia, Pennsylvania
October 8: Dallas, Texas
October 10: Bellevue, Washington
October 15: Portland, Oregon
October 17: Garden Grove, California
October 22: Atlanta, Georgia
October 24: Orlando, Florida
October 29: Chicago, Illinois
October 30: New York, NY
November 7: Columbus, Ohio
More information about the Roadshow events will be coming soon. Please note that attendees needing overnight accommodation for these events will need to arrange for it themselves as lodging is not provided for these half-day events. We recommend making a hotel reservation when registering for the series.
What to expect from Acumatica 2019 R2
With two major product releases every year, Acumatica cloud ERP improvements consistently increase usability, resulting in high end-user satisfaction. In fact, Acumatica has received high marks for our usability and user satisfaction by more than several renowned research and advisory companies.
Nucleus Research ranked Acumatica highest in usability against 22 established vendors in their 2018 ERP Technology Value Matrix. Gartner, in their Magic Quadrant for Cloud Core Financial Management Suites for Midsize, Large and Global Enterprises 2018 noted that Acumatica had the highest customer satisfaction of all vendors surveyed, and G2 Crowd, in a recent Comparison Report, named Acumatica the leader in user satisfaction.
Acumatica 2019 R2 continues the trend of meeting and exceeding our users' needs. Registering for one of Acumatica's launch day events opens the door for attendees to see the following new features, functionality improvements, and product enhancements firsthand. Here's a sample of 2019 R2 features:
Platform: Mobile text notification (SMS) for business events and dashboards enhancements
Usability: Conditional formatting for dashboard tables in addition to simplified company/branch selector
Financials: Corporate credit card support plus simplified Approval of AR invoices, credit and debit memos
Project Accounting: Detail Level of the Project Budget along with Project budget forecasts
Inventory and Order Management: Warehouse Management System (WMS) batch picking plus changing the vendor in Purchase Orders
Construction: Improved Daily Field Reports and stepped retainage
Field Service: Service Orders automatically defined as well as Project Accounting integration for service contracts, project schedules and tasks
Manufacturing: Engineering Change Control (ECC) and MRP improved forecasting
The launch events will dive further into these updates, offering attendees the perfect opportunity to learn in an exciting and open environment while mingling with prospective customers, partners, industry analysts, and Acumatica executives. It's also a great opportunity to become a sponsor. Through one of three sponsorship levels, companies can reach hundreds of attendees to grow their relationships, businesses, and brands. Get more information by contacting sponsorships@acumatica.com.
What to expect when you register
Registering for Acumatica 2019 R2 Launch Event Series is one of the best ways to accelerate success with Acumatica's cloud-based ERP solution. Another way is by attending Acumatica Summit 2020, coming January 26-31, 2020 in Las Vegas, Nevada, where our latest release will be front and center. We can't wait for the Acumatica community to check out the improvements and experience the benefits of increased profitability and accelerated business growth.
Questions? Contact our team at eventcs@acumatica.com.