We believe learning and fun can go hand in hand, and Acumatica Summit 2018 gives you both in equal measure. We've lined up some amazing entertainment for our Celebration Party, and you're going to want to be there to check it out!
We have many reasons we're looking forward to Acumatica Summit 2018, coming January 28 – February 2, 2018. And one major reason is this year's location, Nashville, Tennessee – also known as Music City. We love that we'll get to pay homage to cloud ERP innovation in the city that pays homage to past, present, and future music innovators. With Nashville's rich music history in mind, we decided to tap into its roots and offer our attendees a taste of country music's best at our annual Celebration Party.
Before we get into the details, have you registered yet? Acumatica Summit 2018 is the event where you accelerate your cloud ERP knowledge through breakouts, trainings, speakers, an EXPO, and much more, all geared to meet and exceed your business needs. We'll even be closing out the Summit with Carey Lohrenz, who will be sure to leave you inspired. And even though we'll keep you busy, you'll have the opportunity to enjoy Nashville's many visitor attractions during your down time.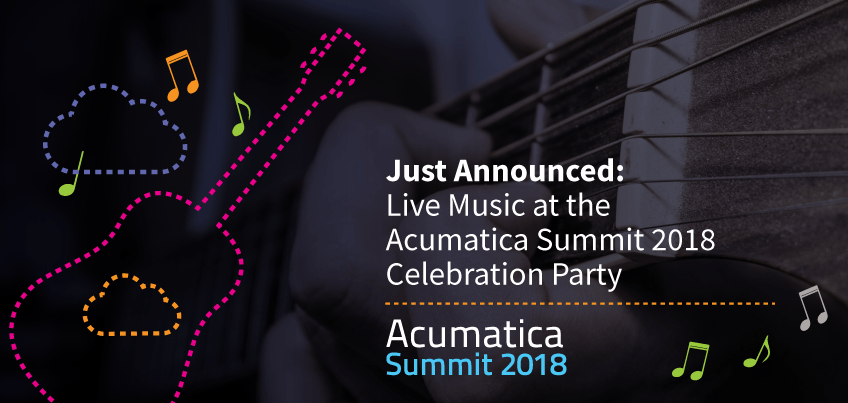 Acumatica Summit 2018 Attendee Party: LIVE music
One of the most highly anticipated events at the Summit is our yearly Celebration Party. We feel this year's party – happening on Monday, January 29 – may be the best one yet. We've secured THREE bands to perform live in the Country Music Hall of Fame (CMHF), which connects to our conference venue, the beautiful Omni Nashville Hotel.
Here's a sneak peek at the artists ready to rock our cloud ERP conference:
Richie McDonaldis an award-winning country singer and songwriter and the face and voice of the band Lonestar. Writing music is his passion but singing and performing on stage are not far behind. McDonald is known for being both a great storyteller about his music and for wanting to create music that touches his audience. We can't wait to see him perform during his two, 45-minute sets in the state-of-the-art Ford Theater.
The party continues in the main hall of the CMHF with food, drinks, and more music! Bob Fortner and Southern Jam is sure to get the party started. CMHF is one of Fortner's favorite places to perform; he's also performed on various TV shows (such as Nashville Now and Crook and Chase) as well as at the Grand Ole Opry. His ability to sing country favorites and connect with the audience makes him a favorite.
Steve Willets is a highly sought after artist who plays piano for country music star Crystal Gayle. He will be performing in the stunning Rotunda and is known for playing a variety of musical styles such as gospel, rock, jazz, and country that wow the crowd.
Acumatica Summit 2018: connecting our cloud ERP community
We've worked hard (and we're still at it!) to create an event that will educate, inspire, connect, and entertain our valued Customers and Partners. Attending Acumatica Summit 2018 can help you increase your cloud ERP knowledge and success while giving you time to enjoy Nashville's many attractions, the city's emerging food scene, and our amazing venue.
Plus, this year is particularly meaningful because we're celebrating Acumatica's 10 Year Anniversary! We're proud of our longevity in an industry that is known for constant change.
Register for Acumatica Summit 2018 and secure your spot at our exclusive, innovative, and vastly enjoyable premier cloud ERP event. We hope to see you there!