Acumatica Summit is always a prime location for partners and the cloud ERP platform itself to unveil the latest innovations. For the 2017 Summit, we at Kensium Solutions are partnering with Magento Commerce as an Executive Sponsor to showcase the opportunity partners have in eCommerce. Our discussions will extend beyond our booth, with roundtable and instructional sessions on Acumatica applications for eCommerce. And at this year's show, Acumatica, Kensium, and Magento are making a big announcement that you won't want to miss.
Throughout the show, stakeholders from Kensium (Acumatica's official eCommerce partner) and Magento (Acumatica's official eCommerce platform) will inform Value Added Resellers (VARs), Independent Software Vendors (ISVs), and merchants about the eCommerce space and why now is the time for Acumatica partners to focus on the industry.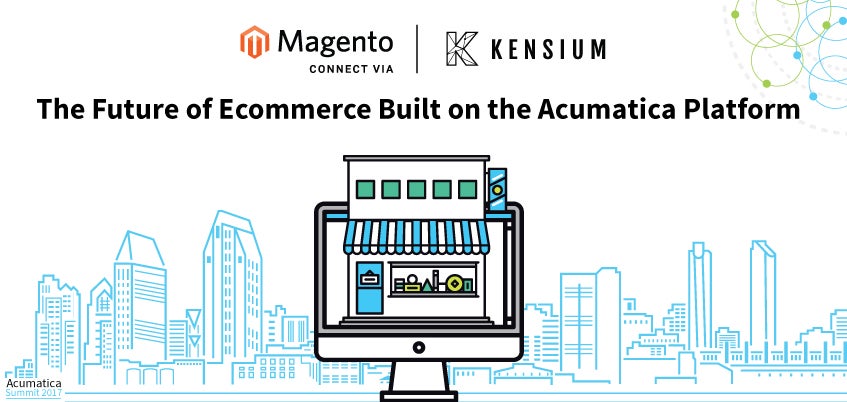 Ecommerce's Future
Ecommerce is a competitive industry for merchants, and they're always looking for the best way to evolve and optimize experiences for their customers. With omnichannel retail becoming a necessity in today's marketplace, companies are turning to solutions such as Acumatica to consolidate the management of their systems. The integration capabilities of Acumatica simplify eCommerce by providing accessibility to all their applications in a single dashboard.
The eCommerce industry also requires more than a smooth user experience. It demands that merchants make hefty promises and deliver to beat the competition. Acumatica allows businesses to increase operational efficiency by reducing order times, messaging customers, automating inventory replenishment, and simplifying dynamic pricing.
With the right system in place, and a proper link between front and back-end eCommerce systems, merchants can boost the productivity of their internal processes and relay that value to customers.
This is where the Acumatica community has an opportunity to shine in the $2.7 trillion eCommerce sector. With the necessity for connected systems becoming more prevalent and Acumatica becoming increasingly compatible with all industries, VARs have the solutions to help eCommerce businesses reach their goals. By customizing and implementing Acumatica's official eCommerce tools, VARs can help merchants boost productivity and deliver increased value to their customers.
Acumatica's Official eCommerce Partner
Kensium has been developing solutions for Acumatica users for over four years. From earning awards to collaborating on new product versions, the relationship has grown significantly. At this year's Summit, we have some exciting industry news to share regarding eCommerce and our extensions, which are already Acumatica certified and customer validated.
Here are some of our products/integrations Acumatica Summit attendees will learn about:
Ecommerce Connectors – Link merchants' eCommerce platforms and Acumatica ERP. The result is a two-way data sync between Acumatica and the eCommerce system, allowing you to work from a single business platform. Connectors are available for merchants using Magento, Shopify, and BigCommerce.
Product Configurator – Simplify inventory processes and offer customers the products they want. The configurator supports configurable, bundled, grouped, downloadable, and virtual products.
PayPal Integrations – Accept payments from your customers directly within Acumatica by using PayPal's "Request Payment" feature or use PayFlow Pro Payment Gateway.
AcuCharge – Use the power of data interchange to apply Level 3 Credit Card Processing, the lowest credit card processing rate in Acumatica, in customer transactions.
TaxCloud Integration – Stop paying for tax rates. Apply the proper tax amounts and easily file required reports by automating processes associated with taxes and tax-based accounting.
ADP Payroll Integration – Set up payroll preferences, update employee information, connect to ADP, submit payroll details, and generate necessary accounting entries.
Our dedicated Acumatica development team built these extensions and they can be used to supplement and execute projects for VARs, ISVs, and end clients.
What to Expect From Us This Year
Kensium and Magento will host a training course at the Summit that will provide VARs and ISVs with knowledge of Acumatica's official eCommerce tools and explain why distributors and retailers need them to succeed. Attendees will learn the ins and outs of the tools and how to sell and implement them for merchants around the world.
Upon completion of the course, participants will receive certification badges, which are required to sell and implement Acumatica's eCommerce products.
Summit attendees interested in learning additional information about eCommerce are invited to join us at our booth, where experts will discuss the intricacies and evolving aspects of the industry. Those who visit will learn from Magento about recent eCommerce trends, as well as what merchants are seeking in technology and partners.
Attendees can find the Kensium Solutions and Magento Commerce booth in the Grand Foyer of the Hyatt Regency hotel.
For questions on eCommerce or the Summit, visit any of the following links.