Do you know a reseller partner that would be a great addition to Acumatica's global network of VARs? With our new Acumatica Partner Recruitment Referral Program, you can submit a referral and enjoy a gift of appreciation from us.
Acumatica is rolling out a new – and exciting – program: the Acumatica Partner Recruitment Referral Program. Why is it exciting? There are many reasons but an important one is that it rewards everyone involved, including the referrer, the referred, and Acumatica! Before I share about the rewards, let's look at the details.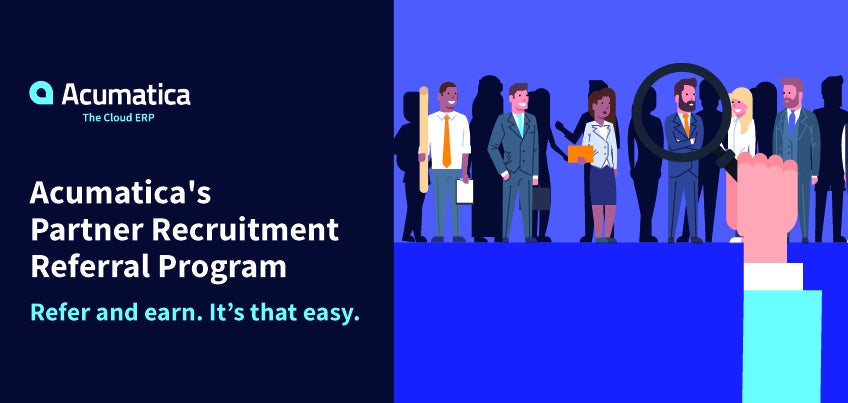 How the Acumatica Partner Recruitment Referral Program works
As a 100% channel-driven company, our Value Added Resellers (VARs) are the sole sellers and implementers of our cloud-based ERP, and we consider them essential to our success. We offer our global community of Acumatica's VARs top-notch training and continual support. In turn, they provide excellent evaluation, implementation, training, and support services to our current and future customers.
The intent of the Acumatica Partner Recruitment Referral Program is to add strong partners to our already stellar team. Currently, the program offer is open to all individuals including those representing existing and new Acumatica partners. Our motto for the program is "Refer and earn. It's that easy." And it is easy, but there are specific criteria that the prospective partner you're referring must meet, including:
Current reselling partner for a competitive accounting/ERP product or have experience selling complex business solutions
Verifiable success in sales and implementation and with high customer satisfaction and retention
Has clearly communicated their interest in adding a modern cloud solution to their product portfolio
Minimum of three full time employees and a minimum of 50 existing customers
A desire to grow and build a strong deferred revenue practice
Sincere interest in having a conversation with our recruitment team
It's important to note that if the company you refer doesn't meet every condition listed above, then it will be disqualified as a partner candidate. It's also important for you to know how to submit referrals. You can contact Acumatica's Dawn Jaeger, Noelle Blockson, or Noel Buslon:
Dawn Jaeger: djaeger@acumatica.com
Noelle Blockson: noelle.blockson@acumatica.com
Noel Buslon: nbuslon@acumatica.com
You can go to our referral landing page and fill out the requested information.
Acumatica Partner Recruitment Referral Program rewards
As I mentioned, the rewards for participating in this program are not felt just by the individual making the referral. The referred company, along with Acumatica, experience benefits, too.
What are they, you ask?
For those who make a referral, they receive a $200 gift card once the prospective partner speaks with Acumatica's recruitment team. In addition, we provide them a second $200 gift card when the referred partner becomes a new Acumatica partner. We issue all gift cards earned directly to the person making the referral.
Keep in mind that this isn't a one-time deal! If you know more than one reseller partner that would make an excellent Acumatica partner – and they meet the criteria – you're welcome to submit multiple, valid referrals and receive multiple gift cards.
For the reseller partner that's referred, the benefits come in the form of Acumatica's specialized training, support resources, and dedicated account managers once they join the team. We offer the best margins and terms in the industry and commit to our long-term partnership without competing with them. We also offer flexible deployments and licensing, innovative technology, and more.
And for Acumatica, our team recognizes that we can't do what we do without our VARs doing what they do! We truly rely on their efforts to get our cloud ERP solution to market and their expertise in selling and implementing.
Referrals now being accepted
Do you have a reselling partner in mind for the Acumatica Partner Recruitment Referral Program? If so, let us know right now! Email Dawn, Noelle, or Noel or go to the referral landing page and get started. We're excited to enhance our already superb international network of partners!
If you have any questions about this program or about our true cloud ERP, then contact us – we'd love to hear from you!