Kensium Solutions together with Acumatica – provider of ERP software for ecommerce businesses – attended and sponsored the yearly Imagine Conference, which provides insight into Magento's innovations and how they impact opportunities for ecommerce businesses. The conference helped display their developments aimed at positioning Magento even more as an end-to-end solution for merchants.
The annual Magento Imagine Conference is one of the biggest events in ecommerce. Magento Commerce – the world's most popular ecommerce platform – hosts the yearly sold-out show, which brings in 2,700+ attendees from 50+ countries. The 2017 event, held April 3-5 in Las Vegas, marked another step forward for Kensium Solutions and Acumatica as a premier provider of ERP software for ecommerce businesses.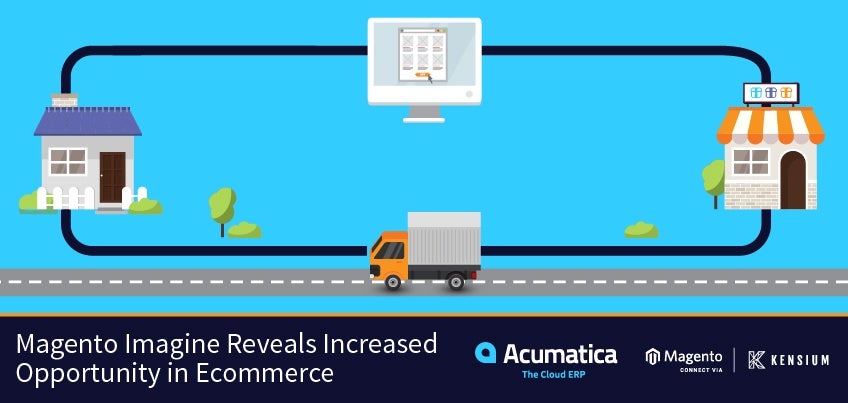 What We Learned
New Magento advancements pack every Imagine Conference. Presenters provide information that encourages innovation and drives growth for both merchants and technologists. Tennis star Serena Williams and Magento CEO Mark Lavelle headlined this year's lineup though hundreds of other presenters received their chance to speak in sessions over the course of three days.
Magento executives and experts unveiled the new components located in upcoming releases (or that became available at the show). The majority of these developments centered on adding lateral and vertical value to Magento, positioning it to become a more encompassing end-to-end solution for merchants around the world. You can find some of the most impactful announcements below and see a show recap here.
B2B Enhancements
Built on a foundation of B2C retailing, Magento has the infrastructure to support B2B sales, but seamless B2B operations required significant customizations from system integrators.
This will change in Q3 as Magento will introduce a number of features meant to smoothly facilitate online B2B transactions. The B2B capabilities will be included for all Magento Enterprise Edition merchants, who use the pay-to-play Magento product. Those using the free Magento version can obtain the new B2B features through extensions in the Magento Marketplace.
B2B Features
The following B2B features integrate with other extensions and back-office solutions, including Acumatica. These system integrations would allow Magento merchants to manage all of their B2C and B2B ecommerce activities from a unified management platform. 
Corporate accounts: Merchants can associate multiple buyers with different purchasing permissions to a single company account.
Accurate quoting: Merchants can determine workflows for pricing and configure quotes for different companies. API support makes quotes externally accessible.
Quick ordering: Customers can buy via SKU, from their frequently purchased item list, or by using a re-order option to duplicate an order.
Custom catalogs and pricing: Merchants can create custom catalogs online and configure pricing lists per company or per customer.
Payments on credit: Merchants can accept payments from customers on account and monitor credit levels, rejecting purchases that overcharge.
Multichannel support: Merchants can serve all their customers, fitting the experience to the customer's region and transaction type (B2B, B2C, etc).
Magento Business Intelligence
When Magento announced their acquisition of RJMetrics – a reputable ecommerce analytics company – in August of 2016, it was apparent they were attempting to bolster the native Magento reporting tools. The announcement of Magento Business Intelligence (BI) brings that vision to life.
With hundreds of merchants already using the integrated BI tools, the comprehensive analytics have proven successful in their first stages. Merchants receive increased insight and customization to store metrics in two versions: Essentials and Pro.
Essentials is the basic version of Magento BI. It provides baseline customization options and allows merchants to view Magento and Google Analytics data concurrently. It gives merchants who want increased insights a chance to bolster their decisions based on up-to-date analytics. Magento BI Essentials can also serve as a proof of concept to those who aren't sure they want to go all in with Magento BI Pro.
Pro is the version of Magento BI that is best for merchants who are seeking a full-stack analytics solution. It caters to more sophisticated reporting needs than Essentials and allows for full customization of reports and the interface. Magento BI Pro integrates with all merchant databases and provides reports that yield both technical and business-oriented insights, making it a useful analytics solution for the entire team.
Essentials became a free component of Magento Enterprise Cloud Edition starting on April 3rd, the first day of Imagine. Some of the highlights of the basic version include 75 pre-defined reports, five pre-defined dashboards, 10 user accounts, automated email summaries, and data export capabilities.
The reports produced by Magento BI help merchants identify which pages, products, and messaging are driving conversion, and what needs to change to boost online sales. With the right insights, they can create content to facilitate successful selling of their products and to relay impactful messages to the customer.
Kensium + Acumatica: Our Role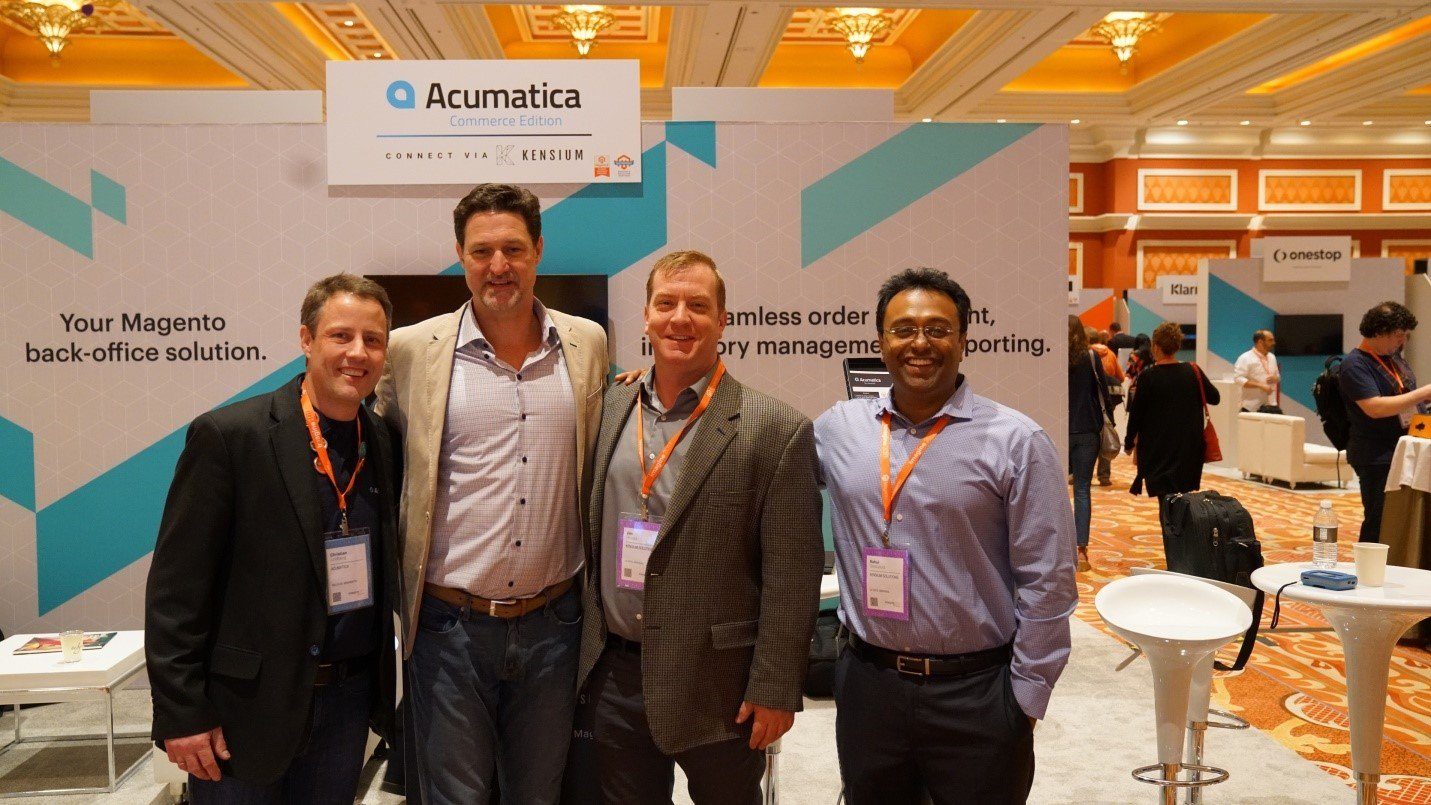 Pictured: Acumatica's Christian Lindberg, Magento CEO Mark Lavelle, and Kensium Solutions' Jim Hruska and Rahul Gedupudi pose for a photo in front of our Marketplace booth on the final day of Imagine 2017.
Kensium Solutions teamed up with Acumatica Cloud ERP to attend this year's event as a Platinum Sponsor and highlight Acumatica Commerce Edition, a complete ecommerce product that gives merchants a new Magento website, an integrated Acumatica back office, and other tools that are essential to running a scalable ecommerce business.
As the official eCommerce partner of Acumatica and a Magento Enterprise Partner, we were able to talk to merchants and Magento experts about Magento development and Acumatica's ERP software for ecommerce businesses. Show attendees were impressed with the value Acumatica Commerce Edition held; they engaged us with insightful questions that led to discussions about similar products in the space.
Besides Acumatica Commerce Edition and back-end integrations, we also shared our end-to-end Magento solutions with attendees, which include design, development, integration, and post-launch support for Magento websites. Find more information about our full-service Magento ecommerce solutions here.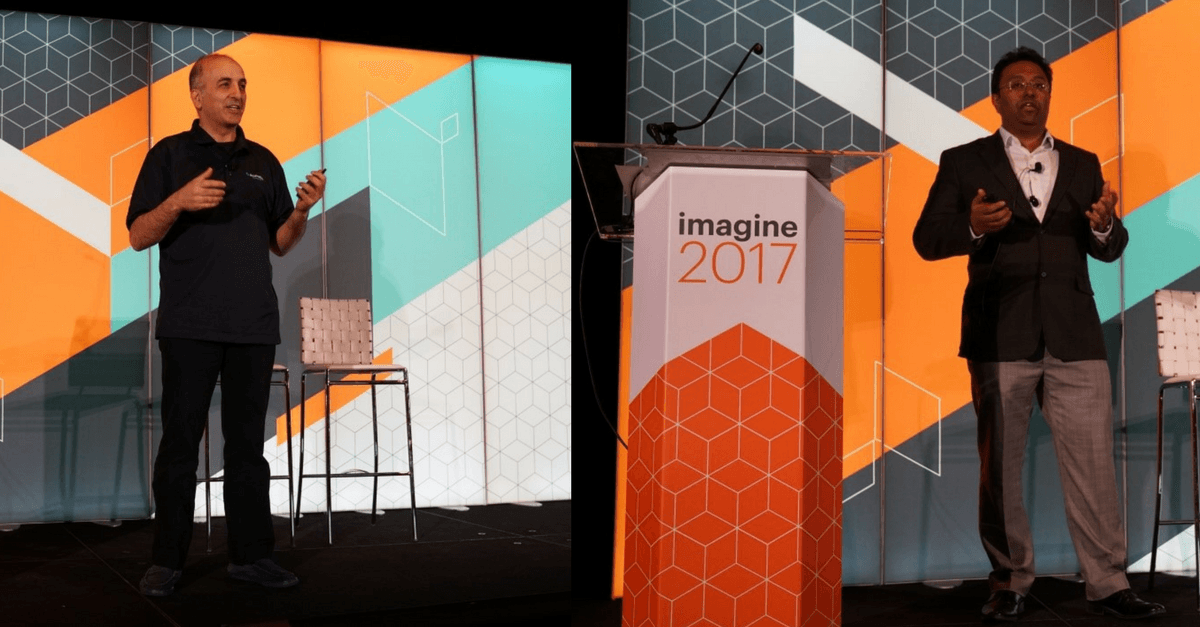 Pictured: Acumatica's Ali Jani and Kensium CEO Rahul Gedupudi present during their Imagine 2017 breakout session, "How to Choose the Right Back-Office Solution for Magento."
During our breakout session on the second day of the event, Kensium CEO Rahul Gedupudi and Acumatica's Ali Jani spoke about how to choose the right back-office solution for Magento. Gary Specter, Magento's Senior Vice President of Global Sales and Customer Success, introduced them at the session.
The topics covered in the session included the headaches that merchants with disconnected or ill-functioning systems may be facing, characteristics to look for in an effective back-office system, and the importance of Magento integrations to operational success.
Those who attended our session received Requests for Proposal (RFP) and Scorecards created specifically for the show. The RFP gave merchants a way to obtain accurate estimates for their upcoming Magento back-office projects, while the Scorecard gave them an easy, unbiased way to grade and compare the project proposals they receive.
Key Takeaways for VARS
Imagine 2017 showed us that Magento is focused on innovation, which is beneficial for those of us trying to get merchants on the platform and connected to Acumatica's ERP software for ecommerce businesses. How to choose the right back-office solution for Magento? Watch free recording from Magento Imagine 2017 and choose B2B eCommerce Software.
Here are some of the key takeaways that should spark your interest in the ecommerce industry and Acumatica Commerce Edition:
B2B enhancements make Magento 2 a more appealing retail option for hybrid and B2B businesses seeking a more efficient solution
Platform innovations are making Magento 2 a more complete platform for non-B2B merchants
Magento is still the most cost-effective ecommerce solution on the market
Acumatica Commerce Edition received high praise from merchants and vendors at the show
Kensium is now a Magento Enterprise Partner – the top tier of Magento Partnership. Use our certified, experienced team to augment your Commerce Edition builds.
Contact us to chat about how we can help you flourish in the ecommerce industry. Check out Acumatica Commerce Edition for a clear picture of our role as Acumatica's premier ecommerce partner and see what our relationship means for your business.